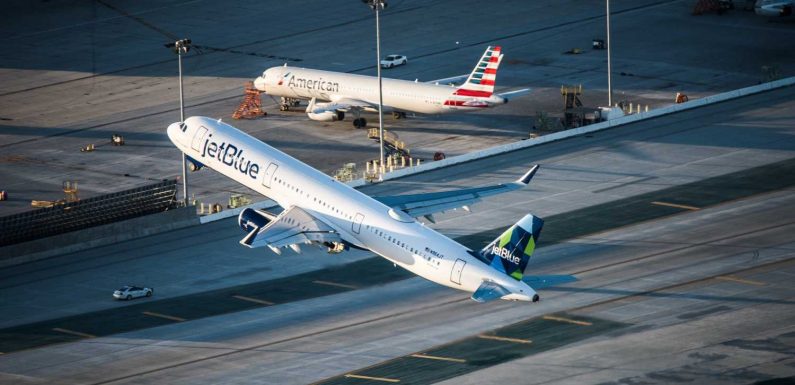 Load Error
American Airlines and JetBlue jolted the industry when they announced plans for a Northeast-focused alliance last summer.
Less than a month after receiving regulatory approval, the two competitors-turned-partners are hitting the ground running. On Thursday, American and JetBlue kicked off the partnership with nearly 80 codeshares, 33 new routes, schedule coordination and more.
The sweeping network alignment is detailed, but here are some of the most important takeaways from the major announcement.
For more: American Airlines, JetBlue kick off Northeast alliance 
Loyalty integration is coming
It's no secret that American and JetBlue were working to offer reciprocal mileage earning and redemption benefits. But Thursday's announcement gives even more detail of what to expect.
When the partnership launches on Feb. 25, customers flying on codeshares will earn miles with the carrier through which they purchased the ticket.
This spring, the airlines will introduce reciprocal mileage earning benefits — meaning that you could purchase an AA flight and choose to credit it to JetBlue's TrueBlue program and vice versa.
American and JetBlue will also unveil reciprocal elite benefits in the spring.
Want more airline-specific news? Sign up for TPG's free new biweekly Aviation newsletter!
American will add a new Airbus A321T route
American's swankiest jet, the Airbus A321T, will fly a new route from New York-JFK to Orange County, California (SNA) beginning on July 2.
The plane features one of the most spacious and luxurious configurations in the domestic skies. With 10 Flagship First pods, 20 Flagship Business lie-flats and just 72 coach seats, you're sure to have a comfortable ride on this jet.
Previously, American used this 102-seat single-aisle plane almost exclusively on flights between New York and Los Angeles (LAX) and San Francisco (SFO).
Amid unfounded rumors that the plane was on its way out, American is bringing it back in full force. In addition to Orange County, American will continue flying the plane to LAX and SFO as part of the Northeast alliance.
Related: American Airlines is bringing back its swankiest jet, the Airbus A321T
American's adding first class to New York
One of the many customer-facing benefits that American touted was that it would only fly larger jets equipped with a first-class cabin to and from New York.
The carrier is making good on its promise with its 18 new routes that it announced on Thursday. Except for the new Orange County route, the 11 other domestic connections will be operated by a 76-seat Embraer 175, with 12 first-class recliners and 64 coach seats.
American is also slated to retire its smallest jet, the Embraer 140 in May, leaving just the Embraer 145 as the carrier's only jet without first class. Expect American to phase out the Embraer 145 from New York routes in the coming months.
Expanded international flights from JFK
Video: United Airlines Offering Passengers In-Airport COVID Testing (CBS New York)
Woman With Rare Disorder Says She Was Denied COVID Vaccine

CBS New York


Driver Arrested In Deadly Staten Island Crash

CBS New York


Suspect Arrested In Possible Anti-Asian Attack

CBS New York


New York City Blanketed In Another Round Of Snow

CBS New York


Storm Watch: New Jersey Preparing For Power Outages

CBS New York


Storm Watch: Update From Hell's Kitchen

CBS New York


Mayor De Blasio Holds Daily Briefing

CBS New York


Storm Watch: Snow Preps In New Jersey

CBS New York


Swastika Spray Painted On NYU Building

CBS New York


Man Critically Hurt In Brooklyn Hit-And-Run

CBS New York


Tri-State Bracing For Another Winter Blast

CBS New York


Doctors Remind Those Who Receive COVID Vaccine To Continue Being Cautious

CBS New York


NYC's Top DEA Agent Discusses How COVID Pandemic Has Affected Opioid Crisis

CBS New York


Woman Assaulted Outside Queens Bakery In Possible Anti-Asian Hate Crime Attack

CBS New York


Suspect Under Arrest In Deadly Bronx Shooting

CBS New York


New Jersey Prepares For Impending Snow Storm

CBS New York


Woman With Rare Disorder Says She Was Denied COVID Vaccine
A Westchester woman with a rare genetic disorder says she secured a vaccine appointment but was turned away. Her doctors say without it, an upcoming surgery could be life-threatening. CBS2's Lisa Rozner has the story.


CBS New York



Driver Arrested In Deadly Staten Island Crash
An 18-year-old is under arrest after allegedly fleeing the scene of a deadly hit-and-run on Staten Island.


CBS New York



Suspect Arrested In Possible Anti-Asian Attack
Police say a man is under arrest in a possible bias attack against an Asian-American woman in Queens.


CBS New York

Another major selling point of the partnership is the expansion of flights from JFK.
American is making good on the promise by adding six additional international routes, including a new long-haul flight to Santiago (SCL).
The flight will start three times weekly in May, before getting boosted to daily come November.
Santiago joins American's three other new JFK long-hauls: Athens, Rio de Janeiro and Tel Aviv.
Pre-pandemic, AA was winding down much of its international flying from New York, leaving just key business routes and moving the rest to Philadelphia. This partnership is altering that strategy.
Schedule coordination in key markets
On Thursday, American and JetBlue announced that they're teaming up in a slew of markets, including the Washington D.C. shuttles, the Los Angeles and San Francisco transcons and Northeast to Florida routes.
While the goal is enhanced connectivity and integration, it's not all good news. Coordinating effectively eliminates a competitor in the market, which can often lead to higher fares.
Plus, the current plan calls for fewer flights in some markets than before the partnership. On the New York to Los Angeles transcon, AA will fly six daily flights, and JetBlue will operate eight, from both JFK and Newark.
Pre-pandemic, AA was operating up to 13 daily JFK-LAX flights alone, per Cirium schedules. Of course, the pandemic has eliminated much of the transcon demand, but note that coordination could lead to a net reduction in frequencies.
New routes for both American and JetBlue
When the partnership was approved in mid-January, JetBlue promised to significantly expand service at LaGuardia, while American would handle much of the international flying.
Thursday's announcement doesn't quite fit into that strategy.
The New York-based carrier is only adding three new LGA flights — Charleston, Denver and Martha's Vineyard. Instead, Newark is seeing the biggest boost from JetBlue, with ten new routes to cities like Seattle and Cartagena.
American, on the other hand, will add six new LGA flights and five from Boston, while also adding six new international connections from JFK.
Only time will tell how the network strategy evolves.
The partnership is moving forward despite a snag
On Tuesday, JetBlue's pilot union, the Air Line Pilots Association, or ALPA, voted against the proposed partnership. Despite the snag, JetBlue is clearly still committed to moving forward with the alliance.
Of course, it remains to be seen what, if any, concessions the pilots require to move forward with the deal. Count this one as developing.
Related: JetBlue union dispute adds a big wrinkle to American Airlines partnership plan
The battle for basic economy
While American and JetBlue are teaming up in the Northeast, their revenue management departments clearly don't see eye to eye.
Earlier this week, JetBlue overhauled its basic economy fare structure. Beginning this summer, flyers purchasing the cheapest fares will no longer be allowed to bring a carry-on bag, making JetBlue's Blue Basic fare one of the most punitive in the industry.
Meanwhile, American recently eased up its basic economy restrictions. Flyers can now purchase upgrades, priority boarding, extra-legroom seats and same-day changes. Plus, elites can enjoy their full suite of benefits. All travelers, regardless of status, can bring full-sized carry-on bags as well.
The carriers haven't yet announced how they're going to handle basic economy restrictions for flights purchased through the partnership.
The JFK transit experience will improve
As the carriers work to further align their networks, they'll also need to work through the connection experience at JFK. Both airlines operate from separate terminals, and getting between terminals at JFK has historically required reclearing security and taking a landside AirTrain.
Fortunately, the carriers promise that a more "seamless experience" is coming soon.
Featured photo by Ryan Patterson
SPONSORED: With states reopening, enjoying a meal from a restaurant no longer just means curbside pickup.
And when you do spend on dining, you should use a credit card that will maximize your rewards and potentially even score special discounts. Thanks to temporary card bonuses and changes due to coronavirus, you may even be able to score a meal at your favorite restaurant for free. 
These are the best credit cards for dining out, taking out, and ordering in to maximize every meal purchase.
—
Editorial Disclaimer: Opinions expressed here are the author's alone, not those of any bank, credit card issuer, airlines or hotel chain, and have not been reviewed, approved or otherwise endorsed by any of these entities.
Source: Read Full Article