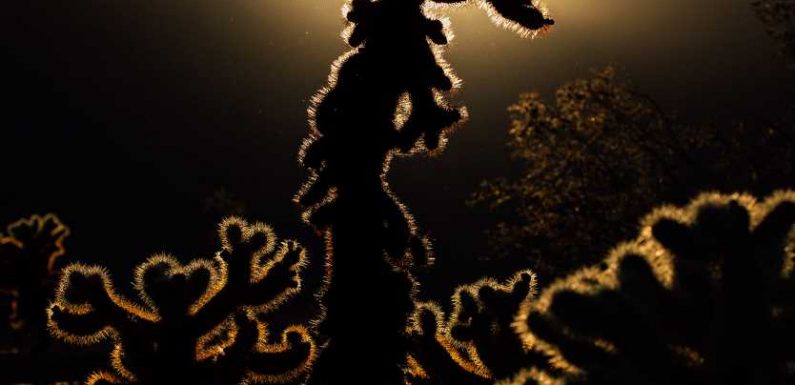 With COVID-19 vaccines rolling out, travelers may be tempted to rush back out into the world. But now is the time to pause and consider mass tourism's impact on the planet. Can we travel more sustainably? Can our journeys support conservation? The answer is a resounding "yes."
A cholla cactus in Joshua Tree National Park, California. Supporting the responsible use of public lands is one way to travel better in the new year.
A December 2020 National Geographic and Morning Consult poll asked how people would approach travel after the coronavirus pandemic is under control. A majority of our readers (42 percent) say they will feel safer traveling to wilderness areas.
(Here's what COVID-19 vaccines mean for travel.)
Nat Geo's Travel team is resolving to make mindful excursions this year and beyond. This means that we will aim to reduce our carbon footprint, step off the beaten path and linger longer wherever we go, respect cultural differences and invest in the communities we visit, reconnect with nature in a state park, and support organizations that are protecting the planet.
In the year ahead we will focus on actions travelers can take to make sustainability a part of every journey. Here are 12 ways travelers can come back stronger.
1. Explore the space above you
For most of my life I've been focused on Earth, but suddenly I'm drawn to the stars—and obsessed with the moon (some call it "selenophilia"). I've been taking stellar pictures of the moon on my iPhone through a telescope. It's not hard and the results are out of this world! Looking at the moon brings me peace and wonder. I feel part of something larger, in awe of the cosmos, and amazed by the scientists who are decoding the universe and the astrologers who are helping us understand our inner constellations.
How to get started: Our Nat Geo friend Andrew Fazekas compiled a list of 10 spectacular stargazing events to watch in 2021. He shoots for the moon and includes many other heavenly delights: close planetary encounters, dazzling meteor showers, and a "blood moon" eclipse. Unfortunately, about 80 percent of Americans can't see the Milky Way anymore and light pollution is getting worse. To see the stars, it helps to plan a trip somewhere dark—like parks and sanctuaries certified by the International Dark-Sky Association; these are places around the world that are protecting the night sky through responsible lighting policies that counteract light pollution. —George Stone
2. Embrace diversity outdoors
I grew up in Georgia hating the outdoors. Fishing at the lake with my father? No, thank you. Camping with friends in the backwoods? Hard pass. Even the wet dog smell that clings to your skin from sitting in the sun too long makes me nauseous. But last year the pandemic pushed me (a young, black woman) to chase waterfalls, trek through deserts, and fall in love with nature's breathtaking beauty. This year, I plan to make visiting national parks and wild, open spaces a priority rather than an afterthought. Maybe I'll finally discover what it's like to sleep under the stars.
How to get started: An important goal of sustainable travel is to make the world accessible to all, so that travelers are as diverse as the destinations they visit. In an article for Nat Geo last year, James Edward Mills wrote about how people of color across the U.S. are empowering themselves and others to become outdoor enthusiasts. Even though Black Americans represent 13.4 percent of the U.S. population, a 2018 report published in The George Wright Forum indicates that we make up less than 2 percent of national park visitors.
But things are changing. Organizations such as Color Outside, Black Girls Hiking, and Outdoor Afro are helping POCs feel more seen in outdoor spaces. With 423 open to the public units—62 of which are the famous "national parks"—overseen by the National Park System and hundreds of other public spaces run by the Bureau of Land Management and the Fish and Wildlife Service, there is plenty of nature to explore this year. —Starlight Williams
3. Enjoy public lands—responsibly
I've always loved spending time outdoors. But reporting on the national parks has made me realize just how challenging it is to preserve natural spaces for their own sake—and for the people who rely on them. During the coronavirus pandemic, public lands in the U.S. have experienced a huge uptick in visitors seeking a respite from the enormous stresses of isolation. Many of these visitors are first-timers who might be unaware of best practices when it comes to sustainable use.
On my own frequent hikes in the mountains near my home, I see trails strewn with litter or showing the early signs of trail braiding, which happens when enough people take shortcuts that a new path is worn in, increasing erosion and risk of damage to the environment. As someone who turns to my favorite county park for comfort and wonder, I feel it's my responsibility to spend more time this year learning about the history of the area and supporting its stewardship.
How to get started: Because of overtourism, off-trail hiking, land destruction, and abandoned campfires, it's essential to minimize your impact on public lands. Learn how to be a responsible guest (leave no trace, steer clear of wildlife, and respect your neighbors) and avoid contributing to overcrowding by visiting these 10 under-the-radar wilderness areas. —Rachel Brown
4. Volunteer for science
Before I was a travel editor, I was a science geek. I spent much of my final college semester lugging around a parabolic microphone to record the mating calls of spring peeper frogs. (This did nothing for my own romance at the time.) Then biology took a backseat to travel. But recently I've figured out how to do both: go on a volunteer science trip.
Pre-pandemic, I joined Earthwatch expeditions in Andorra, where we hiked gorgeous mountains and gathered data to help researchers determine the effects of climate change on biodiversity. I got to connect with people and nature in a place I'd never been—and feel like I was making a difference. In 2020 many scientists couldn't reach their study sites and lost an entire year's worth of data. As soon as it's safe to travel, I plan to get back out there with my inner geek. But I'll probably leave the microphone at home.
How to get started: You don't need a science background to be a volunteer scientist (also called citizen scientist), just a willingness to learn and pitch in. Nonprofits such as Earthwatch and Biosphere Expeditions connect volunteers to research projects around the world, from bee conservation in Costa Rica to plastic pollution clean-up efforts in Bali. Citizen science hub SciStarter, founded by Nat Geo Fellow Darlene Cavalier, lists more than 3,000 projects. You can contribute to some without even leaving home. It's great preparation for a future expedition. —Brooke Sabin
5. Shop more ethically
Gallery: How to make the most of your family holiday this year (National Geographic)
These $19k SUVs Will Make You Trade in Your Car


Ad
Microsoft

This is a slam dunk if you want a one-card wallet in 2021


Ad
Microsoft

New Policy For Cars Used Less Than 49 Miles/Day


Ad
Microsoft
Young eagle hunters prepare to compete in the Golden Eagle Festival in Bayan-Ölgii, Mongolia. "While I will always be an outsider, coming back to a place often has felt the most satisfying way to travel for me, instead of seeing a new country all the time," says photographer Hannah Reyes Morales. "Coming back again and again has meant that I can make deeper connections and [have] more understanding." (Related: Learn about life among Mongolia's nomadic herders.)
"My first trip to the desert was with a group of Saudis that I'd never met before. Although I'm a local to the country with the second largest desert in the world, I never actually spent a whole night in the desert before," says photographer Tasneem Alsultan. "A friend suggested that I hang out with a group of his friends and sit by a fire and just enjoy the stars and nature. I loved every minute." (Related: How Saudi Arabia has changed over time.)
"On the surface, Fiordland is a shadowy, Lord of the Rings–like landscape with rugged mountains and tranquil fjords. Underwater is like visiting alien worlds," says photographer Brian Skerry. "The freshwater rivers flowing into the sea here are stained with tannins, which create a permanent, dark layer that sits on top of the seawater, blocking out much of the sunlight from reaching below. Exploring here was like swimming through the pages of a storybook, with exquisite creatures and dreamlike seascapes on every dive." (Related: New Zealand has 'effectively eliminated' coronavirus. Here's what they did right.)
An Inupiat hunter patiently waits on the edge of the ice in Utqiagvik, Alaska for a whale—a custom that's at least 1,000 years old. Photographer Kiliii Yüyan is a descendant of the Hezhe (Nanai in Russian) hunters and fishermen of northern China and southeast Siberia. Over five years, Yüyan spent a total of 10 months camping a crew on the sea ice to watch for whales. "I started this project searching for the feeling of community I lost when my family was displaced from its homeland," says Yüyan. "I left it with an invisible Inupiat sensibility deeply embedded, and a new community to call my home." (Related: Meet the bowhead whale hunters of northern Alaska.)
Photographer Camilla Ferrari captures her sister walking along the main street in the trendy Sanlitun neighborhood in Beijing, China. "I remember meditating on the stillness of the lake waters of Houhai and being mesmerized and confused by the rhythm of people walking and running in the streets and subways," says Ferrari. "I remember the sounds of a language I didn't understand and my failed attempts to decode the gestures. That feeling is something that I yearn to deepen as soon as we [are] able to travel again."
Yaks crest a ridge in the valley of Chu-tang in Dolpo, Nepal. "The villages and monasteries in this remote region seemed timeless," says photographer Beth Wald. "Buddhist shrines and massive piles of carved mani or prayer stones—often fluttering with prayer flags strung above—line the entrance to most villages, so that the entire landscape seemed to resonate with sacred meaning."
Traditionally dressed tiliche (men dressed in junk) escort the queen of Carnaval Putleco through the streets of Putla to welcome the festival season. "In Mexico, there is always a good reason to get together and celebrate," says Luján Agusti. (Related: Here are five spectacular places to celebrate Carnival.)
A double rainbow shines over Mount Tantalus near Honolulu, Hawaii. "My brother is a pilot in the Air Force and was stationed in Hawaii for several years. He met his wife there, and on the year anniversary of meeting her, he planned an elaborate proposal. After my now sister-in-law said yes, her parents, who my brother had flown in from New York, walked up and surprised her and both of our families got to celebrate together," recounts photographer Maddie McGarvey. "My dad passed away earlier this year, and this memory of pure happiness experienced by my family will always be so special to me." (Related: This Hawaiian national park was once an isolated quarantine zone.)
Hohensalzburg Fortress, the largest fully preserved castle in central Europe, offers a 360-degree view of the Salzburg. "Since the pandemic, my partner and I hadn't seen each other for over six months. When Germany allowed couples to visit, we were able to see each other, and during this time, we drove to Austria," says photographer Ester Ruth Mbabazi. "[We were] stopped in Salzburg because of the COVID-19 restrictions, but we wished to go to Vienna." (Related: 25 epic castles where you can spend the night.)
"This is a place charged with the art spirit—haunted, suspended in time," says photographer Lynn Johnson. "The way the light moves in the landscape and radiates from the walls to the vaulted ceiling keeps these spaces alive." Today, Saint Paul de Mausole Monastery—the inspiration of Vincent van Gogh's collection of paintings of Saint-Paul Asylum, Saint-Rémy—is still a sanctuary, a creative space for women struggling with mental health challenges. "Their paintings vibrate with meaning known only to them and are as addictive as the light that inhabits this realm in southern France," says Johnson.
Lahaji Lasiddiq works as a nutmeg farmer on Ay Island, one of the 11 isles making up the Banda archipelago in Indonesia. Banda Islands is part of what was historically known as the Spice Islands, and the place where nutmeg originated. "Getting there is not easy but always remarkably enjoyable," says photographer Muhammad Fadli. "A friend of mine once said, 'it's a quiet place with a busy history.'"
Established as a national park in 1978, Badlands National Park in South Dakota offers spectacular views of red and orange rock formations jutting from the earth. "After driving 1,695 miles from New York City, I arrived in Badlands National Park," says photographer Ismail Ferdous. "Camping there was an unforgettable moment of my life. America is beautiful!" (Discover how this writer found inspiration for the poem 'America the Beautiful.')
Amalia Suarez of Fort Lauderdale comforts her disappointed 18-month-old daughter, Aliah, at Delray Beach, Florida, after rough water conditions prevented them from enjoying a dip in the sea. "Somehow the magic of the sea is lost for me when there are people," says photographer Maggie Steber. "We can't hear the rush of the waves nor have a personal exchange with the womb of the Earth. But in my exploration, I rediscovered [places] that stretched out along the Atlantic I had not fully explored in my 20 years of living in Miami." (Related: Soak up the sun at 20 of the world's best beaches.)
Ceferino González and his son Licho take a moment of rest on their hike through the Sierra Madre Occidental, a massive system of mountain ranges that runs down the west coast of Mexico. "I really miss traveling to remote areas of my country and getting to know the people and their stories, their traditions, and their way of life," says photographer César Rodríguez.
A young girl sits by the fountain in Plaza Altamira during Venezeula's Carnival. "I think back to this afternoon often, missing my community there, missing the afternoon light in Caracas, missing these last days of walking and breathing through crowds of people, without fear or thought of contagion," says photographer Natalie Keyssar. "A couple of weeks after I took this photo, I flew home to the U.S. to be close to my family during the pandemic, but when I imagine life after the pandemic, I know the first place I'll go back to is Caracas."
Nestled in the Hindu Kush mountain range, Band-e-Amir is Afghanistan's first national park. Its cerulean lakes, separated by natural dams made of travertine deposits, are a geological rarity, and the waters attract hundreds of thousands of Afghans from provinces across the country each year. "Afghans believe the [park's] water is holy," says photographer Newsha Tavakolian. "I saw a distressed soldier brought to the lake by his family; they put a rope around him and pushed him into the lake. The water would cure him, they said. I asked a woman to push me in. It was the coldest water ever."
A commuter catches a breeze in the women-only car in Mumbai, India. "There is so much life and color in the streets [of Mumbai]—the population of that one city is nearly the same as my entire home country [Canada], and the energy of the city is contagious," says photographer Amber Bracken.
Photographer Daniella Zalcman captures one of her cousins pruning his forest of bonsai trees on the roof of his home in Ho Chi Minh City. "I can't wait for life after the pandemic," says Zalcman, "when I can return and explore Ho Chi Minh City, which in some districts is nearly unrecognizable to me now, and spend more time with my little cousins, who have somehow turned into full-grown adults." (Related: See mesmerizing photos of Vietnam from above.)
I used to be a fashion editor, which meant I essentially shopped for a living. The habit of browsing, buying, and just looking at what people in other places are purchasing, making, and wearing fascinates me—the Sahara sky-blue scarves nomads wrap around their heads in Morocco, the beachy flip flops on surfers in Hawaii, the finely wrought carpets on every hotel floor in Turkey. When travel starts up again, I know that my magpie gathering nature will, too. Now, I want to be sure anything I purchase is actually crafted or designed in that destination and that nobody was underpaid or overworked in the process.
How to get started: One of the best ways to be sure you shop ethically is to go straight to the source and meet the artisans whipping up those Peruvian blankets, Appalachian straw baskets, or Japanese paper lanterns. It's even more meaningful if you learn a little about artisans' work and lives by taking a short class.
A few years ago, I spent a day weaving and dyeing silk in Luang Prabang, Laos at Ock Pop Tock, a riverside collective where village women produce beautiful, fair-trade textiles. Later this year, I hope to try traditional Indian block printing in Jaipur or sign up for a three-to-five day mini apprenticeship via Vacation with an Artist, which hooks travelers up with Japanese calligraphers, Portuguese potters, and other traditional makers. —Jennifer Barger
6. Go on a heritage trip
My dad loves nothing more than to sing his favorite pop songs from when he was a teenager growing up in South Korea. During last year's quarantine in Los Angeles, he put his karaoke machine to good use, cranking up the volume on soul-baring love songs and American-style rock-and-roll hits. Normally, during the holidays, this would be a highlight that I'd join. But like too many people last year, I wasn't able to travel from Washington, D.C. to see my family.
This year, hopes are high that a vaccine will enable all of us to get together on a trip—put on hold last year—to revisit the homeland. We're adding one new thing to the itinerary: booking a noraebang (Korean for karaoke room) in my dad's seaside hometown, Yeosu. Who knows, maybe I can convince him to get down with BTS.
How to get started: You can dig deeper into heritage tourism with these tips for learning about your family tree. When you're ready to go, consider booking with places that specialize in roots journeys, such as My China Roots and Spector Travel. These companies can enrich the experience by connecting you with local historians, tracking down long-lost relatives, and helping to navigate tricky situations where records are sparse and language is a barrier. —Anne Kim-Dannibale
7. Tour your own backyard
Despite having lived in Washington, D.C. for nearly a decade, I've hardly scratched the surface of the beautiful natural spaces that lie inside—and just outside of—the city. In the last few years, I've been able to check a couple District spots off my list, including Kenilworth Aquatic Gardens and the National Arboretum. Now that I have a car (and a dog!) I'd like to take advantage of some of the gems located just a stone's throw from the nation's capital in Maryland, Virginia, and beyond.
How to get started: I've primarily relied on word of mouth to learn about nearby places to visit, such as Huntley Meadows Park in Virginia and Cedarville State Forest in Maryland. Online communities like Reddit and All Trails are immensely helpful, while local guide books are full of inspiration. I was given one that covers much of the D.C. region, which I know I'll be using for years to come. Wherever you go, be sure to follow these useful tips for staying safe on day hikes. —Nathan Strauss
8. Broaden your reading horizons
Throughout a homebound 2020, books were my passport, granting me virtual entry to places ranging from Iran (Yasmin Crowther's The Saffron Kitchen) to Russia's Kamchatka Peninsula (Julia Phillips' Disappearing Earth). But mostly the books have been by authors writing in English. This is a bit like only eating Americanized versions of Chinese or Mexican food. In 2021, I resolve to diversify my reading menu with authors writing in their native language about the world's wonders. Even if I can only read these stories in translation, fresh viewpoints brighten a new year.
How to get started: Email or call the knowledgeable booksellers at your local indie bookstore for their recommendations of great travel-inspiring works in translation or in foreign languages. TripFiction matches locations with books set in that place. But don't stop at earthly destinations: these science-fiction titles explore otherworldly realms. —Amy Alipio
9. Go virtual—and reduce your carbon footprint
Museums are windows into new places. The artifacts and works in the building represent movements and histories. But the curation and presentation speak to where those spaces are rooted. "Museums are as much a reflection of the time in which they're built as they are of the time they represent," one woman told me, pre-pandemic, while we stood in line to enter D.C.'s National Museum of African American History and Culture.
Over the past few months, I've thought about her words often. They've encouraged me to continue my appreciation of the arts, even if I can't visit a site in person. With so many institutions providing digital ways to connect with their programming, I can dip into a new place across the country or the globe after work on a Tuesday—while minimizing my carbon footprint.
How to get started: Choose a place you'd like to spend a day in and then sign up to receive newsletters from organizations in that destination. That's how I stay up to date on the Museum of Modern Art's Virtual Views program and author talks at the storied Southern bookstore Square Books. You can learn about specific collections at the Google Arts & Culture partnership, which offers a closer look at museums around the world, including South Korea's National Museum of Modern and Contemporary Art. —Maura Friedman
10. Help kids become explorers
Because of the pandemic, I had to cancel several trips last year, including an annual family excursion to New York City, where we visit relatives, eat dim sum, and enjoy Central Park. The only trip we were able to take was to Sandbridge Beach, in southeastern Virginia. There, amid all the chaos and noise that was 2020, I found myself at peace. I concentrated on small moments, like finding sand crabs with my kids, watching dolphins at dawn, and surfing or standup paddleboarding in the ocean. Suddenly, these familiar activities had greater value. For me, travel in 2021 will be informed by accomplishing a similar goal.
How to get started: Evaluate what inspires you and your family to travel, then build trips around those themes. Make the most of shared experiences by booking a specialty tour, such as Equitours for horse lovers and Go Native Tours for history buffs looking for different perspectives. That way, you can focus on spending time together. —Brendan McCabe
11. Learn a new skill
Watching my mother slowly lose her hearing over the past 30 years, I've seen how isolating it can be to adjust to life without one of your senses. Movies, TV, and social media videos without subtitles are just pantomime. Dinner parties are reduced to an indistinguishable din. Not hearing a question or an "excuse me" in the grocery store suddenly turns you into an inconsiderate jerk.
My mother never learned American Sign Language, but her frustrations have encouraged me to learn as I, too, lose my hearing. I'm lucky to live in Washington, D.C., the home of Gallaudet University and a strong community of deaf people. I hope to take advantage of all the unique resources here not only to learn ASL, but also the rich culture and history that go along with it.
(Learn how monks helped invent sign language.)
How to get started: Follow deaf and hard of hearing people on social media. There are many Youtube channels, such as Sign Duo and Bill Vicars. On Instagram, I follow Deafies in Drag and Gallaudet's ASL Connect, a great resource that offers free instruction videos for beginners. Those who want to learn on the go can try The ASL App, which is divided into units organized by themes, such as the alphabet, family signs, and more. Deaf-owned businesses like Streetcar 82 Brewing Company, in Hyattsville, Maryland, offer a fun way to take a spin. —Rebekah Barlas
12. Focus on family travel
As the mother to two wee kids, travel has taken on a new dynamic with all the baggage (quite literally) required. Boarding an airplane with the car seats and pack 'n plays that one child needed was an event for me and my wife. When our second child was born last March, it was almost a relief not to have to plan our first flight as a family of four. From that perspective, the smaller radius of pandemic travel has been an eye-opening experience for me.
I've come to appreciate and enjoy discovering all of the hidden gems within an hour's drive or so from our home in Washington, D.C. I had visited the mountains of Shenandoah National Park and the shores of Delaware's beaches before, but there are so many unique hikes, towns, and cultural attractions in between. Plus, seeing the world through the eyes of a 3-year-old makes you appreciate the simple things in life, like just how many different fungi you can identify on a walk in Rock Creek Park.
How to get started: Our family is definitely embracing the friluftsliv mentality. We've equipped our small backyard with a fire pit and lots of warm blankets to make spending time outdoors in colder months more comfortable. We're also taking advantage of all the virtual offerings at museums and zoos. Who knew that watching the National Zoo's Panda Cam is almost as entertaining as seeing the new baby giant panda in person? For the trips we do take further away, we've learned to book early and embrace the less-visited parts of our region. —Rosemary Wardley
Peter Fisher is a freelance photographer and former digital photo editor for The New Yorker. Follow him on Instagram.
Source: Read Full Article