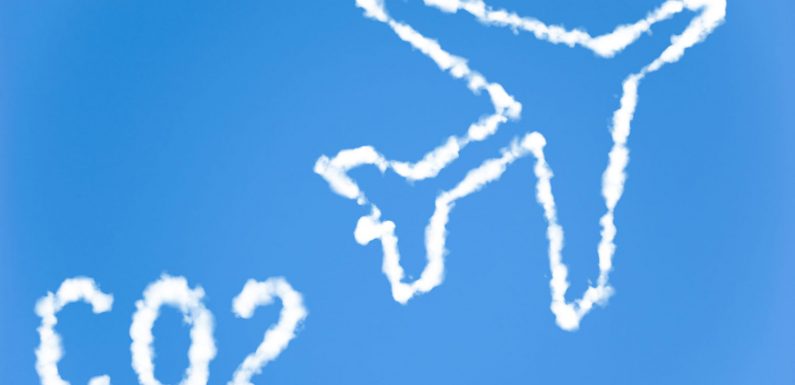 The Biden administration is standing behind the aircraft emissions standards that were finalized by the Environmental Protection Agency (EPA) in the final days of the Trump administration and defending those standards against a court challenge filed by environmental groups.
The decision, which the EPA made official in a Nov. 15 court filing, came after the administration had weighed the possibility of replacing those standards with stricter emission limits through a new public rulemaking process. 
The standards, which will apply to commercial aircraft and large business jets that come off the line beginning in 2028, are the first ever established for aircraft greenhouse gas emissions by the federal government. They align U.S. aircraft emission rules with standards set in 2016 by the International Civil Aviation Organization, which is the aviation arm of the United Nations. 
Related: U.N. issues guidelines for sustainable aviation fuel
In January, Sierra Club, Friends of the Earth and the Center for Biological Diversity sued to challenge the standards, saying they lag behind existing aircraft engine technology by more than 10 years and therefore will have no substantive impact. Separately, 11 states and the District of Columbia have also filed a petition against the standards. 
In a statement, the EPA explained that the U.S. implemented the emissions standards in accord with the 2016 ICAO agreement, which was negotiated by the Obama administration.
"At the same time, in order to effectively address the climate crisis, the Biden administration recognizes more action is necessary across the transportation sector and in the aviation sector specifically to significantly reduce greenhouse gas emissions," the agency said. "That is why the U.S. will press for ambitious new international CO2 standards at the upcoming round of ICAO negotiations."
Related: White House unveils a plan to reduce aviation emissions
The move drew a sharp rebuke from Center for Biological Diversity attorney Liz Jones, who noted that the EPA made the decision just days after the conclusion of the U.N. Climate Change Conference in Glasgow, Scotland. 
"The Biden administration has taken climate hypocrisy and delay to new heights," she said in a prepared remark. "After being directed to review the useless Trump rule as part of a strategy to confront the climate crisis, the EPA twiddled its thumbs for nine months before deciding it would rather defend a do-nothing rule than set any meaningful limits on aircraft emissions."
During the conference, the Biden administration released the U.S. Aviation Climate Action Plan, which details the federal government's strategy to put the aviation sector on a path to achieving net-zero emissions by 2050. 
"EPA also recognizes that we have Clean Air Act authority independent of the standards to be negotiated at ICAO to set emissions standards for commercial aircraft, and we will be evaluating what opportunities for greater regulatory ambition exist through the commonsense exercise of our Clean Air Act authority," the agency said. 
Source: Read Full Article