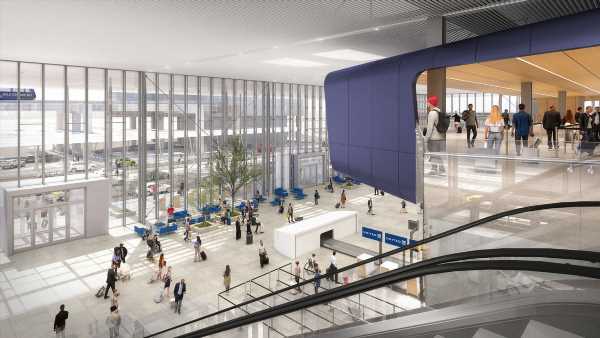 United Airlines plans to invest more than $1.9 billion in United's hub in Terminal B at George Bush Intercontinental Airport, and the Houston Airport System will invest $624 million. 
The Terminal B project will include the construction of 40 new gates for United's domestic and international use, expanded curbside and roadway capability, an expanded ticketing lobby, a streamlined security area and two new passenger concourses. 
One concourse will be 765,000 square feet spanning three levels and house 22 narrowbody gates and a United Club on the mezzanine level that will become the largest club in the United system. The other concourse will convert 30 gates that currently accommodate 50-seat regional jets to accommodate larger, two-class regional jets. Unlike in the current terminal, all flights will be boarded via jet bridge.   
Additional planned features include a sensory room, a United-branded "park," comfort zones, two concession hubs composed of 115,000 square feet of food and retail space, and an expanded baggage-handling system.
Developers aim to achieve LEED Silver certification for the new buildings, according to United. The carrier did not provide any timeline dates for the start or planned completion of the project.
Source: Business Travel News
Source: Read Full Article