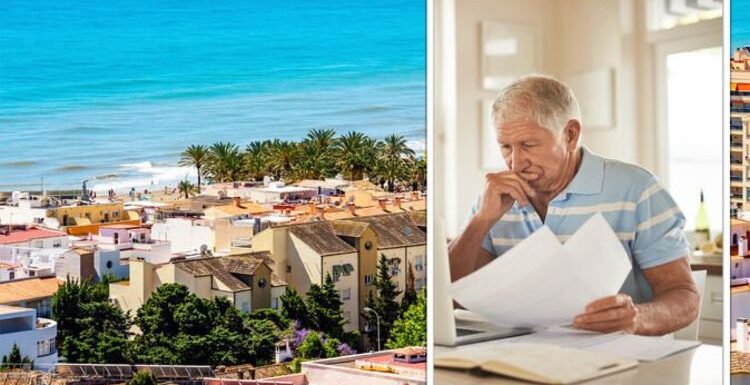 Matt Barker announces new show 'Travels with mum and dad'
We use your sign-up to provide content in ways you've consented to and to improve our understanding of you. This may include adverts from us and 3rd parties based on our understanding. You can unsubscribe at any time. More info
Following Brexit, some rules have changed for British expats in Spain and the rest of the EU. The British Embassy in Spain has now issued a warning for expats.
The official Facebook page for the Embassy 'Brits in Spain' issued a warning that the rules have changed.
It said: "We have received a number of messages from people wanting to move to Spain to either work or retire.
"As you know, the rules for British nationals living and working in Spain changed on January 1, 2021.
"If you want to stay more than the 90 day visa free period or are planning to travel to work or to establish residence in Spain, you must ensure you meet the Spanish Government's entry requirements for non-EU nationals and hold the appropriate visa.
"You should check with the Spanish Consulate in the UK before you travel to find out what kind of visa or permit you might need and how to apply.
"We know that issuing visas can take some time, so please do make sure that you start the process well before you travel to Spain."
British citizens can stay in countries in the Schengen zone, including Spain, for 90 out of every 180 days without a visa.
If Britons break the rule they could face deportation, fines or even a ban on travelling to the zone.
One expat said the new process was "very confusing". Paul Kirkland commented on the post saying: "We recently did this ourselves (non-lucrative visas) but it takes a lot of time and can be very confusing.
"We found the Manchester Consulate very helpful. Getting documents in the UK took a ridiculous amount of time.
"And when you get to Spain there is quite a lot more form-filling and trips to the Town Hall and police.
"Still, everyone here has been understanding and helpful. Good luck, everyone, it's worth it, the UK has changed for the worse."
Another commenter, Rachel Cartwright, said: "It's a total nightmare for year abroad students, several of them are going to have to forego their full length of time in Spain simply because the visa process has taken so long.
"There appears to be no way of chasing or finding where it is in the system."
Some expats have campaigned for a new agreement with Spain to allow Britons to stay for six months visa-free.
Some regional officials in Valencia, have expressed their desire for the 90 day limit to be extended
Valencia includes the popular expat area of the Costa Blanca, and tourism contributes to the local economy.
However, the Spanish and British Governments have not announced any plans to find a new agreement on length of stay.
As the rule applies throughout the Schengen zone and not just in Spain, it may be difficult for Spain to reach a separate agreement.
The rule has primarily impacted retired expats who do not have Spanish residency but own properties in Spain.
Source: Read Full Article