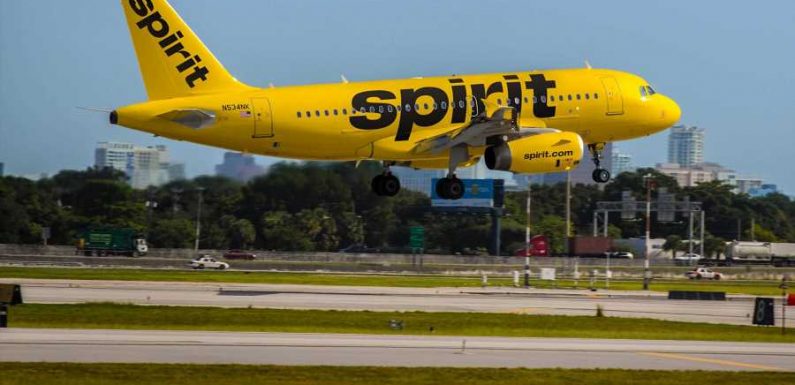 Spirit Airlines gate agents were checking on the size of carry-on baggage at the Detroit Metro Airport on Sunday, when three passengers allegedly got into a dispute that turned into physical violence, as seen in a video clip from another passenger shown on local news station Fox 2 Detroit. Two agents were injured and one was hospitalized, CNN reported.
As tensions rose ahead of the Atlanta-bound flight, the airline agents "attempted to calmly defuse the situation, but were physically assaulted by these passengers as they closed a door to stop them from boarding the aircraft," Spirit spokesperson Field Sutton told CNN, noting that the passengers were "combative."
An airline statement to Fox 2 Detroit added: "This was not a fight. Describing it as a fight is untrue to our agents. In actuality, three passengers attacked our agents without provocation." The video clip appears to show several people knocking another down as a cell phone and shoe can be seen strewn on the ground.
Two of the three passengers were arrested by Detroit's Wayne County Airport Authority Police Department and the third was cited, but released, CNN reported.
The Atlanta-bound flight, scheduled to leave Detroit at 8:12 p.m., was delayed 90 minutes, according to FlightAware.
"This violent behavior is completely unacceptable and has absolutely no place in airports or any other place of business," Sutton told CNN. "All of us at Spirit wish the agents a speedy recovery and thank them for their courage and professionalism." He also noted that the three passengers have been banned for future travel.
The incident comes days after the Federal Aviation Administration announced new consequences for unruly plane behavior, stating that a passenger who "assaults, threatens, intimidates, or interferes with airline crew members" can face fines of up to $35,000, as well as imprisonment.
Source: Read Full Article