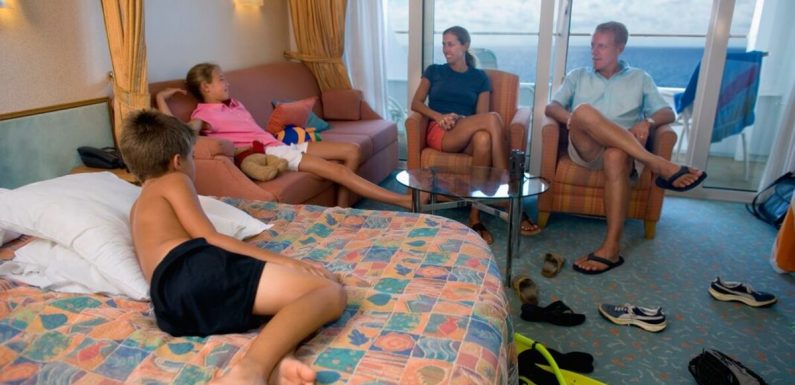 Cruise ships have all types of cabins, from penthouse suites to interior rooms. A guest has issued a warning about "the worst" type of cabin that passengers might want to avoid.
The guest said: "We've been watching river cruise webinars. Several have bragged about putting connecting doors between cabins.
"Great for families. Absolutely the worst for couples. With the noise level you might as well book a suite with your neighbours."
Connecting cabins have a door between the rooms which passengers can have unlocked if they're travelling as a family or group.
While this door will be locked if two separate groups are next to each other, more noise may carry through the door than through the wall.
The guest added: "We've had everything from four rowdy teenagers next door, to fighting couples, to five year olds having a meltdown to crying babies.
"In one hotel where we asked to be moved we were told every room had a connecting door. I dread the idea of running into that on a cruise. The noise was definitely made worse by the connecting door."
Connecting cabins usually attract families as parents can easily access their childrens' rooms.
However, this means people in the neighbouring cabins may hear a lot more if there are teenagers or children next door.
Another person said they didn't think it made much difference, saying: "Cruise ships are not known for good sound insulation between cabins.
"We had a family next door to us once that was so loud that we had to call the front desk multiple times.
"Father yelling at kids, mother yelling at kids, kids yelling at each other. It was insane. We didn't have a connecting door.
"I almost asked to have my wife, daughter and I moved to another cabin."
Cruise ships often don't have great sound insulation between cabins as the walls are usually quite thin.
Guests can contact the crew if they are having a huge issue with noise caused by other passengers.
Another person said they loved connecting cabins, adding: "Connecting cabins are amazing for coordinating while onboard.
"Going to dinner? I know if everyone is ready to go or if someone is slow. Need a safety pin? I got one right here in my bag.
"As far as noise. It's quieter than the normal cabin walls, if you hear things, it is through the walls not the doors."
Another passenger agreed, saying: "Had plenty of connecting doors, your noise is not going to come from there but from the hallway or above you, if there is an amenity above or pool deck.
"The latter is the worst when they are cleaning the deck and moving chairs. I try to just look at the ship layout and what is above or below."
Rooms near nightlife venues, the theatre or the pool deck could be noisier than those near the spa or cafe.
Source: Read Full Article