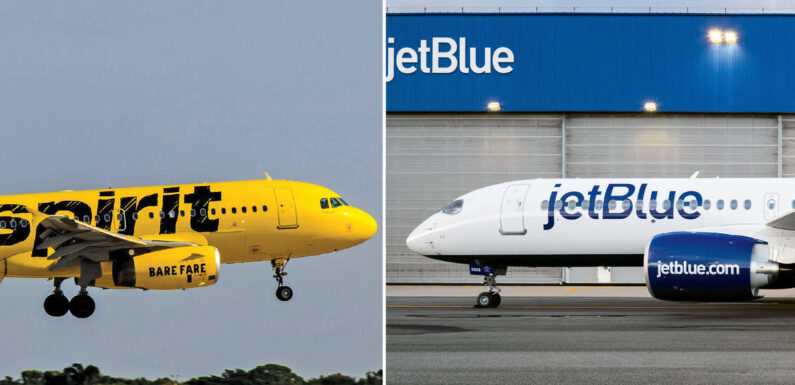 Internal JetBlue estimates, inadvertently revealed in a court filing, show that the airline plans a 24% to 40% fare increase on aircraft acquired in a merger with Spirit Airlines. 
The estimate was revealed Tuesday in a motion by 25 plaintiffs who are suing to block the $3.8 billion JetBlue-Spirit merger as anticompetitive. But they have the potential to impact the more prominent Department of Justice case, which also asks the court to block the proposed JetBlue-Spirit combination under antitrust grounds. 
Tuesday's revelations came as part of a memorandum by the plaintiffs in the private case opposing JetBlue's motion for summary judgement in the suit. The internal JetBlue estimates were meant to be redacted, but the redactions were formatted improperly, making them visible with the use of cut-and-paste word-processing features. 
Legal news website Law360 first reported the botched redactions. 
In a statement, JetBlue said the information included in the redacted sections was taken out of context, creating an inaccurate picture of the facts. 
"We are confident that our merger with Spirit will give a much-needed boost to airline competition in the U.S. and result in more low fares and higher-quality service for customers," the carrier said, adding, that it looks forward to laying out all of its evidence during the trial in the DOJ case, which is scheduled for October. 
According to improperly redacted sections of the memorandum, JetBlue and Spirit have conceded in sworn testimony that the merger would raise prices and lower capacity in markets throughout the country.
"Indeed, JetBlue plans to increase fares on aircraft it acquires from Spirit by at least 24%," the filing reads. "JetBlue states that 24% is a conservative estimate and that fare increases may be as high as 40%. Thus, there is direct evidence in the form of party admissions that the merger will have anticompetitive effects."
JetBlue's fares are higher than Spirit's, but JetBlue doesn't charge customers for seat selection and carry-on bags, while Spirit does. JetBlue also serves free snacks and soft drinks while Spirit charges for those items. 
The filing also says that JetBlue plans to remove 24 seats from Spirit planes, an assertion that more or less jibes with publicly stated plans by JetBlue to retrofit Spirit's dense cabin configuration to conform with its more spacious seating model.
The filing went on to say that JetBlue has acknowledged that when Spirit pulls out of a city pair, fares increase by 30%. 
In 283 routes served by Spirit where no other ultralow-cost carrier or JetBlue is present, "the elimination of Spirit and its replacement with JetBlue will result in former Spirit consumers paying at least 24% more in fares, while passengers of every other airline in that market will pay 30%
more on average," the filing says.
Source: Read Full Article