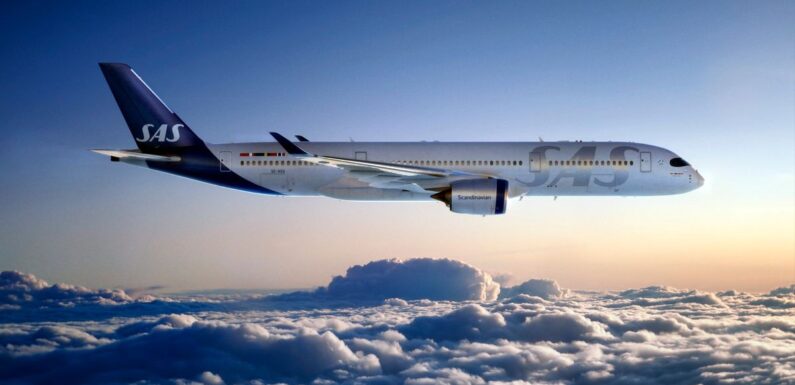 Air France-KLM Group would take a 19.9% stake in Scandinavian Airlines (SAS) under a proposed restructuring of the carrier, which has been in Chapter 11 bankruptcy since July 2022. 
"With its well-established position in Scandinavia and strong brand, SAS offers tremendous potential to Air France-KLM," group CEO Benjamin Smith said in a prepared statement.  "This cooperation will allow Air France-KLM to enhance its position in the Nordics and improve connectivity for Scandinavian and European travelers."
The reorganization would also result in SAS leaving the Star Alliance and joining SkyTeam, of which Air France and KLM are prominent members. 
In total, SAS has lined up $1.175 billion in rescue aid. Under the restructuring arrangement, multinational investment firm Castlelake would hold 32% of the airline's equity. The Denmark government would take a 25.8% stake. Air France would hold 19.9% of the company and Danish firm Lind Invest would hold 8.6%. The remaining 13.6% of the airline would be held by a variety of creditors. 
Of the $1.175 billion rescue package, the new ownership consortium would invest $475 million in common stock shares and $700 million in secured convertible bonds. Convertible bonds can ultimately be exchanged for common stock. 
The reorganization plan must be finalized by the SAS board and the investment consortium, and it must be approved by the U.S. bankruptcy court, the European Commission and a federal Swedish court. 
SAS entered Chapter 11 reorganization last summer with a goal of restructuring a balance sheet that had been eroded by the Covid-19 pandemic. A strike by SAS pilots that July came as a final blow that caused the company to seek bankruptcy protection. 
The strike was resolved after 15 days. SAS has continued operations during the reorganization process and this month is flying 14 routes to eight U.S. destinations from Sweden, Denmark and Norway, Cirium flight schedule data shows.
Source: Read Full Article