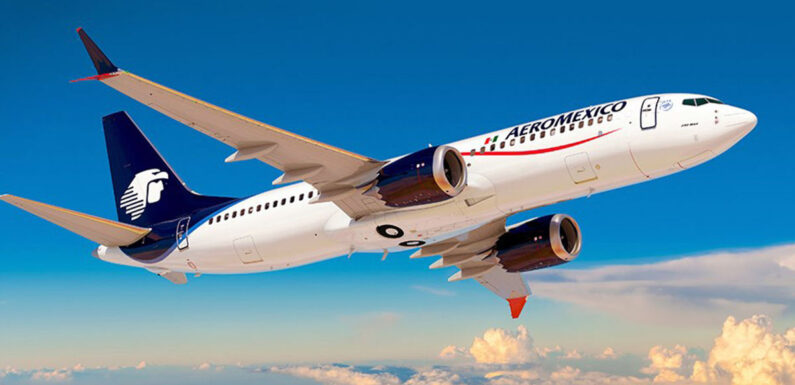 Aeromexico, now unfettered by FAA restrictions, plans to introduce 17 U.S. routes in 2024.
Aeromexico's joint venture partner Delta, which owns 20% of the Mexican carrier, will codeshare on the flights. 
The announcement follows the FAA's restoration of Mexico's Category 1 safety rating for civil aviation last month. For the previous 28 months, while the FAA had relegated Mexico to Category 2 status, Mexican airlines weren't allowed to add U.S. routes or frequencies. 
Aeromexico's new U.S. routes will include a combined six from Mexico City's two airports, four from Monterrey, two from Guadalajara, two from Leon, two from Queretaro (about 135 miles northwest of Mexico City) and one from the Yucatan capital of Merida.
From Mexico City's primary airport, Benito Juarez, Aeromexico plans to add service to Detroit, Salt Lake City, Washington Dulles and Boston. From Mexico City's secondary airport, Felipe Angeles, Aeromexico will fly to Dallas/Fort Worth and McAllen, Texas.
From Monterrey, new routes will serve Atlanta, Salt Lake City, New York JFK and Los Angeles. 
From Leon and Queretaro, Aeromexico will add Detroit and Atlanta flights. 
Aeromexico will fly to Atlanta from Merida. 
No launch dates have been set and tickets are not yet on sale. Aeromexico said that by July it will operate 60 daily flights to the U.S., up 35% from this year. 
The new routes will focus heavily on Delta hubs, facilitating connections. 
Delta is planning to operate 34 daily flights to Mexico next July, serving seven Mexican destinations. Overall, the
Aeromexico-Delta partnership plans to fly 30% more seats between the U.S and Mexico next July.
Source: Read Full Article