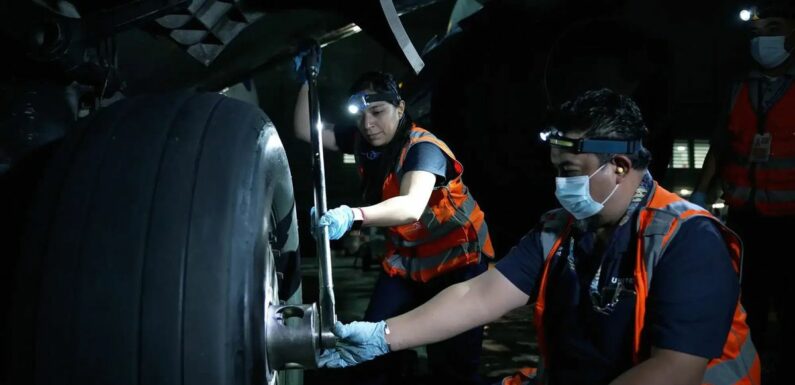 United Airlines is pushing forward with aggressive hiring, a move the carrier says is necessary now and in the years ahead. 
So far this year, United has hired more than 7,000 people, human resources director Kate Gebo said on a call with the media on Wednesday. United's target for the year is 15,000 hires to fill new positions and replace retiring and departing staff. 
Hiring pilots continues to be a priority as the carrier works to overcome a pilot shortfall on the heels of the Covid-19 pandemic. Last year, United hired more than 2,300 pilots, its most ever, and the company is targeting a similar number this year on the way to 10,000 pilot hirings this decade. So far this year United has hired approximately 800 pilots, Gebo said. 
While pilots make the headlines, she said that hiring aircraft mechanics as the greatest urgency. As with pilots, an industry-wide shortage of maintenance technicians is impacting airlines. 
Gebo said that United has hired 800 technicians since January and expects to hire more than 7,000 by 2026. 
The need for mechanics to service the 700-plus aircraft United has ordered led the airline to open an in-house technician apprenticeship program called Calibrate last year. Participants in the program are paid as they learn, saving them the cost of paying for a technician school. 
Gebo noted that United is hiring across its system. Targets for this year include 3,800 hires in Chicago, 2,300 in Denver, 2,100 in Houston and 2,000 in Newark.
Source: Read Full Article