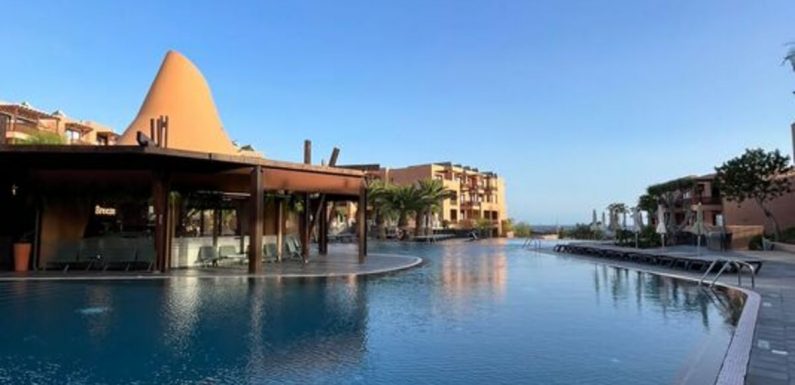 We use your sign-up to provide content in ways you've consented to and to improve our understanding of you. This may include adverts from us and 3rd parties based on our understanding. You can unsubscribe at any time. More info
On Friday September 30, I boarded a (bumpy) flight to Tenerife, one of Spain's Canary Island. We spent 48 hours exploring the vast hotel, sampling delicious Spanish food and enjoying memorable excursions.
If you're dying to get out of the UK for a short break – and I know I was – Barceló Tenerife is the perfect contender.
The hotel was mesmerising, the food was gorgeous, and the staff were wonderfully friendly.
Situated in prime location, the Barceló paradise is set right on the seafront, and was just a 10 minute drive from the airport.
When I arrived in Tenerife, I knew I was in for a real treat of a weekend, filled with sun, swimming, and Spanish cuisine.
When I go away, the main thing I look forward to is sampling – or stuffing my face with – tasty cuisine, and I did just that at Barcelo.
Whether you want to feast on paella at the specialist rice restaurant, tuck in to an Italian feast or eat absolutely everything at the buffet, there's something delectable for everyone.
My favourite meal was definitely the Italian at La Dolce Vita Trattoria, where I tried five gorgeous courses.
One such course was a sliced beef dish with tuna sauce – something I'd never think to order myself – but trusting in the excellent chefs at Barcelo, I knew it would be super appetising.
If the mouth-watering food isn't enough to convince you to spend a wintery weekend at Barcelo Tenerife, the rooms will.
All rooms boast a luxury bed, balcony/terrace area and most excitingly, a bathtub with spray jets.
I was lucky enough to stay on the hotel's Royal Level, which gives you access to an exclusive pool – there are eight in total, I checked – and a premium restaurant and bar.
My bedroom was the picture of luxury, and I could have spent my entire weekend languidly waltzing around it if there weren't so many facilities on offer.
If the seven – or eight for royal level guests – pools aren't enough for you, go and check out the lake for a leisurely afternoon of kayaking.
For the outdoorsy or water lovers among us, soon lake-located guests will even be able to kayak to their bedrooms.
I would highly recommend going on the hotel's vineyard tour. I'm not the biggest fan of wine – what's wrong with me, I know – but I thoroughly enjoyed every glass I drank on this visit.
We then took a cooking masterclass which was probably the highlight of my trip.
I consumed my body weight in potatoes with a glorious roja – red – sauce and the nicest Spanish tortilla I've ever had.
In the evenings, I'd recommend kicking back in one of the bars and ordering as many cocktails as you can stomach.
My favourite was a banana, chocolate and cream concoction which would give any dessert a run for its money.
Or, for a real treat, I'd urge any guest to snap up the opportunity to take a lesson with an expert astronomer for a stargazing session.
It was the perfect spot to catch a glimpse of Saturn – which I thought looked like a diamond engagement ring – and various beautiful stars.
Accidentally but amazing, it was also the ideal spot for watching planes fly over your head into Tenerife.
At Barcelo Tenerife there is absolutely something for everyone, a haven where golf pros, nature lovers, wellness addicts, adventurers, budding astronomists, and clubbing enthusiasts unite – oh yes, there's a nightclub.
For the evening entertainment, feel free to go in your loungewear, or head to the beauty and hair salons for a quick touchup.
History buffs can – and should – enjoy the Tunnel Experience which is free to guests, gaining an insight into the deep history of the island. Don't worry, it's jam-packed with immersive elements and is a sensorial masterpiece.
Book one of Barceló Tenerife's 272 rooms for £152 per night. Make sure to take advantage of the winter special deal, which offers guests up to 25 percent off.
Source: Read Full Article