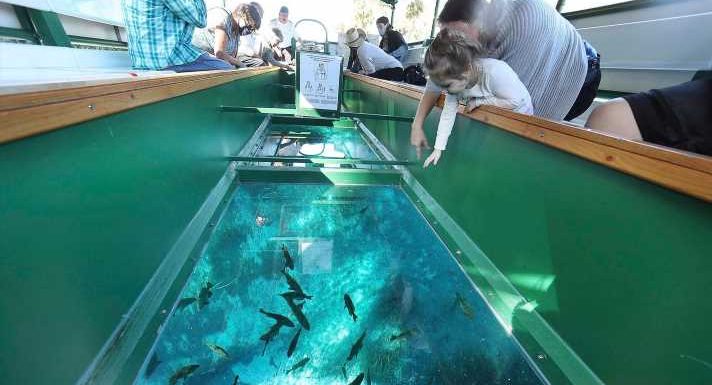 OCALA, Fla. — Florida's 150 years of treating tourists to gushing springs, lolling manatees, curious fish and emerald grasses undulating in invisible currents is about to take a turn because of a chance remark.
In 2015, Paula Russo, a volunteer for the Florida State Parks Foundation, set up a table for a public event at Paynes Prairie Preserve State Park near Gainesville. Russo, relying on a powered scooter because of childhood polio, was there to tout state park trails and paddling for people with disabilities.
"And this woman came rolling over in her manual wheelchair with children trailing along with her," Russo said, recalling as many as five from about 5 to 12 years old. "She said something to the effect that 'this is all very nice, but I took the kids over to Silver Springs to go out on a glass-bottom boat and I couldn't get on the boat. It's not accessible.'"
"What are you going to do about it?" the woman implored.
That challenge became a marathon for Russo, who will "beat my head until I get where I'm going or I'm bleeding" as an unyielding advocate for parks and people with disabilities.
First look: Live! Casino & Hotel Philadelphia opening with 2,100 slot machines, 40-foot-long TV
Nearly six years in the making, Russo's response to that woman in the wheelchair is taking shape. Emerging from yellow-green fumes of aluminum welding are the distinctive lines of a particular craft.
At the center and bottom of its 37-foot hull are two, rectangular openings, where nearly inch-thick panes of Coast Guard approved strength will be inserted for a window of crystalline clarity 4 feet wide and 16 feet long.
Yet to be launched, the glass-bottom boat already is endowed with reverence and with expectations for a vessel built in Florida by Floridians and meant for what the state is about: the world's tourists, and especially those with disabilities.
Of scores of such boats plying Silver Springs since the 1800s, the one nearing completion at the St. Johns Ship Building shipyard near Palatka will present a flat deck, ample aisles and will be the first ever with dedicated, convenient access for wheelchairs.
It will cater to those who know exclusion and chagrin, Russo said.
Source: Read Full Article