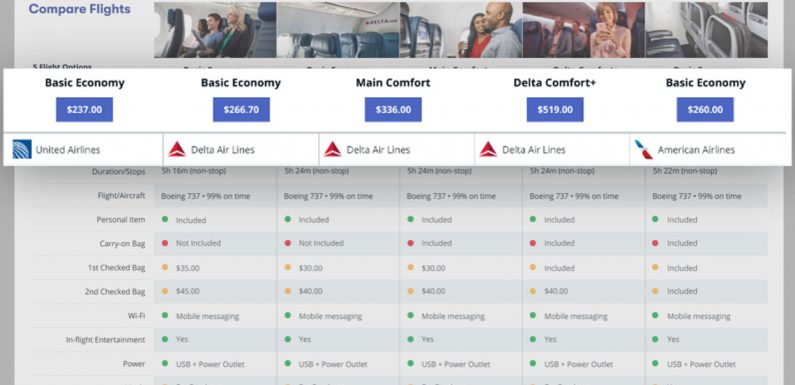 Travelport says the latest updates to its Smartpoint desktop tool ease the process of comparing and booking complex tickets while facilitating post-purchase servicing by travel advisors. 
The company has also introduced a new portal called Trip Manager on the Travelport Plus platform, which gives travelers the ability to do some tasks, such as ticket exchanges. 
The enhancements, which went live last month, offer improved comparison shopping within Smartpoint's Intelligent Storefront. Search results, for example, align products by airline, dividing them into five categories: basic, economy, legroom, premium and luxury.
The interface shows prices and also provides travel advisors with the capability to dig into deeper comparison content, where they can see more specifics of the various products, such as WiFi, meal offerings and policies/prices for checked and carry-on bags. 
Related: Travelport's new APIs promise fast search, easy integration
Kyle Moore, Travelport's global head of customer strategy and marketing, said Smartpoint's automated Assisted Ticketing solution was improved. Travel advisors use the tool for post-purchase servicing of clients' itineraries. The solution, he said, saves more than five minutes per involuntary ticket change transaction versus making those change manually. And refunds can now be processed in less than half the time it would take to process them manually. 
Travelport has also made enhancements to its Trip Quote tool. Moore says it is now easier for travel advisors to store a trip quote and apply mark-ups where appropriate before sending the offers to clients. 
The Trip Manager tool, meanwhile, is an evolution from Travelport's ViewTrip function. Trip Manager has more self-service capabilities for travelers, including enabling exchanges.
Related: Travelport says Delta GDS deal brings agency incentives
"The self-service option for travelers using the new portal allows agencies to preserve resources while providing travelers an improved experience with the ability to easily add extras to their trip," Travelport says. 
Moore said all of the recent upgrades are aligned with Travelport's goal of evolving its merchandising capabilities to keep pace with the increasingly more complex fare products, including NDC-enabled merchandising. Travelport has entered into NDC content agreements with 16 airlines and is live with NDC-supported content from American, United, Qantas and Singapore Airlines.
Source: Read Full Article