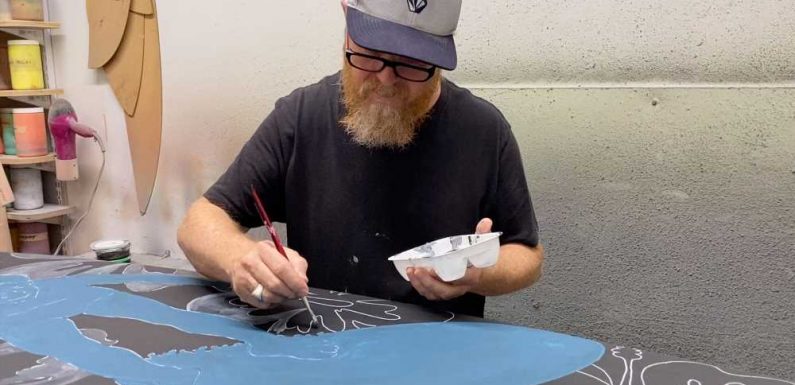 The Outrigger Waikiki Beach Resort is hosting an art exhibit in commemoration of surfing officially becoming an Olympic sport at the Tokyo Games this year.
The exhibit of surfboard art by Eduardo Bolioli is entitled "Golden Dreams" and will be housed at the resort from July 25 through the end of 2021.
Bolioli was originally planning to create and showcase his "Golden Dreams" concept in Tokyo for the Olympics, but when pandemic-related traveling restrictions got in the way, the project transitioned to the resort.
The hotel was the original home of Outrigger Canoe Club, where Duke Kahanamoku was a member and surfed the Waikiki waves. A Hawaiian icon, Kahanamoku won five Olympic medals, three of them gold, as a swimmer.
Bolioli, a native of Uruguay who now lives in Hawaii, portrays Kahanamoku as the initiator of the Olympic surfing dream, alongside boards depicting the four 2021 USA Surf Team members: Hawaii's own Carissa Moore (who has already won gold in the women's event) and John John Florence as well as fellow teammates Caroline Marks and Kolohe Andino.
Each board color — red, yellow, black, green and blue — symbolizes one of the Olympic Rings, with Duke Kahanamoku in the middle.
"I'm elated to showcase this exhibit in Waikiki, the birthplace of modern surfing, and memorialize the historic nature of this captivating sport entering the Olympic Games," Bolioli said in a statement.
Source: Read Full Article