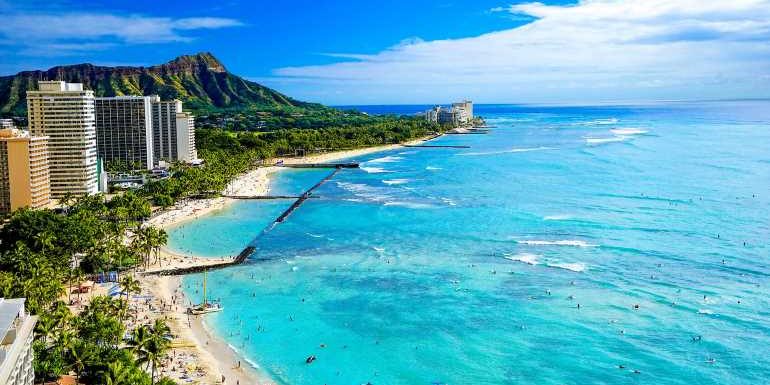 Starting on March 26, U.S. domestic travelers to Hawaii will no longer need to show proof of vaccination or a negative Covid-19 test to bypass quarantine and enter the Aloha State, Gov. David Ige announced in a press conference. 
The current version of the screening program known as Safe Travels requires visitors to upload testing or vaccine information to a state-run website along with contact information and details of the traveler's itinerary. Those who are not vaccinated and do not produce a negative test result are subject to a five-day quarantine. 
Since its launch in October 2020, more than 11 million people have been screened through the Safe Travels program.
Ige added during the press conference that he was not yet ready to let the statewide indoor mask mandate sunset, making Hawaii the only U.S. state to leave its mask mandate in effect. 
"We're not done with Covid-19, but we do recognize that we have to transition to the new normal," Ige said.
Travelers to Hawaii and travel advisors said Safe Travels frequently resulted in delays and long lines for screening at airports, and the system was at times confusing to use. Airlines eventually dedicated staff to help expedite the screening process. 
"The Safe Travels program was an immense undertaking that would not have been possible without the collaboration and support of our fellow government agencies and numerous visitor industry partners who worked tirelessly to serve our communities in this effort," Hawaii Tourism Authority CEO John De Fries said in a statement. 
"Bringing the Safe Travels program to a close reflects the progress we have made as a state," he said, "and Gov. Ige's decision is a good balance of maintaining reasonable health precautions while reopening our society and economy."
International, non-U.S. resident arrivals to Hawaii must follow the U.S. federal guidelines for entry, including required vaccination and proof of a negative Covid test or recovery from a recent Covid infection.
"The pandemic is not over," Ige said, encouraging people to remain vigilant.
Source: Read Full Article