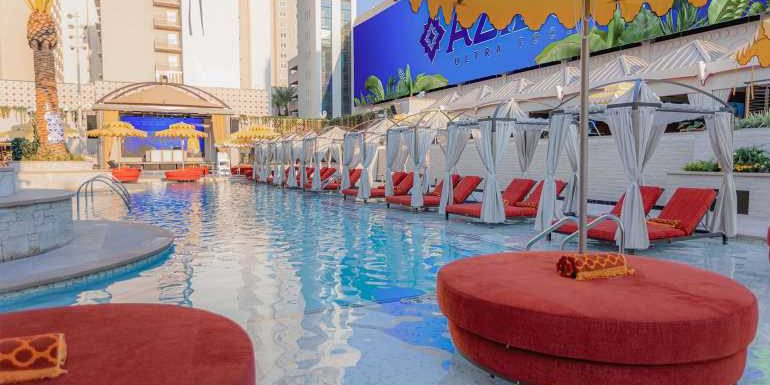 The Sahara Las Vegas' Azilo Ultra Pool, which splashed to life for the first time last summer, has opened for its first full season.
Azilo Ultra Pool is open to those age 21 and older — hotel guests and
the public, as well — from 10 a.m. to 5 p.m. daily. A cover charge will
apply on select dates or during special events and holidays. The pool
will extend operating hours to 6 p.m. in April and 7 p.m. beginning in
May.
The area, which features Moroccan decor and lush greenery, has live entertainment, a bar with TVs and a 240-foot LED wall as well as cabana, daybed and lily pad packages. A full menu of food is available with sushi, snacks and breakfast from 11 a.m. to 5 p.m. Fridays, Saturdays and Sundays beginning on March 17. Beginning May 1, the Azilo kitchen will serve food from 11 a.m. to 6 p.m. daily.
A DJ will perform on the open-air stage from noon to 5 p.m. Thursdays through Mondays.
The Sahara Las Vegas' rooftop Alexandria Pool is open exclusively for hotel guests of all ages from 10 a.m. to 5 p.m. daily this month.
Source: Read Full Article