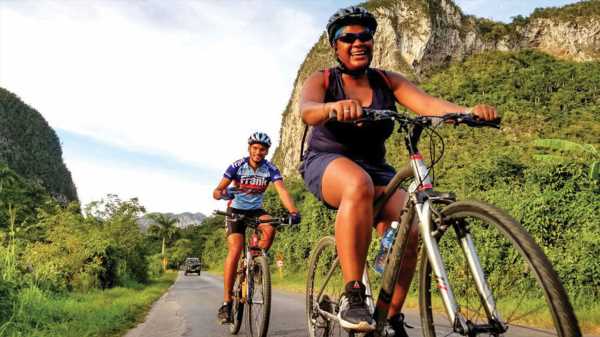 Intrepid has launched four new itineraries in Cuba: One that adds to its collection of premium tours and three types of cycling tours.
The adventure travel company's roster of itineraries in Cuba are available to U.S. passport holders and comply with the Support for the Cuban People program that American visitors are required to adhere to when visiting the country.
The nine-day Premium Cuba trip takes travelers on a roundtrip tour from Havana, visiting Vinales, Cinefuegos and Trinidad along the way. Travelers will see the capital city's historic colonial architecture, neighborhoods lined with vintage cars and white sand beaches before heading to the countryside region of Vinales, where guests can expect to see sugarcane and tobacco farms, plus plenty of wildlife.
Premium trips, Intrepid's highest category of tours, include accommodations at the four-star level, and Intrepid promises a "feature stay at an unforgettable and unique accommodation" per trip. Guests will primarily use private transportation, and more activities and extras are included compared with itineraries in its other categories.
The Premium Cuba trip has departures available starting this month, with more departures running from February 2024. Fares vary depending on departure date, but most start at around $4,215 per person.
Options for biking through Cuba
There are also new cycling tours: Two weeklong itineraries focus on either the eastern or western half of the island and one, two-week long itinerary combines both for a more comprehensive tour.
The eight-day Cycle Cuba: East tour from Havana to Varadero takes cyclists on a scenic ride through the Yumuri Valley, known for its biodiverse flora and fauna and lush landscapes, and also makes visits to Unesco World Heritage sites of Cienfuegos and Trinidad.
The seven-day Cycle Cuba: West tour operates roundtrip from Havana and focuses on cycling through the capital city, visiting the farmlands of Vinales with meals in guesthomes, and cruising along the coastline to places like Cayo Jutias and rural valleys of Soroa.
The 14-day Cycle Cuba itinerary, which also runs roundtrip from Havana, combines much of the stops and sights from the two other cycling itineraries but includes more cycling time on the road and more chances to take in the sights of Cuba. 
The tours are geared towards travelers who are "confident and competent" riding a bike, and a certain amount of cycling fitness is required; however, Intrepid said, an air-conditioned support vehicle will follow the groups every day. Cyclists are accompanied by a leader who rides with the group and another who drives the support vehicle. Helmets are required, and participants may bring their own or buy them in Cuba.
Departures for all three tours start in December; fares vary, but most start at $2,185 per person for the East tour and $1,905 per person for the West tour; the 14-day itinerary starts around $3,990. Intrepid has discounted rates for each of the tours on their December departures. 
Source: Read Full Article