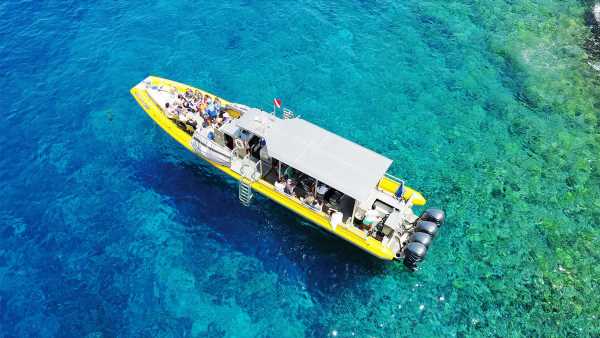 Just three miles off the south coast of Maui lies crescent-shaped Molokini, a partially submerged volcanic crater. The home of 250 species of tropical fish and adorned with colorful coral, Molokini's underwater depths are considered one of the best snorkeling spots in all of the Hawaiian Islands.
Visitors to Molokini usually get there via a large catamaran, a boat or small raft. But one Maui tour company offers a different mode of transportation that it says has become quite popular: a 60-foot-long, custom-built Super Raft.
"It's an in-between option. We're still a small group; we never operate with over 40 people," said Elizabeth Ferrer, co-owner of Maui Reef Adventures, which operates the Super Raft. "You have a smooth, stable ride, but you also have the agility of a raft."
The family-run company has been taking visitors to Molokini on rafts for the past eight years from its base at Maalaea Harbor, located roughly eight miles down the coast from Lahaina. When the opportunity arose to build the Super Raft, they jumped at the chance.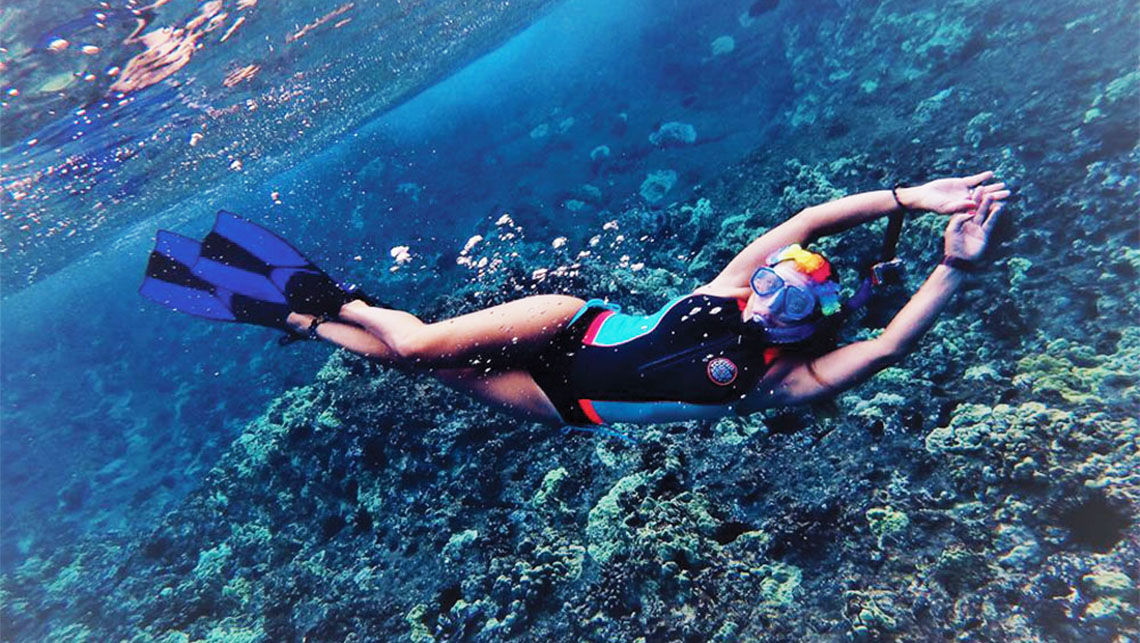 First, time with turtles
On the Molokini snorkel tour, Maui Reef Adventures starts its tour snorkeling at a semiprivate locale, only accessible by raft, to avoid the early morning crowds at the crater. The stop is at a turtle cleaning station, a spot where turtles congregate to have their shells cleaned of algae and parasites by surgeonfish.
"Our guests love that. They just love being able to swim alongside those graceful animals," she said.
After an hour of swimming with the turtles, the group heads to Molokini, about a 25-minute ride on the Super Raft. Maui Reef Adventures arrives at the islet at about the same time that the big dive boats are leaving, so it's a more private experience, said Ferrer. 
Rising 160 feet above the water, the crescent shape of Molokini makes up the southern rim of the extinct volcanic crater. The shallow cove inside the rim is the submerged crater, where the majority of snorkelers swim. Molokini is a marine life conservation district, which enables sea life to flourish there. 
Not only are there a lot of fish, but some days there could be reef sharks, moray eels or even a whale shark. "There's a lot to see, and every day is different," Ferrer said. Visitors have another hour to explore, followed by lunch.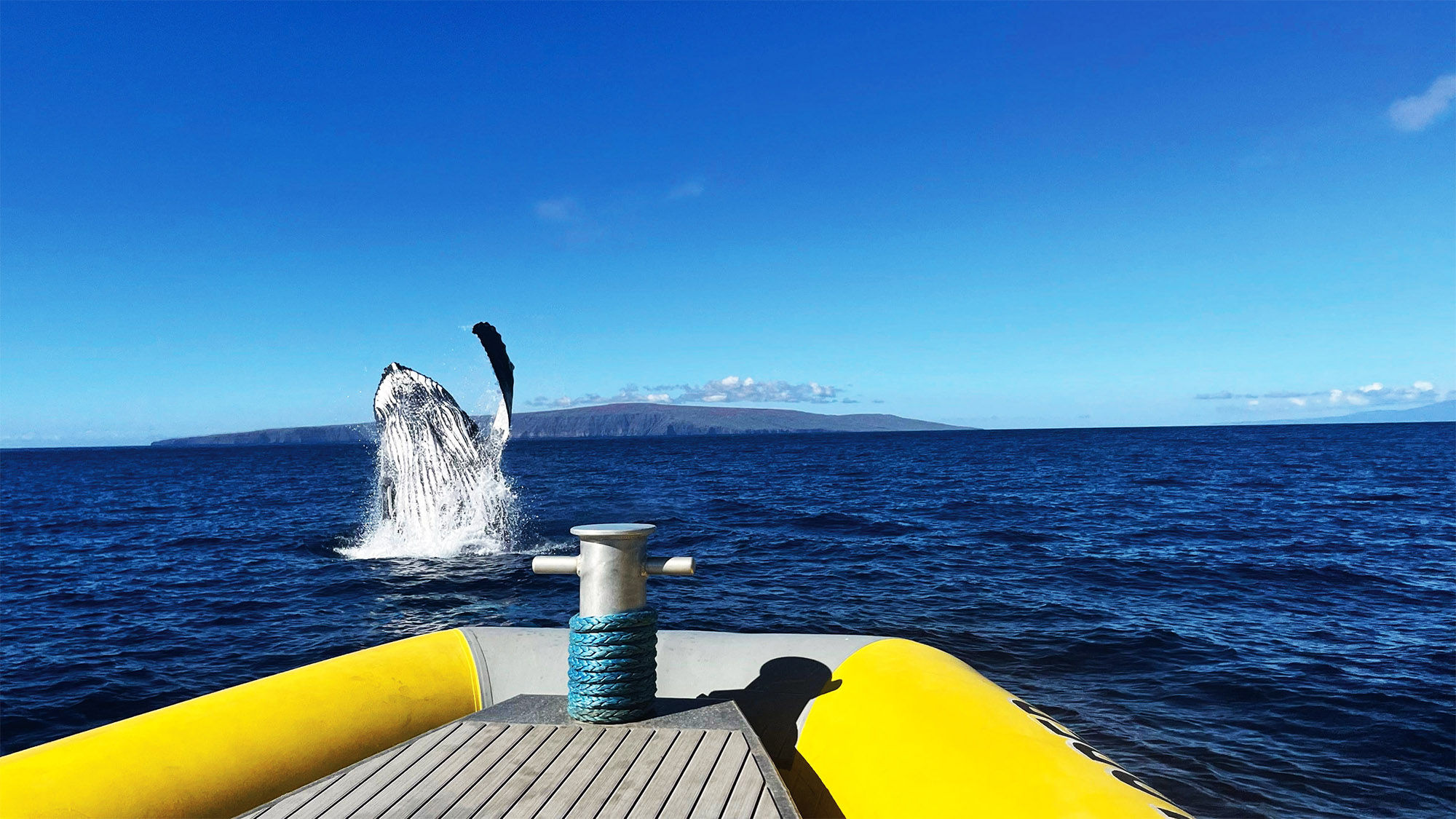 Whales, as well
Maui Reef Adventures also runs whale-watching tours in Maui's Humpback Whale Marine Sanctuary from December through the end of April, when whales return to give birth. These twice-daily tours are also aboard the Super Raft.
"Rafts in general are really a preferred way to see whales. We really get to be at their level," Ferrer said.
Small groups on the Super Raft may see whale breaches, tail slaps or fin waves, while an onboard, full-time naturalist educates visitors on the whales and activity they are seeing. Onboard hydrophones enable guests to listen to whales communicate with each other, including with their newborns.
"They come up to the boats, and they're in such a peaceful state when they're in Hawaii, giving birth and nursing. We see all kinds of behaviors," said Ferrer, who added that whale-watching tours are already being booked for this winter.
Molokini tour rates start at $159 for adults, $139 for children ages 4 and up. Whale-watching tours are $75 for ages 4 and up. All tours pay commission to travel advisors. To learn more, visit mauireefadventures.com.
Super Raft is ready for tourists' return
Maui Reef Adventures' Super Raft arrived during the Covid lockdowns, and it sat unused for six months. When visitors returned, business took off for the company. It remained that way until last month's tragic fire that destroyed Lahaina and claimed the lives of many of its residents.
"Unfortunately, the message has been to not come to Maui, and now slowly that's changing because 80% of Maui is open and operational," Ferrer said. The company helped with rescues and supply runs to West Maui in the early days following the fire.
Ferrer said the tours are usually sold out three to four weeks in advance, but now there are no bookings for September or October. "Like most small businesses on Maui, it's just really important that we get the message out that we are open and welcome to tourism. We need it to sustain our island right now," she said. 
Source: Read Full Article