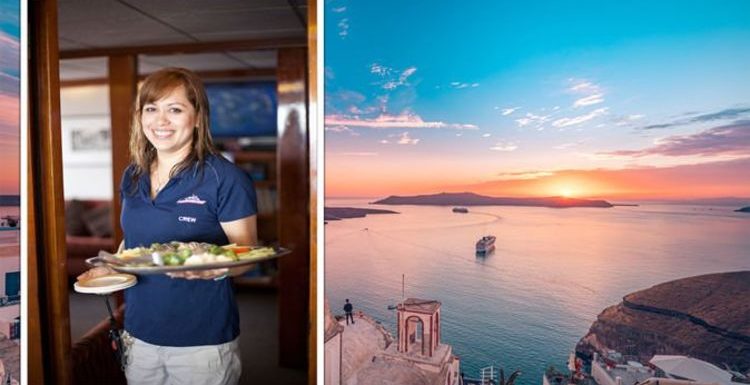 World's Most Expensive Cruise: Guests show off their suite
We use your sign-up to provide content in ways you've consented to and to improve our understanding of you. This may include adverts from us and 3rd parties based on our understanding. You can unsubscribe at any time. More info
Many crew members love working on the ships due to the travel and the opportunity to meet people from all over the world. One cruise crew member said they worked on a ship and invited Reddit users to "ask me anything".
One user asked: "How many hours a day did you work and what percentage of the guests treated you poorly?"
The crew member said: "It depends. Some days you work 12 hours or so, once or twice a week, other days seven to eight hours.
"There is a certain balance as we work every day. Most people are nice, some are scumbags, but you know, you learn to be stoic about it if you are smart.
"Some guests did make the girls in the office cry, so s* happens. As the central hub of the ship, there is a bunch of delegation of problems if another department makes a mistake."
It might be set on luxury yachts but the US reality show 'Below Deck' exposed a world of drama among boat crew.
One Reddit commenter wanted to know if "employee parties are as fun as us commoners are led to believe".
The crew member said: "It used to be way, way more fun a few years ago. Now, there are limitations to drinking and some other rules, like not bringing hard liquor to the rooms, so parties are not as good as before.
"The parties in the night club are like your normal party anywhere in a club in town. If you have a connection with the bartenders you might get a few perks though."
Another cruise holidaymaker wanted to know what most crew do if they have a day off in the port.
The crew member said: "Some employees go out, some stay in and sleep. I loved doing the excursions and since they are free for us, we did a bunch and it was fun.
"Personally, I tried to blend in with the crowd and pretend we were guests when we could.
"This way was more comfy to do the excursions or chill."
While nightmare passengers might leave the biggest impression on the crew, one guest wanted to know what people could do to be respectful.
They said: "The best ones are polite, respectful and considerate. The better you behave with us, the better the service, perks and experience you will have onboard.
"We are there to resolve any issues you might have and as long as you are nice and respectful, we will do our best to help you.
"Almost all of the employees are very empathetic with nice people and will go above and beyond to make them happy."
They added they had had one crazy experience with a guest who had an indecent proposal.
They said: "I was once proposed by a woman to sleep with her in her room and if it all goes alright she would keep me married to her and have me stay with her. I didn't do it."
On nearly all cruise lines, relationships between guests and crew are strictly forbidden and passengers should never proposition staff.
The crew member added that they never worked on the boat for the money but enjoyed it for the "travel and the parties".
In another popular Reddit thread, one crew member said the worst part of their job was suffering from homesickness.
Source: Read Full Article