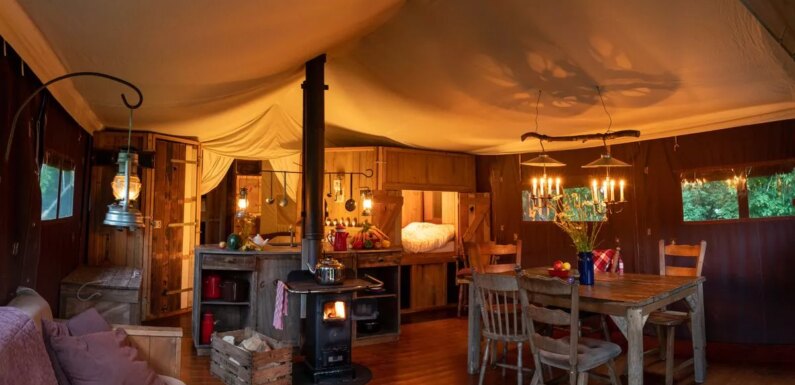 Sitting around the campfire, telling PG-rated ghost stories, the laughter filled the air. The sun was setting behind the hills in the distance as myself, my wife, our two boys and Paddy the dog settled down to a spooktacular end to a wonderful few days glamping in the heart of the Scottish Borders in Jedburgh.
If you are looking for the perfect countryside getaway, away from the hustle and bustle of the daily grind, then Feather Down at Chesters is the destination for you. It offers luxury glamping in a secluded woodland on a private estate – complete with hot tubs. Oh, and did I mention there is the most gorgeous river running nearby?
Arriving at the picturesque country estate, we were met by our bubbly host and estate owner Ellie, who gave us a chatty walking tour on the way to our accommodation. The sprawling estate is stunning, full of trees, greenery and wildlife.
READ MORE: Brits flock to floating 'Venice of France' – with jet skis instead of gondolas
The walk to our Canvas Hideaway (a part canvas, part wooden structure) saw me pushing a wheelbarrow with our luggage in, as cars cannot access the wooded area. Rather than being exhausting, this was a comedy way to start the holiday – accompanied by encouraging/mocking comments from my tittering family.
With Ellie leading the way, we walked past a trickling brook, children's tree house and into a jaw-dropping secret garden, straight out of the children's book. It contains a vegetable garden, and our host invited us to help ourselves to the delicious produce.
We also passed a cute little outbuilding – a bothy – where fresh supplies, including eggs, bacon, crisps, beer and wine, could be picked up daily, with the bill settled at the end of your stay. After this magical journey, we walked through a door in the secret garden wall and found ourselves outside our home for the next few days.
And wow. The accommodation comprised a spacious living room/kitchen, indoor toilet, main bedroom with a double bed plus a bunk bed room. Our 11-year-old immediately plumped for the "Harry Potter secret bedroom", accessed through a cupboard door in the living room wall.
He said he had the best of sleeps in this cosiest of cubbyholes. The cabin has no mains electricity, although there is enough energy from a generator to power a few lights. But in all honesty we enjoyed the candle-lit atmosphere far more, even though it made our nightly games of chess a little tricky!
Our private campsite had a fire pit, which we immediately put to good use. Ellie generously provides firelighters, kindling and wood, with a small surcharge paid for extras during the week.
Our host had suggested using fallen wood in the forest for future kindling, which we did to great effect, creating a roaring blaze within minutes of striking the first match. The boys and Paddy loved joining in with the daily foraging, collecting laughter and memories along the way too.
Chesters, the first Feather Down estate in Scotland, is all about getting back to nature. It is home to countless creatures, such as otters, badgers, foxes, bats, owls, rabbits, deer and pheasants.
There is also a resident osprey, but we sadly never spotted this elusive bird. The wildlife in the area did make for some interesting noises at night, leading us into regular games of 'guess the animal'.
The huge number of creatures living around us also underlined why, although dogs like mild-mannered Paddy are welcome at Chesters, they must be kept on leads at all times. Of course, anyone who has been glamping or indeed camping knows that internal heating can be an issue, particular at night.
Yes, here in Scotland, it can get REALLY cold in the evenings, even at the start of summer when we visited. But the generous amount of comfy quilts provided at Chesters ensured we were more cosy than cold, even when the temperature really dropped outside.
Chesters was the perfect base for visiting the many beautiful areas in this part of the Scottish Borders. We spent a fascinating day in Jedburgh itself, visiting the ruins of the 12th century abbey.
As a family of history lovers, we particularly enjoyed walking around the building where Mary Queen of Scots stayed. Hidden away down a side street, this fascinating little museum gave an insight into the sad story of the woman who came so close to changing the face of British history.
But the days out were not the only highlight of our trip. Ellie had arranged for us to try fly-fishing for a small fee with local fisherman Charlie Brownlow – and it was worth every penny.
Charlie showed extreme patience while teaching the basics of this wonderful sport to me and my two boys – all complete novices. And his expertise paid off as my eldest landed a trout within minutes of putting the practice into action!
Sadly, neither myself nor my youngest were so lucky but we loved every second of learning this exciting pastime, which we may now look to investigate further. On the last night we all – Paddy especially – enjoyed a farewell barbecue and those ghost stories around the fire.
We then fired up the hot tub again to literally soak up the wonderful sights and sounds surrounding us. You do have to pay extra for the hot tub, but it is money well spent to add a little more luxury to your stay.
As we drove away from Chesters the next morning we felt refreshed, with our batteries fully recharged, and with a determination to revisit the area again soon. Like the fly-fishing, we were now properly hooked on this little Scottish hideaway…
Feather Down offers self-catering breaks at Chesters in Jedburgh, Scottish Borders, from £415 for two nights, £465 three nights and £490 four nights. Hot tubs additional charge. Find out more at visitscotland.com.
Source: Read Full Article