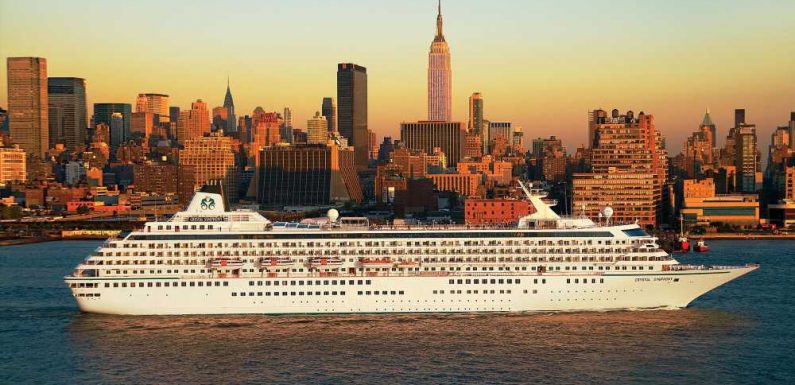 Crystal Cruises will be revived by Abercrombie & Kent Travel Group next year, but what that means for travel advisors with unpaid commissions and customers holding future cruise credits is unknown. 
A&K Travel Group will take over the Crystal brand and its two luxury cruise ships, the Crystal Serenity and the Crystal Symphony. 
The ships, which were purchased for a reported combined $128 million, are expected to resume service under the Crystal Cruises name next year after undergoing extensive refurbishment. 
A&K Travel had been known to be a suitor of the Crystal ships. Its owners include Heritage Group, whose chairman Manfredi Lefebvre d'Ovidio had publicly expressed interest in Crystal following the windup of the line's former parent company, Genting Hong Kong. 
"I am thrilled to start this new chapter and to be back in an industry that has always had, and always will have, a special place in my heart," said Lefebvre, whose family founded Silversea Cruises. "When the opportunity arose to acquire Crystal Cruises, I did not think about it twice." 
Cristina Levis, CEO of A&K Travel Group, will oversee both Abercrombie & Kent and Crystal Cruises. In a statement, she called the acquisition "extremely challenging, but the satisfaction of having this jewel in our family is the best payoff for all the hard work and efforts of the A&K team." 
A&K, which specializes in private and small-group tours and luxury vacations, offers private jet charter tours, chartered river and small-ship cruising as well as chartered expedition cruises. 
The fate of Crystal's expedition ship isn't clear yet. Reports indicate it has been sold to Silversea. Levis said that A&K was not interested in Crystal's river ships.
Unpaid commissions and clients with FCCs
What the deal means for travel advisors with unpaid commissions and customers holding future cruise credits (FCCs) is still unknown. 
Levis did not respond to a request for information on June 22 on how the company plans to approach customers and travel agents who lost commissions and credits after Crystal's February collapse. 
Signature Travel Network CEO Alex Sharpe said A&K and Lefebvre are well positioned to rekindle the brand but that there are "bigger fences to mend" with agents and guests over those lost commissions and potentially worthless FCCs. 
"To truly resurrect this brand, it will take a lot of work on all fronts in order for us to throw our endorsement and support behind the 'new Crystal,' but I am certainly looking forward to those conversations with our old industry friend," Sharpe said of Lefebvre.
Dallas-based luxury agent Dennis Nienkerk said he personally lost a $7,000 FCC and doubts he'll get it back. Crystal benefits from immense customer loyalty, he said, but he said he thinks the older Crystal ships — the Symphony was built in 1995 and the Serenity in 2003 — will have to compete in the upper-premium segment with Oceania and Azamara rather than in the luxury sector against newer tonnage at Seabourn, Silversea and Regent Seven Seas Cruises. 
"If A&K can duplicate Crystal standards and I hear good feedback from cruisers, I will market them, but I'm not going to make any special efforts because there's so much else out there that's better," said Nienkerk.
Can they get the crew back?
Tom Baker, president of CruiseCenter in Houston and a top producer for both A&K and Crystal, called the partnership "spectacular." 
"I couldn't think of a better alliance," he said, adding that A&K's ground assets in nearly 100 countries will enable it to provide high-quality excursions and unique land experiences. 
He added that he is in a "wait-and-see mode" as to whether he'll support the new Crystal. "I want to see what the master plan is and what they tell us they're going to do, and I'm going to watch the deliverables."
Questions remain, he said, as to whether new owners can deliver the Crystal product. 
"The ships are lovely," he said. "They're going to refurbish them and probably do some really amazing things. Will they be able to get the crew back in place? The entertainment, which was the best in the industry? If they can get the entertainment and the right crew members back, they'll have a winning combination." 
The interest of Baker's Crystal clients is already piqued. 
"This morning, I had clients writing to me, some of them had a few choice words and said, 'I'm not touching it until I get my 100 grand back,' and then a few other people wrote to me and said as soon as they have the voyages let me know, I'm ready to go."
One industry consultant predicted A&K won't try to honor commissions, deposits or FCCs. 
"They had nothing to do with Crystal and what happened," said Anthony Kaufman, a cruise line consultant who has worked for Carnival Corp. "Manfredi is well-respected and forward-looking. However, for good business reasons, they will want to keep everyone happy and may give some form of incentives to former Crystal customers, and I am sure they will target them in other ways to get them back."
___
Nicole Edenedo and Johanna Jainchill contributed to this report.
Source: Read Full Article