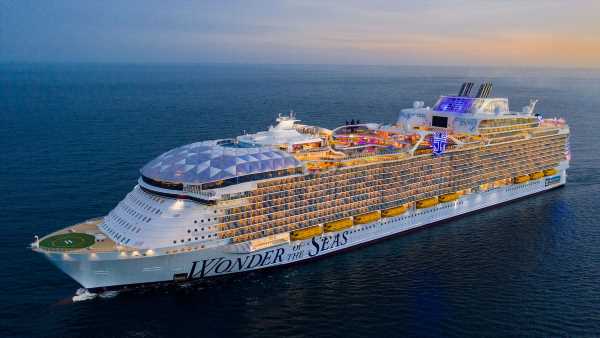 Calling 2023 a "banner year" for Royal Caribbean Group, the cruise company's executives said during its Q3 earnings call that demand had continued to accelerate and has set it up for a strong 2024. 
Load factor rose to 110% in Q3, up from 105% in Q2. Both load factors and prices for 2024 have risen higher than the company's prior years, executives said. 
"Obviously, we are feeling very good about the business, the demand for our brands, the demand for our ships and in destinations," said Jason Liberty, CEO of Royal Caribbean Group. 
Revenue per passenger cruise day in Q3 was up 17.6% over the same period in 2019 and the booking window has continued to extend, the company reported. Meanwhile, strength in close-in demand and onboard revenue drove Royal Caribbean to report higher-than-expected earnings per share in the third quarter and increase its full-year guidance. 
The company's total revenue reached $4.2 billion for the quarter, with net income topping out at $1 billion. By comparison, the company reported $33 million in net income for Q3 2022. 
Liberty noted that revenue from North America and Europe itineraries exceeded expectations due to strong close-in demand that translated into higher occupancy, pricing and onboard revenue, including double-digit yield growth from European itineraries in the quarter. 
However, gross cruise costs increased 14.4% over 2019, which included higher fuel costs. 
Consumer spending and pre-cruise purchases also continued to significantly exceed 2019 levels, he said. Going into 2024, the company has doubled the amount of pre-cruise revenue compared to 2023. 
The group has also seen what Liberty described as a significant increase in new customers in 2023. In Q3, he said about two-thirds of guests were new to cruise or new to the brand. Visits to the brands' websites in the third quarter doubled the number of visits from the same time in 2019.
Royal Caribbean Group performed better than Wall Street expected, said Patrick Scholes, an analyst with Truist Securities. 
"While net yields per passenger cruise day outperformed, the company was able to keep overall cost growth below original expectations," he said. 
New ships coming in 2024
With the addition of new ships, including Royal Caribbean's Icon of the Seas and Utopia of the Seas, the Celebrity Ascent and Silversea's Silver Ray, the company's capacity will grow by 8% next year. 
While the company's deployment strategy will be similar to that of 2023, Liberty said the group will sail slightly more Caribbean and slightly fewer sailings in Europe next year. The group will return to China for the first time in four years.
"While still early, it is shaping up to be another exciting year for the company," said Naftali Holtz, the group's CFO.
Effect of the war in Israel
Almost three weeks after war broke out in Israel, Liberty said it is too soon to tell whether the conflict will have a meaningful impact on demand for sailings in Europe next year. The group sources half of its guests on European sailings from the U.S. and the other half from around the globe, Liberty said.
"If this horrific situation continues to occur, that could potentially weigh on a consumer psyche, but that's not something that we're seeing at this point in time," he said. 
About 1.5% of the group's capacity in the fourth quarter had planned to call in Israel. While itineraries have been changed, Royal Caribbean Rhapsody of the Seas has provided pro bono evacuation services for the U.S. government to safely evacuate Americans from Israel.
Source: Read Full Article