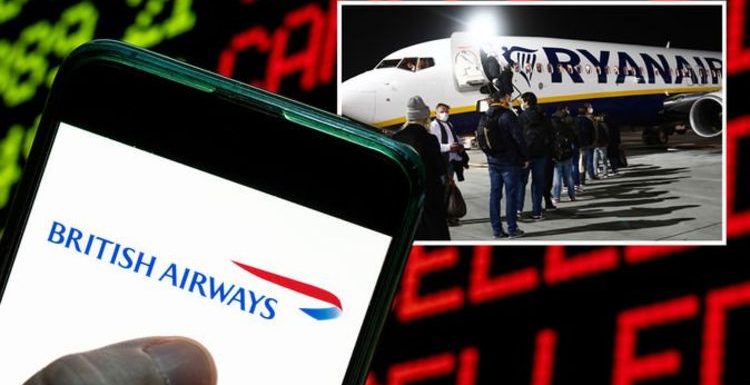 British Airways releases new campaign as travel restrictions ease
We use your sign-up to provide content in ways you've consented to and to improve our understanding of you. This may include adverts from us and 3rd parties based on our understanding. You can unsubscribe at any time. More info
British Airways were one of many airline providers who were pleased to welcome back travellers this year, but with the stagnant demand to jet off somewhere, the company has cut more than 2,000 flights from its schedule between now and March.
Aviation website Simple Flying has reported that BA has cut 2,144 flights from its winter schedule.
More than half of these flights were planned for January.
This month, the airline has dropped 210 flights, January sees 1,146 flights dropped, February sees 210 flights dropped and March there is 243.
The flights cancelled are both domestic and transcontinental, routes such as London to Belfast and London to Cape Town.
Any passengers which have been affected by the flight cancellations are able to receive a full refund or swap their flight.
A spokesperson for British Airways said the changes were not because of the Omicron variant or increased travel restrictions.
They said they were cleaning up their schedule as they have done throughout the pandemic because of reduced demand for flights.
BA are not the only company to cancel flights, Ryanair has also made some changes to their schedule.
On November 29, Morocco announced a two-week ban on all overseas flights, including those from the UK, scheduled to end on December 13.
However, Ryanair decided to cancel all flights to Morocco until February 1.
Bosses at the airline shared concerns that they do not know what to expect beyond the end of the ban.
Ryanair's Director of Commercial Jason McGuinness said: "We deeply regret this disruption to our passengers from these cancelled Morocco flights until February 1, 2022, due to a lack of clarity from the Moroccan authorities on what to expect beyond their initial travel ban ruling to December 13.
"Ryanair regrets the unnecessary disruption caused and apologises to all of our passengers for this outcome, which is entirely beyond our control."
The airline has notified affected passengers and given them the option of a travel voucher, refund, or to rebook their journey.
Tour operator Saga has also cancelled some 2022 holidays, affecting around 3,000 bookings.
A Saga spokesperson said: "The market for international travel remains uncertain following the pandemic and, against this backdrop, Saga has reviewed the holidays it is offering customers.
"Central to this is ensuring that we are offering the trips our customers want and that we are confident we can deliver to the very highest quality and with the least potential for disruption."
It comes as new travel rules were enforced this morning at 4am.
Anyone aged 12 and above entering the UK must now tale a pre-departure Covid test before boarding their flight.
Arrivals from non-red list countries must then isolate until they receive a negative result from a PCR test.
Anyone arriving from a red list country must isolate for 11 nights in a designated quarantine hotel.
Source: Read Full Article