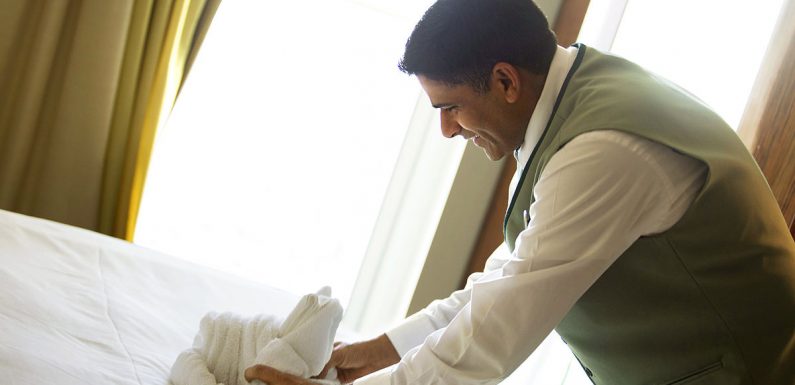 Norwegian Cruise Line will cut back its daily cleaning of staterooms this year, according to Crew Center, a website run by former cruise ship crew members.  
Citing a letter sent to NCL crew members, the line will longer provide twice-daily stateroom service to guests booked in studio, inside, oceanview, balcony and club balcony rooms. Instead, those rooms will receive once-daily service. 
All other suites and all Haven categories will be unaffected by the change and continue to receive twice-daily stateroom service, according to Crew Center. 
Travel Weekly sought a request for comment from NCL on Tuesday. 
The new policy will be introduced on the Norwegian Epic on Jan. 8 and rolled out fleetwide by March 31, reported Crew Center.  
NCL reportedly said in the letter that the reduction in service will have a positive impact on environmental sustainability by conserving water, energy and the use of chemicals and is in line with standard practices in the cruise and hotel industries. 
The change will alter titles and pay for stateroom stewards, according to Crew Center. The title "stateroom steward" and "junior stateroom steward" will be eliminated and replaced by "stateroom attendant." Those previously in the position of "junior stateroom steward" will receive a salary increase and stateroom stewards will see a salary decrease on their next contract.
The changes come days after NCL increased gratuities for guests booked in suites and regular staterooms. Beginning with bookings made on or after Jan. 1, Haven and suite guests will be charged $25 per day, up from $20. All other guests will be charged $20 per day, up from $18 for club balcony suite guests and up from $16 for all other cabin categories. 
Guests who booked before Jan. 1 can lock in the previous rates if they prepay their service charges before their sail date. Prepaid charges can be added anytime up to 24 hours before sailing. 
Source: Read Full Article