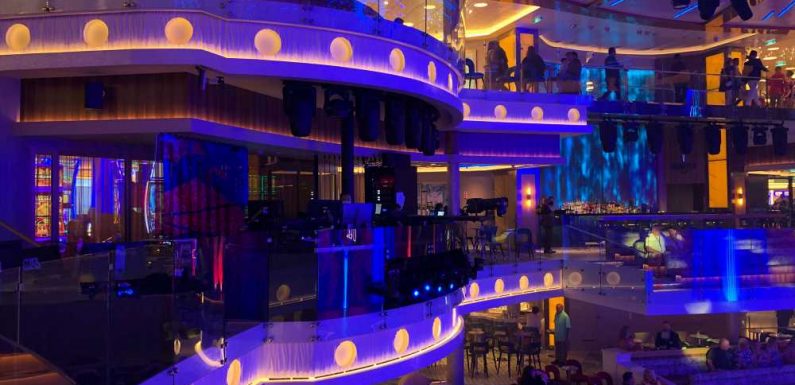 ABOARD THE MARDI GRAS — Let's be clear: This isn't the Carnival Mardi Gras, the ship that launched Carnival Cruise Line in 1972, but simply the Mardi Gras, a bigger and better kind of Fun Ship arriving on the eve of the line's 50th anniversary.
At 6,500 passengers and 180,000 gross tons, it's one of the biggest cruise ships to be launched during the pandemic. And with features ranging from the environmental (engines powered by liquefied natural gas) to the passenger (a roller coaster ringing the top deck) it's easily one of the most anticipated cruise ships of the year.
The Mardi Gras continues Carnival's evolution away from pop architecture toward less novelty and over-the-top zaniness in design. Still fun but not funhouse, the look and feel of the Mardi Gras is sort of "cruise elegant," as Carnival calls its formal nights. 
The ship's 20 decks include three that pass through an innovative, side-looking atrium with a massive 3,000-square-foot window that brings light into the lower public areas.
Atop the ship, I tried the Mardi Gras' big Instagram-worthy feature, the electric-powered Bolt Ultimate Sea Coaster roller coaster, and whoosh! it was fun. Skeptics note the $15 price for an experience of less than a minute, but everyone will want at least one ride.
First Call: Carnival's Mardi Gras
The Red Frog Pub gains a second story and attractive tiki theming. A bar stool perch on the upper floor is the perfect shaded spot to survey the scene at the Beach Pool, the largest of five pool areas onboard. 
I liked the Serenity pool area, with its sunken living room feature and some hot tubs that have a peekaboo glass side. The Patio pool on Deck 6 provides a nice aft view of the wake kicked up by the Mardi Gras' LNG-powered engines.
The eats aboard the Mardi Gras
On a ship named Mardi Gras it's no surprise to find a New Orleans-theme area, but Carnival makes it sing. The handsomely crafted Brass Magnolia bar is reminiscent of Antoine's or Brennan's, with white-coated waiters and an atmosphere that manages to be formal and casual at the same time. The voodoo side of New Orleans is evoked with esprit at the Fortune Teller bar.
Emeril's Bistro 1396 offers a fine selection of New Orleans cuisine from jambalaya to muffuletta sandwiches but didn't appear to have a lot of customers in the initial days of the cruise. My daughter said New Orleans food isn't universally loved. "Everyone likes pizza," she noted. (Let's hope cruisers don't live by pizza alone.)
The craft cocktail menus curated by Carnival's beverage operations vice president Eddie Allen are outstanding and varied. If you can't find a cocktail you like between the adjacent Alchemy Bar, Brass Magnolia and Fortune Teller, cocktails may not be for you. 
Tom Stieghorst sampled an array of dishes, including an enormous chicken biscuit for breakfast at Shaquille O'Neal's The Big Chicken.
For the most part, the Mardi Gras does not feel as gargantuan as its 5,200-passenger size suggests. But some restaurants, such as Guy's Burger Joint and Guy's Pig & Anchor, get a lot more real estate than on previous ships and seem a bit cavernous, especially at the 70% capacity of our sailing. The elevators, no longer "smart" as on the Vista class, gained glass doors and are fast and efficient. Carnival is making a push to route guests away from the oft-crowded Lido buffet, especially at breakfast. It seemed to work.
Several Mardi Gras restaurants are new or nearly new to Carnival, including Shaquille O'Neal's Big Chicken, which picks up where Guy's Burger Joint leaves off. It's fried chicken done well, less of a guilty pleasure than the burger joint and with a totally different personality. 
Fine dining chef Rudi Sodamin, who has worked primarily for Holland America Line, made his Carnival debut on the Mardi Gras with Rudi's Seagrill. The crab cakes I had there were delicious, and the modern design of the restaurant was airy and a bit futuristic. 
Tucked away in a Deck 16 corner is Street Eats, a quartet of concepts meant to mimic the food truck experience. My 24-year-old daughter had a spicy beef bao bun. "It was comparable to any bao bun I would have on land," she said. 
She found another of her favorites, a rice and chicken burrito bowl, at the new Chibang, which puts Chinese and Mexican food under one roof — but separately, not in fusion. 
The sleeping situation
Cabins, designed for the first time by an outside firm, interlock like puzzle pieces, which allows for more cabins of smaller dimensions. But the designers also came up with a really ingenious hinged shower door that folds out of the way and some versatile folding shelves in the clothes cabinets, along with a handy slide-out shoe drawer. 
A softly illuminated circle is a design theme picked up in light fixtures and vanity mirrors in most cabins, which are intended to be calmer, more neutral and less energetic than the public areas of the ship. 
A dozen aft Excel corner suites with wraparound balconies and open-air hot tubs are a first for Carnival and will likely be in high demand. 
In sum, the Mardi Gras has something for everyone and more to do than guests will likely have time to experience on a weeklong vacation. It's a Shaq-size ship for the 21st-century cruiser. 
Source: Read Full Article