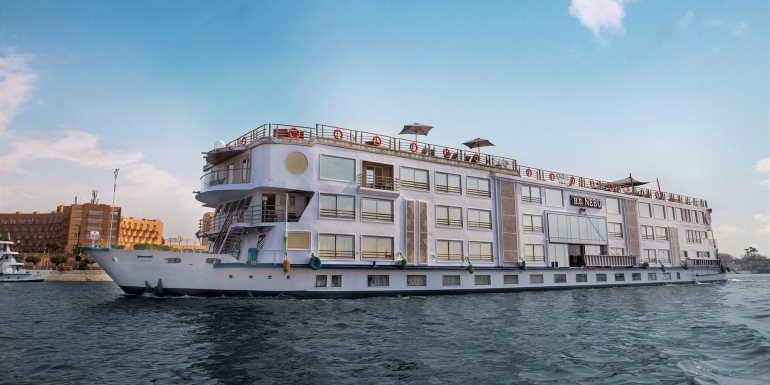 The Nebu entered service on the Nile River in October, adding to the existing 10-vessel fleet of Central Holidays and parent company Sakarra Group International.
Designed for the North American market, the ship features four classes of suites: 33 standard suites with French balconies measuring 301 square feet; two 452-square-foot executive suites with French balconies; four 205-square-foot single suites; and one owner's suite measuring 764 square feet with a full balcony.
The Nebu also boasts a pool with bar service, a fitness center, and "the largest spa on the River Nile," according to the company's press release.
"We are thrilled to demonstrate our commitment to travel in Egypt and to the U.S. travel market with this investment that that sets a new standard of luxury in Nile River cruising," said Baher Ghabbour, chairman and CEO of Sakarra Group.
He said the new vessel "features unparalleled modernity with traditionally inspired touches that transport guests both literally and figuratively to the lands of ancient pharaohs, golden-clad tombs, and legendary pyramids, all while sailing in the lap of luxury."
Other 2021 newbuilds on the Nile include Uniworld's S.S. Sphinx and AmaWaterways' AmaDahlia.
Along with the launch of Nebu, Central Holidays added Mayye Osman to its sales team as the company's dedicated Egypt product development and destination specialist.
"It is an extremely exciting time to be part of this expansion into Egypt as travelers look forward to heading out on the travel adventures of their lives after [spending] the past year and a half pent up," said Osman. "Our Nebu cruise itineraries allow travelers to become part of the culture, history, ambiance and everyday life of each place visited."
The Nebu offers customers options for a three-, four-, or seven-day cruise as part of a land-and-cruise vacations up to 13 days in length. 
Source: Read Full Article