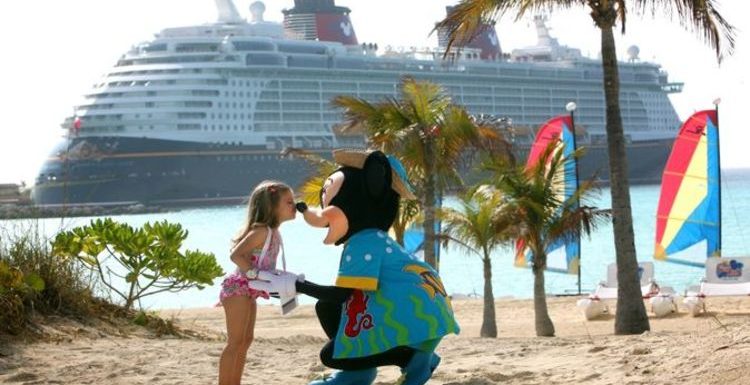 Boris Johnson discusses booster jabs for international travel
We use your sign-up to provide content in ways you've consented to and to improve our understanding of you. This may include adverts from us and 3rd parties based on our understanding. You can unsubscribe at any time. More info
The cruise line recently updated its online regulations to mandate children are fully vaccinated to travel. From January 13, unvaccinated children will not be allowed to board.
Disney Cruise Line stated that all passengers over the age of five must be fully vaccinated "as defined by the US Centers for Disease Prevention and Control (CDC)" by their departure date.
Under CDC rules a fully vaccinated person must have had two doses of a two dose vaccine or one dose of a one dose vaccine two weeks prior.
Children under the age of five will not need to be vaccinated but will need to present a negative test to board.
The update said: "As we set sail again, the health and safety of our guests, cast members and crew members is our top priority.
"Our focus remains on operating our ships in a responsible way that continues to create magic for all on board."
Children aged two and above will need to wear face masks in public areas of the cruise ship.
The announcement has drawn praise and criticism on social media from fans of Disney Cruise Line.
Nurse Kelsey tweeted: "Starting in January, all guests aged five and over will need to be fully vaccinated (including Covid!) to board Disney cruise ships. Awesome!"
Twitter user, Dara Kass tweeted: "This is a life saving policy."
KyloGreg tweeted: "Great news. Now do the theme parks."
However, other social media users were less thrilled with the new vaccination update for children.
Tucson Mel tweeted: "And I'll bet they still have to wear masks too. I can't believe anyone would actually pay for this."
Beatrice Cardenas tweeted: "We were about to book a trip to take our 10 year old. They have lost our business and we will find other rewarding experiences elsewhere."
Willinghammer tweeted: "This should be short lived considering their target audience is children and they'll run out of customers by February.
"All for a virus that doesn't even affect them. My kids get multiple viruses a year that are 10x worse than this for them."
Other social media users tweeted that they planned to boycott Disney Cruise Line due to the vaccination rule.
Kitty and the Mouse tweeted: "Uh oh this is not good news for us. To be clear it's because we can't get her vaccinated in the UK,she's five."
The UK is currently only vaccinating children over the age of 12 so UK Disney Cruise Line will need to contact the company if they have a cruise booked for after January 13.
The cruise company is popular with families and includes shows with many of Disney's favourite characters.
Disney Cruise Line sails to many destinations around the world with options including a Northern European cruise with a Frozen theme.
Some trip options include a week's stay at Walt Disney World followed by a cruise to the Bahamas.
Source: Read Full Article