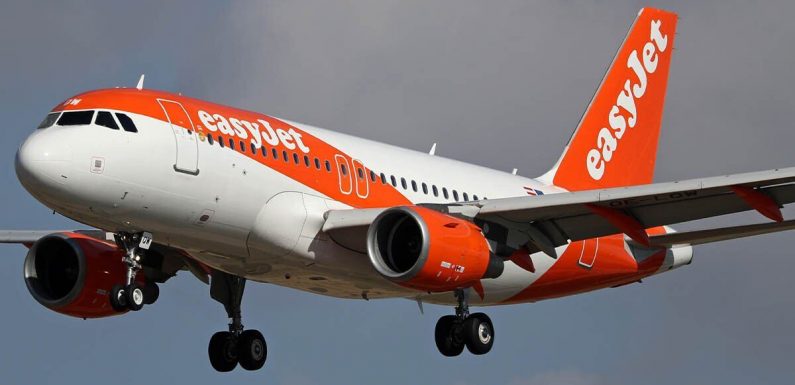 EasyJet emergency: Amsterdam to Faro flight diverted
We use your sign-up to provide content in ways you've consented to and to improve our understanding of you. This may include adverts from us and 3rd parties based on our understanding. You can unsubscribe at any time. More info
Easyjet has cancelled several flights in and out of Belfast International Airport today following IT system issues. The disruption was expected to affect flights leaving or arriving at the airport between 1pm and 3pm BST, though some flights beyond this period have also been cancelled. Journeys across the UK and Europe have been cancelled throughout the day, including flights to and from Bristol Interational, London Gatwick, Manchester, Corfu and Amsterdam. Here is a full list of all the easyjet flighs which have been cancelled today.
Which easyjet flights have been cancelled?
At least 200 easyjet flights scheduled to take place today have been cancelled across the network.
In a statement released at 6pm BST, the arline confirmed that issues have ben resolved, though disruption could continue into the evening.
Easyjet said: "Today's IT system issues have now been resolved.
"Although we expect to operate most of our remaining flights today, we'd advise anyone due to travel with us this evening to check Flight Tracker on the mobile app, or online before travelling to the airport. Thank you for your understanding."
Flights due to depart from Belfast International Airport which have been cancelled are:
13:30 BST to Corfu
13:40 BST to Liverpool
15:25 BST to Manchester
16:25 BST to London Gatwick
17:30 BST to Bristol
18:45 BST to Amsterdam
Flights due to arrive at Belfast International Airport which have been cancelled are:
14:55 BST from Manchester
15:50 BST from Liverpool
15:55 BST from London Gatwick
17:00 BST from Bristol
18:15 BST from Amsterdam
21:55 BST from Corfu
A spokesperson for the budget airline said: "While we expect to operate most of our remaining flying programme some may still be subject to some disruption in the coming hours.
"We advise customers due to travel with us to continue to check Flight Tracker for the status of their flight before making their way to the airport.
"We apologise for the inconvenience caused and customers can apply for compensation in line with regulations."
Easyjet also tweeted passengers to say that they "apologise to all customers whose flights have been affected by IT system issues.".
DON'T MISS:
Two 'magic' ways you might an upgrade on your next flight [INSIGHT]
easyJet issues cause chaos' at UK airports [LATEST]
TUI cancels more flights and holidays to Sri Lanka [ANALYSIS]
Airports across the UK have been affected by the disruption, with multiple flight paths experiencing cancellations throughout the afternoon and into this evening.
Some of cancellations (including round-trips) from key UK airports include:
Gatwick to and from
Aberdeen
Amsterdam
Athens
Basel
Belfast International
Copenhagen
Copenhagen
Edinburgh
Geneva
Glasgow
Hurghada
Las Palmas (Gran Canaria)
Malaga
Malta
Munich
Mykonos
Nice
Paris CDG
Rhodes
Santorini
Toulouse
Bristol to and from:
Alicante
Belfast International
Bilbao
Dalaman
Glasgow
Inverness
Lisbon
Newcastle
Paris Orly
Toulouse
Luton to and from
Amsterdam
Bodrum
Bordeaux
Edinburgh
Prague
Rhodes
Tenerife
Manchester to and from:
Antalya
Belfast International
Faro
Milan Malpensa
Munich
Nice
Paris CDG
Prague
Liverpool to and from:
Edinburgh to and from:
Hamburg
Lanzarote
Palma
Paris CDG
Glasgow to and from:
Birmingham to and from:
Source: Read Full Article