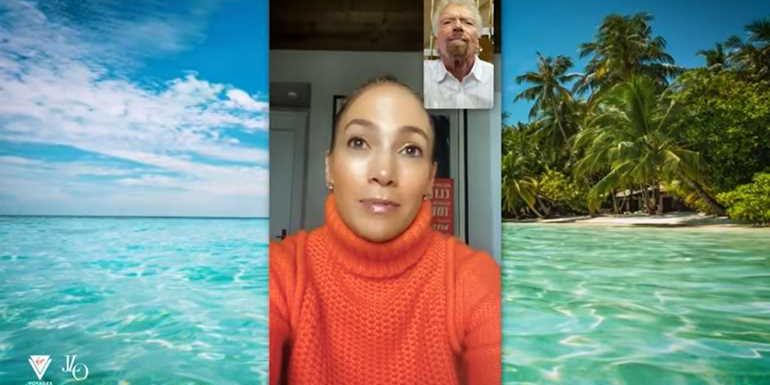 Jennifer Lopez has joined Virgin Voyages as an investor and the cruise line's chief entertainment and lifestyle officer. 
Lopez said she was inspired to join Virgin Voyages by the brand's dedication to "irresistible experiences" and well-being, "which all fits perfectly with my own lifestyle and brand ethos." 
"My artistic and social mission is to empower, inspire and entertain," says Jennifer Lopez. "Any opportunity that I get to combine all these attributes into a partnership and collaboration is exciting for me."
Virgin Voyages announced the new relationship in a video in which Lopez and Virgin Group founder Richard Branson amusingly try to come up with her new title. Lopez's role will be as an investor and creator who will help shape the experience on Virgin Voyages ships, with a focus on well-being. 
Virgin Voyages will offer JLo Beauty products onboard. In a promotion of the JLo collaboration, Virgin Voyages is offering $200 in onboard cruise credit, called "Sailor Loot," which can be redeemed at the line's website until March 31, using the code JLoversLoot.  
Virgin Voyages CEO Tom McAlpin said Lopez is a trailblazer who embodies the spirit of the brand. 
"As an investor and advisor, she turns the godmother tradition on its head and makes it powerful and limitless. We couldn't be more excited for what is ahead," he said.
Virgin Voyages has two ships in its fleet: Scarlet Lady, launched last fall, and Valiant Lady, which is due for its maiden voyage on March 18 in Northern Europe and the Canary Islands. 
Three of Valiant Lady's sailings in April have been canceled, according to Cruise Industry News. The voyages were scheduled for departure on April 4, 15 and 18. 
The line is offering a 50% future voyage cruise credit to passengers rebooking another voyage. Guests canceling their plans are being offered a full refund and a 25% future cruise credit of the amount paid. 
Virgin Voyages did not immediately respond to Travel Weekly's request for comment on the canceled sailings.
Source: Read Full Article