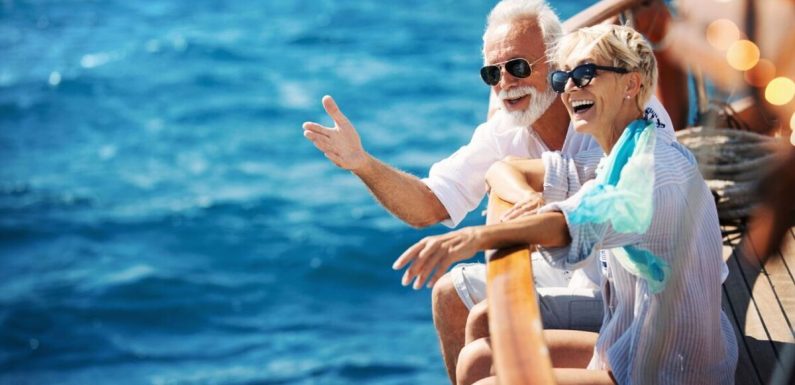 Jane McDonald shares her top packing tips
We use your sign-up to provide content in ways you've consented to and to improve our understanding of you. This may include adverts from us and 3rd parties based on our understanding. You can unsubscribe at any time. More info
In one of the episodes of her TV series Cruising with Jane McDonald on Channel 5, the singer shared her top recommendations when going on a cruise holiday, including the clothes travellers need to pack, the most effective way to organise a suitcase and the only two pairs of shoes that people will need on board.
Jane started by saying that it is key to "invest in a good suitcase, lightweight but hard". She also suggested: "It's also worth investing in a clothes rail and hanging up everything you are going to take with you."
The travel guru said that planning the clothes you are going to take in advance is essential to save time and space and explained that she always "separates the clothes into day and evening wear".
"That way, you'll know exactly what you're packing for each day so you won't end up taking too much or worse, the wrong things.
"Check the itinerary and work out how many formal nights there will be, so you can pack accordingly.
"For glamorous evenings, you are certain to need a cocktail dress and some accessories to go with it," she added.
Jane talked about the shoes holidaymakers should always pack when going on a cruise holiday, and highly recommended packing "a pair of comfortable trainers like Skechers, plus a pair of mid-heel shoes in nude or pewter".
"Trust me, you don't want to be tottering around on deck in sky-high stilettos," she said. In fact, to walk around the cruise or go on an excursion, a pair of trainers is more than enough while mid-heel shoes will be handy for fancy evenings.
Crew member Miguel Muñoz shared similar advice and explained that he uses "aqua shoes", which he described as "life-changing" for travelling and saving space in your luggage at the same time.
He commented: "Don't make the mistake of bringing two of each 'just in case'. One pair of flip-flops is enough. In the unlikely event you lose one, you can always get new ones at your destination.
"Perhaps bring one pair of flip-flops that you can use for everything: to go to the beach, to the swimming pool, to have showers, to go for a walk… If you need to bring boots on your trip, wear these when travelling instead of packing them.
"I recently started using these very versatile trainers which you can use to swim. They get dry in a few seconds and they don't smell… they are really cool.
"You can use them to go hiking, to go to the beach, you can swim in them… and they don't take any space in your bag. I love them!"
In terms of the best colours to wear on a cruise holiday, Jane recommended sticking "to whites and blacks", or alternatively, people can also opt for browns and creams which will accentuate their tan.
"If you're going to go for black, don't pack brown, because that means two sets of handbags, how many shoes you've got to match brown and black – you just can't do it."
She also advised trying and get "lycra in just about everything you bring on a cruise because you're just about going to eat your own body weight".
"So always bring something slightly bigger for the end of the cruise. Trust me, you are going to need it!"
In terms of packing, the cruise expert shared her favourite method to keep everything organised. Jane revealed that mini storage bags or travel cubes are the best way to save space in the suitcase.
"You can put these in your case and keep everything separate. You can find these on Amazon," she said.
Source: Read Full Article