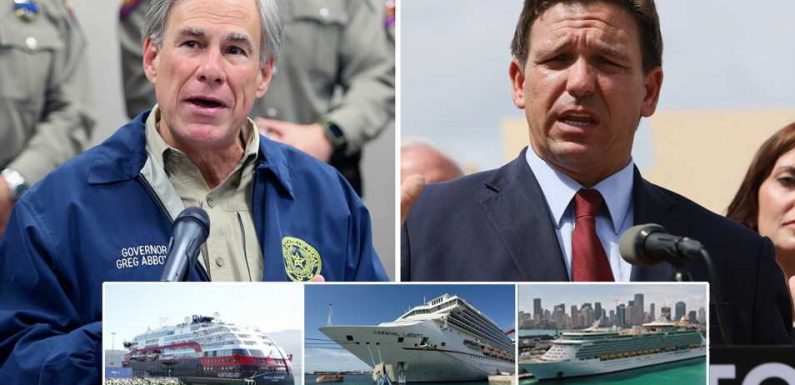 Cruise companies are heading for a showdown with Republican governors over vaccination passports as the industry seeks to reopen after a year of sailing bans. 
Load Error
Carnival Cruise Line's plan to require passengers to show proof they are vaccinated against COVID-19 has put the firm on a collision course with Texas' Republican Governor Greg Abbott who banned businesses from doing so earlier this week.
The impasse comes after another Republican governor, Ron DeSantis of Florida, signed into law his own ban on vaccine passports as other cruise companies vow to defy it and require passengers to be inoculated.
Miami-based Carnival Cruise Line announced sailings from the Port of Galveston, Texas, with vaccinated guests and was working with Florida officials for a ship to leave from PortMiami.
Carnival announced on Monday that it would be resuming service this coming July for the first time since the coronavirus pandemic forced the shutdown of all cruise lines.
Sailing into the unknown: Which cruise firms will require proof of COVID vaccinations
Carnival
Passengers must have received their final dose of a CDC-approved COVID-19 vaccine at least 14 days prior to the beginning of the cruise and have proof of vaccination.
Princess Cruises
Princess is owned by Carnival and is expected to follow the same rules.
Norwegian
All passengers will need to be vaccinated when operations out of Miami resume in August. 
Royal Caribbean 
Guests are 'strongly recommended' to set sail fully vaccinated, but it is not mandatory for cruises out of Texas and Florida. Those who are unvaccinated or unable to verify vaccination will be required to undergo testing. 
Passengers aged 16 and older on cruises from Seattle will be required to be vaccinated
 Celebrity Cruises
Celebrity Cruises is owned by Royal Caribbean and is expected to follow the same rules. 
Disney Cruises  
Disney has not yet announced a vaccine policy for its U.S. ships. A two-night simulation cruise later this month requires guests to be vaccinated. 
Guests aged 18 and older must be vaccinated before embarking on its planned UK sailings.
Two of the company's ships – the Carnival Vista and the Carnival Breeze – will be returning to the Port of Galveston next month, and the company plans to begin setting sail from the port on July 3.
'These cruises are available for guests who have received their final dose of a CDC-approved COVID-19 vaccine at least 14 days prior to the beginning of the cruise and have proof of vaccination,' Carnival said in a press release on Monday.
But the sailing plans come amid conflicting legal requirements between the US Centers for Disease Control and Prevention and states.
The CDC recently announced new guidelines permitting cruises to resume operations but only on condition that 95 percent of crew members and 95 percent of customers are vaccinated.
Abbott on Monday responded to Carnival's announcement by signing into law a bill that bans businesses in the Lone Star State from 'requiring vaccine passports or any vaccine information.'
'Texas is open 100% without any restrictions or limitations or requirements,' the governor said on Monday.  
And Florida has sued the CDC and has asked a court to lift restrictions imposed by the federal agency. Arguments in the case are expected to resume this week in Tampa. 
'Unfortunately, the CDC has opted to continue its ridiculous and unlawful regulations that target a single industry by imposing vaccine requirements – something no other business or industry must do,' a news release from DeSantis' office said. 
Norwegian, which has stated that it will still require customers to show proof of vaccination, said in a statement that it is in contact with DeSantis' office on the requirements.
'We are currently in communication with his staff and legal counsel to ensure that we can offer the safest cruise experience for our passengers departing from the cruise capital of the world,' said Norwegian CEO Frank Del Rio.
Royal Caribbean backpedaled on vaccination requirements for passengers preparing to set sail next month from ports in Texas and Florida after the states passed laws banning businesses from asking for so-called vaccine passports.
The cruise line announced last week that eight of its ships will resume voyages in July and August with trips leaving ports in Florida, Texas and Washington state .
Royal Caribbean International said on Friday all crew members will be vaccinated against COVID-19. 
Passengers 16 and older on cruises from Seattle to Alaska will also be required to be vaccinated. 
The requirement will be expanded to cover Alaska-bound passengers 12 and over starting August 1.
Video: Bills would ban businesses from requiring COVID-19 vaccines for service (WISN Milwaukee)
COVID-19 in Wisconsin: 66 new cases

WISN Milwaukee


Marquette mandates COVID-19 vaccines

WISN Milwaukee


Boy drowns at birthday party

WISN Milwaukee


Persons of the Week: Fidel Verdin & Shalina Ali

WISN Milwaukee


UPAF Ride For The Arts kicks off annual fundraiser

WISN Milwaukee


No lifeguards, crowded beaches

WISN Milwaukee


Family, advocates call for release of body cam video in Milwaukee police shooting

WISN Milwaukee


"Big Boy"

WISN Milwaukee


Evers re-election bid

WISN Milwaukee


Child Drowning

WISN Milwaukee


Bucks post season parties continue in Deer District

WISN Milwaukee


Viva MKE celebrates Hispanic community

WISN Milwaukee


Milwaukee hosts first drive-thru vaccination clinic at Summerfest grounds

WISN Milwaukee


Web Extra: Lawmakers debate DWD funding

WISN Milwaukee


Lawmakers seek to ban race theory

WISN Milwaukee


Red-hot real estate market

WISN Milwaukee


COVID-19 in Wisconsin: 66 new cases
State health officials reported at least 66 new positive cases of the coronavirus in Wisconsin on Monday.


WISN Milwaukee



Marquette mandates COVID-19 vaccines
The announcement was made Monday morning in a message from President Dr. Michael Lovell.


WISN Milwaukee



Boy drowns at birthday party
Isac Rivera Ramos was found unresponsive in the Regner Park swimming pond Saturday afternoon.


WISN Milwaukee

For other trips passing through US water, Royal Caribbean said that passengers are 'strongly recommended' to get vaccinated.
Unvaccinated passengers must be tested for the virus and follow other measures that will be announced later, the company said.
But Royal Caribbean appears to be an outlier as the other firms say they're not backing down.
At least one CEO has stated that if DeSantis follows through on his stance, firms could begin operating their ships from ports in the Caribbean or other states that would accommodate their pro-vaccine stance. 
Norwegian Cruise Line also said that it will require all passengers to be vaccinated when it resumes operations out of Miami in August.
Earlier this week, Norwegian announced sailings from New York, Los Angeles, Port Canaveral and Miami.
Last month, Del Rio told Fox News that the first seven ships that will set sail this summer will be operating from outside the United States.
In a recent earnings call, he suggested that his company could base its ships elsewhere if DeSantis forces his hand.
'At the end of the day, cruise ships have motors, propellers and rudders, and God forbid we can't operate in the state of Florida for whatever reason, then there are other states that we do operate from, and we can operate from the Caribbean for a ship that otherwise would have gone to Florida,' Del Rio said.
His comments were reported by CNN.
DailyMail.com has sought comment from Celebrity, Carnival, and Norwegian. 
Disney Cruise Line said last week that the CDC approved a request to conduct a two-night simulation cruise later this month departing from Port Canaveral.
Last month, Florida filed a lawsuit against the federal government demanding that cruise ships be allowed to start sailing immediately.
DeSantis said the no-sail order is outdated and hurts the state as the industry generates billions for the economy and employs tens of thousands of Floridians.
'We don't believe the federal government has the right to mothball a major industry for over a year based on very little evidence and very little data,' the Republican governor said at a news conference at the Port of Miami.
The Centers for Disease Control and Prevention issued new guidelines last week for companies on how to respond in the event of COVID-19 cases but has so far not lifted its no-sail order.
The lawsuit says the new guidance doesn't take into consideration another CDC statement made that fully vaccinated people can now travel at low risk to themselves.
It also says the new rules increase the frequency of reports of COVID-19-like illnesses and require agreements be made between cruise companies and all US ports and local health authorities where ships have to dock.
The CDC shut down sailing in March 2020 when several coronavirus outbreaks were tied to ships worldwide, prompting ports to reject docking plans and leaving some passengers and crew members to navigate for an extended time.
Florida is the nation's cruise capital with three of the world's busiest ports: Miami, Port Canaveral near Kennedy Space Center, and Port Everglades near Fort Lauderdale.
The lawsuit says industry generates billions for the state's economy as millions of people typically cruise from one of Florida's ports each year.
DeSantis has maintained the ban disproportionally impacts Florida and has said that cruising has resumed in much of the world, forcing Americans to fly to other ports in the nearby Bahamas.
Industry leaders say there have been no new outbreaks tied to their ships.
'People are going to cruise one way or another. The question is are we going to do it out of Florida, which is the number one place to do it in the world, or are they going to be doing it out of the Bahamas or other locations?' DeSantis said.
White House press secretary Jen Psaki said last month she did not have a direct response to the lawsuit, but denied accusations the CDC uses flawed data to ban sailing.
'I will just reiterate that the CDC guidance is based on data and health and medical guidelines, hence that's why they put it out and why they are regularly updated,' she said.
Michael Winkleman, a maritime lawyer, said that he does not expect such a lawsuit to succeed in court.
But DeSantis' advocating for the cruise industry in a public way could change the public perception on the matter, and pressure the federal government to resume traveling, Winkleman says.
'The reason why this would be futile is CDC officials have wide discretion in how they do their federally mandated job,' he said.
'From a big-picture perspective, I don't think there is any reason why cruises cannot sail safely.' 
FIRMS FACE HEAVY FINES AND BAN ON CONTRACTS IF THEY REQUIRE PROOF OF VACCINATION
The measure signed into law earlier this week by Texas Governor Greg Abbott – Senate Bill 968 – bans businesses operating in the state from requiring customers to show proof of vaccination.
Any company that violates the ban would not be permitted to contract with the state.
State agencies that oversee certain sectors of the economy could also make compliance with the state law a condition of getting licensed or permitted, according to The Texas Tribune.
But the law does permit businesses to implement 'COVID-19 screening and infection control protocols in accordance with state and federal law to protect public health.'
The new law, which went into effect immediately, comes weeks after Abbott issued an executive order that banned state agencies, political subdivisions, and organizations that receive public funds from creating 'vaccine passports'.
Those entities are also not allowed to require that anyone show proof of vaccination in order to receive services.
Florida's statute appears to be much more onerous. The measure signed into law by Governor Ron DeSantis, a Republican, imposes a $5,000 fine for each time a business requires proof of vaccination from a customer.
But at least one legal observer says that DeSantis may have a hard time enforcing the law, especially considering that cruise lines are registered in countries that lie outside his jurisdiction.
'What the Florida governor's authority and ability is, is very murky waters,' Miami-based maritime lawyer Mike Winkleman told The Palm Beach Post.
'They are not US entities, they are foreign entities … DeSantis can regulate them, impose fines and even prevent from sailing. But if he chooses to do so, he's playing a very dangerous game.'
The cruise industry is estimated to generate some $9billion a year in annual revenue while providing some 150,000 jobs.
If DeSantis goes toe-to-toe with cruise companies, they could bolt the state, creating a political liability for a governor who has presidential ambitions.
'Cruise lines are not going to lie down and let him dictate how they can and cannot operate,' Winkelman said.
'They will fight tooth and nail with the best lawyers money can buy. The ace up the sleeve for the cruise lines is just moving out of Florida.' 
Source: Read Full Article