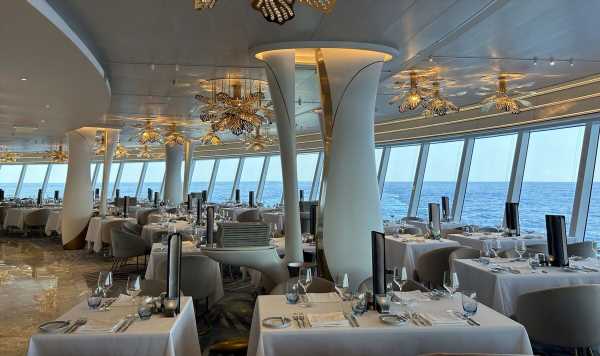 Norwegian Cruise Line pioneers increasingly modern and super-relaxed cruise holidays every time it launches a new class of ship.
It introduced Freestyle Cruising in 2000 with Norwegian Sky, when it abandoned fussy dress codes, offered more than 20 dining options and – crucially – ended fixed dining times and tables.
Freestyle Cruising was rolled out to other ships from 2001 with The Studios – purpose-built solo cabins and an exclusive lounge area – introduced on Norwegian Epic in 2010.
Norwegian Breakaway, debuting in 2013, introduced The Waterfront, an open-air boardwalk or promenade deck wide enough for outdoor dining at some of the ship's speciality restaurants.
Then in 2017 Norwegian Joy became the first cruise ship with a go-kart race track – something Norwegian Prima and now its sister ship Norwegian Viva have taken to the next level with their three-deck tracks and all-new holiday resort games, slides and water park.
READ MORE: Cruise guests issued packing warning for important item
Covid protocols
Covid vaccinations and pre-boarding tests are no longer required although this is subject to change depending on government regulations in countries visited. For up to date information go to ncl.com/sail-safe.
What's it like onboard?
Norwegian Viva manages to combine the sophistication of an upmarket city hotel and several stylish restaurants with a fun-packed holiday resort, so there's something for everyone – couples, friends and families.
It does this by cleverly keeping the white-knuckle rides tucked away at the top of the ship so you can't even see Viva Speedway – the go-kart track – from the pool deck, and as they're electric cars you certainly can't hear them.
With 3,099 passengers at full capacity you might expect the ship to feel crowded but apart from table hunting at peak-time in the Surfside Café & Grill buffet, the ship feels comfortably unhurried.
Beverage and dining packages take the strain off your wallet, although the complimentary dining is fabulous – particularly the main Hudson's dining room and funky Indulge Food Hall.
And there's never a dull moment – stacks of entertainment and a new port to explore virtually every day.
The WOW Factor
The three-deck go-kart track Viva Speedway is extraordinary and the corkscrew slides that twist down 10 decks on the side of the ship are fantastic but what wowed me the most was the amazing promenade deck and its sophisticated beach club vibe.
This is a promenade with attitude, circling the whole of deck eight to include an extra wide boardwalk that's so big it has an infinity pool and colourful double sun beds on both side of the ship, plus hanging basket chairs and sofas in the Indulge Outdoor Lounge area either side of the Soleil Bar at the back – a fabulous place to watch the sun.
There's also stylish curved wooden seating on The Concourse section of the board walk and a multi-million-dollar sculpture garden featuring work by international artists.
In fact the ship is full of art work, the most impressive from British digital artist Dominic Harris who created an interactive artwork more than 15 metres long for the Metropolitan Bar. It features silver butterfly wings that move when you touch them and is one of the ship's most popular features.
Staterooms
Again, there's something for everyone – from purpose-built Studio cabins for solo travellers all the way up to The Haven, an ultra-luxury section at the top of the ship where the suites have fabulous views, a private sundeck, concierge service and butlers.
There are also two other suite grades including Club Balcony Suites that are ideal for families and Balcony cabins that have complimentary access to the Thermal Spa Suite.
Regular Balcony cabins are a roomy 21sqm with queen-sized double beds or two singles plus a sofa, some with sofa beds, while Oceanview cabins have large circular windows and range from 17 to 21sqm.
Inside cabins are around 14sqm, some with Pullman beds as well as queen-sized beds so they can sleep four people, while Studio cabins for solo passengers are 8sqm with access to the private Studio Lounge for drinks and "light bites".
All have bathrooms with excellent showers, although suite facilities are bigger and may include bath tubs.
Cabin televisions can be used for booking excursions, speciality restaurants and all the ship's entertainment and activities, as well as to check onboard accounts, watch films and live TV.
Toiletries and hair dryers are provided and there's adequate but not excessive storage plus a safe, but there are no kettles (suites do have coffee machines though) and only certain grades of cabins have fridges.
We use your sign-up to provide content in ways you've consented to and to improve our understanding of you. This may include adverts from us and 3rd parties based on our understanding. You can unsubscribe at any time. More info
Don't miss…
Cruise guest warns passengers over 'expensive' excursions[CRUISE TIPS]
'Must-have' cruise item to 'upgrade' your cabin for under £10[CRUISE UPGRADE]
Cruise guest complains that terrible passengers 'almost ruined their trip'[CRUISE HOLIDAYS]
Dining
When NCL introduced its pioneering Freestyle Cruising back in 2000 its most popular feature was Freestyle Dining, ending fixed times and tables so passengers could eat with whoever they liked during restaurants' opening hours.
That's still one of the things passengers love most and there are some exceptional complimentary restaurants and dining opportunities available, starting with the gorgeous main dining room – Hudsons – on deck seven, which wraps around the back of the ship with fabulous floor-to-ceiling windows so you won't miss the view while you're eating.
It's best to book a table but if you don't and the restaurant is full, passengers are given pagers so they can wait in a bar while watching a band or comedy routine until one is available.
The Commodore Room is a more intimate complimentary restaurant, with the same menu as Hudson's, and Surfside Café is deck 17's complimentary buffet near the pool. The adjoining complimentary Grill buffet specialises in burgers and hot dogs.
Norwegian Viva also has the excellent Indulge Food Hall, pioneered on sister ship Norwegian Prima, which houses several complimentary food stalls, such as a tapas bar in an shiny Airstream caravan and fabulous Indian food from the Tamara counter.
Indulge Food Hall has outdoor as well as indoor tables, as does The Local Bar & Grill, another complimentary restaurant also on deck eight. This has the feel of an American diner and is connected to a lovely bar where you can eat from the same menu while watching sport on several screens.
The speciality restaurants all have spectacular interiors with menus to match, particularly Onda by Scarpetta serving Italian dishes based on those from the original Scarpetta in New York's Madison Avenue.
You can eat Asian at Food Republic, seafood at Palomar, French at Le Bistro, Mexican at Los Lobos, Japanese at Nama Sushi & Sashimi and teppanyaki at Hasuki and there's also the NCL stalwart Cagney's Steakhouse .
Hasuki has a cover charge of $59 and gets booked up quickly while the rest have a la carte menus, which can work out quite expensive unless you have a Free At Sea or Free At Sea Plus package. Cagney's classic Surf & Turf filet mignon and lobster tail costs $55 and the cheapest main course in Le Bistro is the coq au vin for $29. Starters and puddings cost extra.
Daytime entertainment
There's so much to do on Norwegian Viva that some passengers don't get off the ship when it's in port, even though many activities come with a price tag.
Viva Speedway costs $15 a go, while Bullseye is $20 for 50 minutes in an electronic dart board booth with a table and seating for six. Similarly, the electronic wizardry of Tee Time mini golf costs $10 per person.
Meanwhile Galaxy Pavilion is packed full of virtual reality games, car and golf simulators plus high-tech escape rooms – all loads of fun with a fee involved.
But not everything costs extra. Free for all is The Rush, 10-deck twin slides, and The Drop, an equally long single slide, plus The Wave water slide.
The Stadium on deck 18 has free games such as tabletop shuffleboard, pickleball and – students' favourite – beer ping pong, and there are free clubs for children with supervised sports and activities at Splash Academy. Teenagers and toddlers have separate programmes.
Young children will also love the Kids' Aqua Park next to the deck 18 sundeck, although it's smaller than on other NCL ships (as are the children's clubs). The main pool is on deck 17 and very popular.
Pulse Fitness Centre has free morning and evening stretch classes with excellent gym equipment for free workouts, and there are other free activities such as afternoon dance classes on the Pool Deck or quizzes in the Metropolitan Bar.
If you want to splash out, though, buy a thermal suite pass for Mandara Spa on deck 16 and relax in its two thermal pools, sauna, steam room and salt room – or buy a day pass for Vibe Beach Club at the front of deck 17, which has a bar and two large infinity hot tubs as well as loungers.
Nightlife
Norwegian Viva's main show is an adaptation of the Broadway hit musical Beetlejuice based on the 1988 film about ghosts, although unfortunately it wasn't ready for the inaugural sailing.
The theatre also offers other shows such as Icons, which involves some powerful singers covering major artists, and there's an entertaining tribute to Frankie Valli and The Four Seasons.
But the best entertainment was at Syd Norman's Pour House, a brilliant LA-style bar with a house band that belts out rock classics with a different theme each night.
The highlight is the band's rendition of Fleetwood Mac's Rumours album, when you're lucky to get in let alone find a space to stand.
There is also comedy at The Improv At Sea bar, with a family-friendly early evening show and adults-only late show – although the American humour doesn't always translate well.
Some of the bars have live music at night and from 11pm Improv At Sea becomes a dance club with a DJ and there's late-night music from 11.30pm at Penrose Atrium, which has its own Penrose Bar.
Fact Box
Summer 2023 and 2024 will be spent in the Mediterranean and Adriatic but in November Norwegian Viva will cross the Atlantic to Miami to be named by its godfather Luis Fonsi – a Latin music legend – where it will spend a winter sailing the Caribbean.
Its 9-day Greek Isles: Santorini, Mykonos & Croatia from Trieste to Athens departing October 19, 2023, costs from £1,647pp, two sharing, including return flights and Free At Sea Upgrade for drinks, WiFi, speciality dining packages and discounts for excursions (ncl.com).
Source: Read Full Article