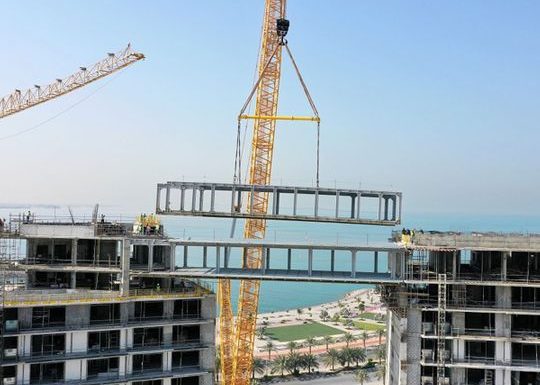 Dubai: Ras Al Khaimah has achieved another architectural landmark that will add to its touristic attractions – The longest suspended bridge that connects the two buildings on Al Marjan Island.
The suspended bridge has a development value of Dh543 million. At 36 metres long, the bridge will feature eight hotel rooms. The bridge is supported by four main trusses, each with a weight of 55 tonnes. Each truss is four metres high and installed at a height of 44.2 metres.
The bridge will offer vantage viewing points opening to views of Al Marjan Island and its settings for the residents in the hotel rooms located within the bridge. A unique engineering marvel, the bridge is expected to become a leading tourist landmark and add new economic value to Al Marjan Island and Ras Al Khaimah.
The bridge will be located in the Mövenpick Resort Al Marjan Island that will be delivered by September 2021. The installation process of the suspended bridge has been completed successfully, following all safety procedures including traffic management, to ensure the safety of the public and staff.
Currently, Al Marjan Island has over 1,600 operational five-star hotel keys, including Rixos Hotels, Hilton Hotels & Resorts and Accor Hotels brands, and more than 2,000 residential units including Bab Al Bahar residential and Pacific by Select Group. The plan is to develop 2,400 hotel-, residential- and mixed-use units by 2025 with several already under design review or in different stages of completion.
Source: Read Full Article