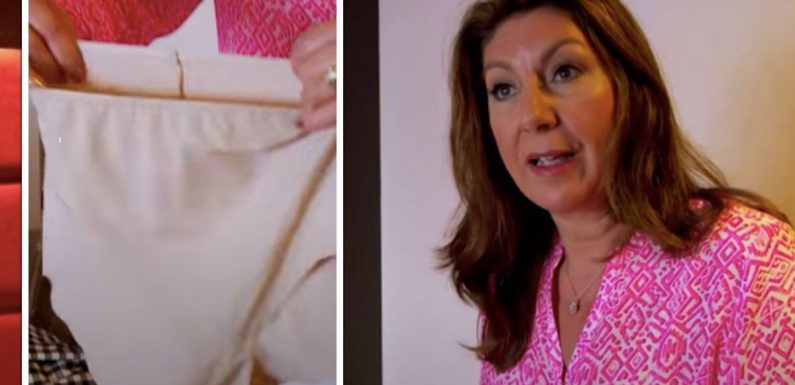 Jane McDonald shares her top packing tips
We use your sign-up to provide content in ways you've consented to and to improve our understanding of you. This may include adverts from us and 3rd parties based on our understanding. You can unsubscribe at any time. More info
Packing for a holiday can be a stressful and difficult endeavour, but Jane McDonald is on hand to offer some of her top tips and tricks for getting this job done. She spoke to Channel 5 about how to pack ahead of a cruise.
After eight series of Cruising with Jane McDonald, the singer and presenter is somewhat of an expert.
She said: "If there's one thing I've learned, it's what to pack."
Her first tip for cruise lovers was to choose colours carefully.
"Stick to whites and blacks or browns and creams."
She explained: "If you're going to go for black, don't pack brown."
This means passengers can avoid doubling up on accessories.
Having to pack handbags and shoes for both black and brown clothes will be a hindrance and take up unnecessary space in a suitcase.
"Either go for black or brown, whichever is your colour."
With these base colours, black and white or brown and cream, cruise goers can pack their favourites alongside it.
Jane's next tip: "You need pants, lots of pants – black, neutral, never get white pants to go under white clothes.
"It doesn't work, all you can see is white pants, you don't want white pants."
Instead, she suggested that under white garments, neutral knickers are the way to go.
To emphasise her point, she even presented her own.
"I've got my big knickers!"
Another top tip was to source some lycra.
"Try and get lycra in just about everything you bring on a cruise."
She warned: "You're going to eat your own bodyweight."
Famous for having a plethora of delicious food options, cruise goers can find themselves eating more than they would at home.
Jane recommended that customers go for this special stretchy material to make sure they're just as comfy at the end of their trip as they are at the beginning if they put on a little weight.
She continued: "Always bring something slightly bigger for the end of the cruise – because trust me, you're going to need it."
Source: Read Full Article