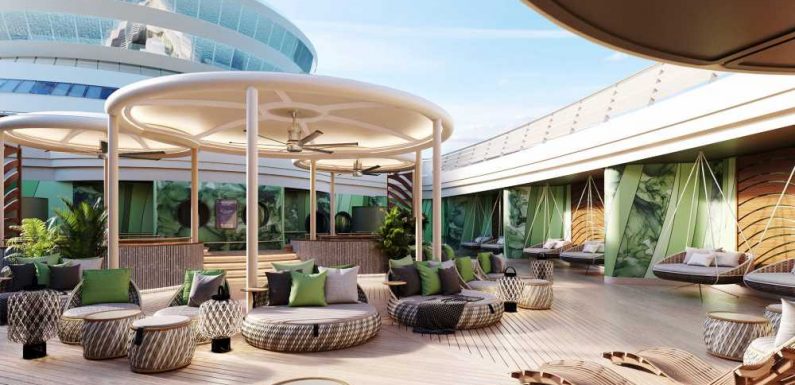 The Disney Wish will have several spaces for adults that are new to Disney Cruise Line, including the fleet's first outdoor spa retreat, a barbershop with a hidden bar, and newly themed bars and lounges. 
Laura Cabo, portfolio creative executive for Walt Disney Imagineering, said that with the Wish, "Not only did we infuse more storytelling and enchantment into the adult-exclusive venues, but we added more variety and made them more accessible than ever before. This ship has truly been designed with adults' vacation needs in mind."
The Senses Spa will have an outdoor relaxation space with whirlpool spas, loungers and yoga sessions. The open-air space is a new extension to the line's Rainforest experience, which has saunas, a steam room and heated stone loungers. It will have the fleet's first ice lounge. A redesigned Senses Fitness area will have a cycle studio and an aerobics room. 
The Wish will have two new salon experiences: Untangled Salon, inspired by Rapunzel and decorated with floating lantern light fixtures and privacy screens depicting Rapunzel's paintings. Untangled will do haircuts and styling, manicures, pedicures, teeth whitening and skin treatments. 
At Hook's Barbery, guests can get cuts, shaves, and nail and skin care. The space is inspired by its namesake, Captain Hook, with an inlaid wooden map of Never Land, a hidden pocket watch and a hook. In a toast to a pirate's life, it will also have a hidden bar with pre-Prohibition bourbons, vintage whiskey and port, aged rum and premium spirits. A trio of lanterns will occasionally come to life with lighting and audio effects to signify Tinker Bell jumping from one fixture to another.
Like all Disney ships, the Wish will have a collection of bars and lounges just for adults, but the line said that on the Wish, they will be spread out among the ship's other core gathering places. Also new is the prevalence of storytelling in these spaces. 
The Keg & Compass pub will be designed in the rustic architectural style of a Norwegian sailor's map room from the late 1800s, Disney said, with inspiration from the folklore of Norse seafaring. Spanning the ceiling will be a fantastical map in old maritime style with an homage to Disney characters and stories related to the sea. The casual setting will have live TV broadcasts and will feature three custom craft brews available exclusively aboard the Wish. 
The Nightingale's piano bar is inspired by Cinderella's rendition of "Sing Sweet Nightingale" in the 1950 film, offering an menu of fine wines, bubblies and hand-crafted cocktails. The lounge will be a thematic extension of the fairytale-inspired Grand Hall from which it stems, with large doors that allow the tunes to spill out across the atrium.
The New Orleans-inspired Bayou, an informal lounge themed to "The Princess and the Frog" — with magnolia blossoms, lily pads and twinkling fireflies — will have two gazebos inspired by the city's wrought-iron metalwork structures and provide intimate seating for small groups on either side of the bar. 
The Bayou will feature live entertainment and serve creative cocktails, specialty coffees and beignets.
The Disney Wish enters service in summer 2022.
Source: Read Full Article