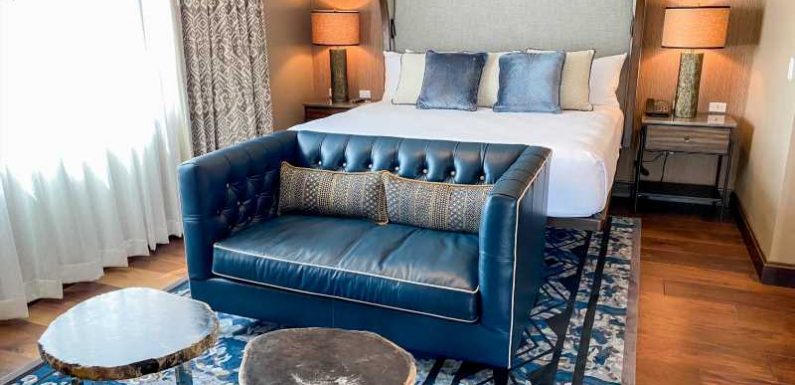 Load Error
Stretching over 27,000 acres and dating over the past five decades, Disney World is home to rides, shows, resorts, restaurants and secrets. With that much history and space, there are bound to be lots of secrets, some more hidden than others.
These aren't secrets of the dark and spooky variety but are more often fun, intricate details and offerings that are easy to miss when you're chasing that next ride on Dumbo or a popcorn bucket refill. These 'secrets' can range from the 'hidden Mickeys' artfully woven into decor around the parks and resorts, the utilidor tunnels used by cast members underneath the Magic Kingdom and even some over-the-top Disney World suites that you might not even know exist.
Sure, there's the one-bedroom suite in Cinderella Castle within the Magic Kingdom, but you can't actually buy a night in that iconic spot.
For more travel tips and guides, subscribe to the free TPG daily newsletter. 
However, we just got a peek inside a Disney World suite that honestly looks even nicer than the castle suite (sorry, Cinderella) — and with enough 'Disney dollars,' mere mortals can eventually buy a night in this new top contender for the nicest suite at Disney World.
Hidden in plain view inside Disney's Wilderness Lodge is room 7037, known to Disney insiders as the Yosemite Suite.
Related: Ultimate guide to visiting Disney World 
And while the resort, and the suite, might have first opened in 1994 full of cowboy decor and a slightly over-the-top Wild West theme, it just reopened with a top-to-bottom renovation, debuting a high-end look that leaves the cowboys far behind in the dust.
In addition to saying goodbye to the cowboy hats, gone are any saloon doors and peek-through wet bars. Now the Yosemite Suite has a massive, open living area comprised of an oversized sectional, dining table for six and a small kitchenette. (If you want a walk down memory lane, check out a 1994 video walk-through of the suite on YouTube.)
Related: Best resort hotels at Disney World 
Now, there is a mix of earth-tone colors and textures that risk tempting you out of some theme park time to enjoy the suite.
Then there is the primary bedroom that heavily incorporates rich blues into the equation, resulting in hands down the prettiest and most relaxing sleeping area I've ever seen at a Disney hotel resort.
Connected to this bedroom is a massive bathroom complete with not only a large walk-in shower but a gorgeous, oversized soaking tub.
I can't imagine anything more relaxing than a relaxing soaking tub after a long day in the parks.
On the opposite side of the living area is a connecting bedroom with two queen beds that, while slightly toned down from the primary bedroom's decor, still has very distinct decor from the standard Wilderness Lodge bedroom.
If somehow your jaw somehow isn't yet on your keyboard, here is the pièce de résistance: the wraparound balcony with a five-star view.
The Yosemite Suite enjoys what has to be the best view in all of Disney's Wilderness Lodge with a huge balcony that overlooks the entire Wilderness Lodge pool area, the waterfall and likely even a peek at the evening fireworks high in the sky above the Magic Kingdom.
If you want to book this 'secret' suite for your next Disney World vacation, you're not going to find it available on the Disney website.
Like with some other similar suites spread out across some deluxe Disney resorts, you'll need to work with a Disney vacation planner or give Disney a call directly to find availability and pricing, which may be scarce given that there is only one of these suites and it's knock-out gorgeous. In fact, when we called to try and get example pricing for this story, we were told it hadn't yet been added to the system.
But don't worry too much if you aren't able to book this exact suite: All of Disney's Wilderness Lodge rooms were just renovated, so you're likely to have a great stay even if you aren't in the over-the-top 'secret' suite.
Related: How we booked a 3-bedroom villa at Disney by renting Disney Vacation Club points 
Sure those standard rooms don't have the soaking tub or wraparound balcony, but they will leave you with more cash available to enjoy some of the best restaurants at Disney World or perhaps even a VIP tour so you can uncover some Disney 'secrets' of your own.
Featured photo by Summer Hull/The Points Guy
SPONSORED: With states reopening, enjoying a meal from a restaurant no longer just means curbside pickup.
And when you do spend on dining, you should use a credit card that will maximize your rewards and potentially even score special discounts. Thanks to temporary card bonuses and changes due to coronavirus, you may even be able to score a meal at your favorite restaurant for free. 
These are the best credit cards for dining out, taking out, and ordering in to maximize every meal purchase.
—
Editorial Disclaimer: Opinions expressed here are the author's alone, not those of any bank, credit card issuer, airlines or hotel chain, and have not been reviewed, approved or otherwise endorsed by any of these entities.
Gallery: Legoland Florida: Build the perfect trip for families (USA TODAY)
Source: Read Full Article