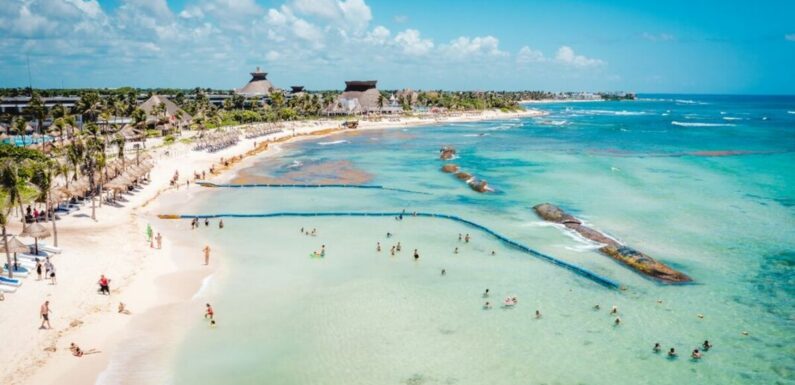 Mexico's Mayan landmarks and sparkling beaches attract tourists from all over the world. However, after a few violent incidents involving tourists, how safe is Mexico for holidays?
Although violent incidents involving tourists are rare in Mexico, two tourists were killed after being caught in gunfire in the resort of Tulum in 2021.
Jonathon Frankham, general manager at World Nomads travel insurance, told Express.co.uk: "Mexico is a diverse and vibrant country that is generally safe for UK travellers, but there are certain areas and situations that require extra caution.
"Violent crime can occur in certain regions, particularly those that are known for drug trafficking and organised crime. It's important for travellers to stay informed about the security situation and to take necessary precautions, such as avoiding isolated areas at night and only using reputable transportation services."
Jonathon shared the main risks tourists need to be aware of in Mexico and how British travellers can avoid them.
Crime
Jonathon said: "Mexico has a high crime rate, particularly in certain areas. Tourists should be cautious when travelling to areas known for drug trafficking or other criminal activity, such as border towns, and should avoid travelling alone at night.
"Petty crime, such as pickpocketing and theft, can also be a problem in crowded tourist areas."
Pickpocketing is common in tourist hotspots all around the world and tourists can lower the risk by staying aware of their surroundings.
Health risks
Jonathon said: "Mexico is home to some health risks that travellers should be aware of, such as foodborne illnesses caused by contaminated food or water.
Don't miss…
Passengers should order popular drink to avoid 'effects' of flying[TIP]
Egypt travel advice and guidance for 2023 holidays [LATEST]
Portugal holiday warning as Britons to face 'disruption' at airports [WARNING]
"Tourists should take precautions against mosquito-borne diseases such as Zika, dengue and Chinkungunya."
Road safety
"Mexico's roads can be dangerous, with many accidents caused by reckless driving and poorly maintained vehicles. Tourists should use caution when driving in Mexico, obey traffic laws, and avoid driving at night," said Jonathon.
Holidaymakers might be able to arrange reliable transportation through their holiday provider or accommodation.
Scams
Jonathon said: "Tourists may encounter scams and fraudulent activities, such as being overcharged for goods or services.
"It is important to use caution when dealing with street vendors and to only use reputable companies for tours and transportation."
Holiday providers or travel agents may be able to recommend reliable companies for excursions and tours.
Jonathan added: "To minimise the risks, tourists should take common-sense precautions, such as being aware of their surroundings, avoiding carrying large amounts of cash or expensive jewellery, and keeping important documents such as passports in a safe place.
"Tourists should also research their destination thoroughly and stay informed about any potential risks."
The British Foreign Office advises against all but essential travel to areas within the state of Sinaloa, Chihuahua, Zacatecas, Tamaulipas, Colima, Michoacán and Guerrero.
Over 500,000 British nationals visit Mexico every year and the majority of visits are trouble-free.
Tourists should exercise caution after dark and remain in well-lit pedestrian streets and tourist zones.
British tourists can find the latest advice for holidays in Mexico on the Foreign Office Travel Advice website.
Source: Read Full Article