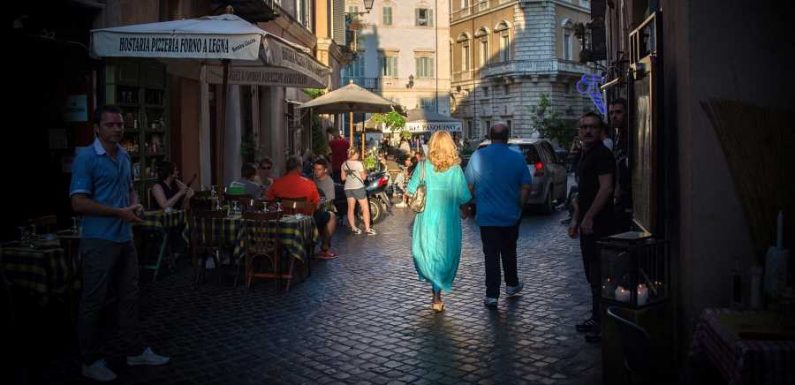 When things in Italy return to some semblance of "normal," I know straight where I'm headed — to Via del Governo Vecchio in Rome. The "street of the old government" per translation — in reference to the former papal government office at No. 39 — offers the best of Rome squeezed into just 450 meters (about a third of a mile), a few steps from Piazza Navona. With well-curated vintage shops, lively aperitivo bars, and some of the city's best pizza and gelato spots, Via del Governo Vecchio is a splendid little stretch along which to slow down for a few hours and take a break from the Eternal City's sightseeing circuit, which can feel a tad obligatory, even on the best of days.
Start in the afternoon, around 4 p.m., with visits to a trio of high-quality vintage stores. At Omero e Cecilia, step into a 1970s Warhol-esque time warp, with sharp-eyed merchants who know the value of every flowy skirt, leather satchel, and Balenciaga jacket crammed into their little hole-in-the-wall shop. There's even more of a Mad Hatter feel at Michele Abiti Usati, where the merchandise is stacked chockablock up and down every square meter. It's great fun to rummage for that handbag, jacket, or minidress you never knew you needed. Things are a little more orderly at Cinzia Vestiti Usati, where an eclectic collection is especially strong on accessories — and bargains. If your taste runs more literary than sartorial, skip the vintage shops and head to Otherwise, an English-language bookshop with a diverse selection of titles. Across the street, its parent store, Altroquando, features books in Italian, a gallery space, and, marvelously, a pub in the basement.
Your retail yearnings satisfied, it's getting on to the best hour of the day in Italy — aperitivo time. The early evening drinks and nibbles ritual is a national institution — much like happy hour, but without the impetus to pound two-for-one cocktails before the clock runs out. On Via del Governo Vecchio, aperitivo crowds spill out onto sidewalk tables, one of which you've hopefully been quick enough to grab. Wine bar of wine bars Cul de Sac is a favorite, with 1,500 vintages available, served by a friendly, informed staff. It's located at Piazza di Pasquino, at the bottom of Governo Vecchio. We also like Enoteca Il Piccolo, a cozy and unpretentious bar with ringside seats on the via.
Both of these places — and plenty of others on the street — serve dinner, but there's a good reason to just stick to drinks and snacks. And it involves pizza. Many a gauntlet has been thrown down over who makes the best pizza in Rome. But if the line stretching around the block is any indication, we'll happily settle on Pizzeria Da Baffetto. This old-school, no-frills pizzeria is as stereotypical at it comes — walls lined with photos of celebrities who've dined here, delicious, cheap, wafer-thin pizzas sliding in and out of a wood-fired oven, and a frazzled staff racing to take orders and sling pies to customers crowded around tiny wooden tables. Reserve a table in advance, if you can. If not, the line moves quickly.
Next door, another line stretches out the door — this one for dessert. Frigidarium consistently ranks as one of the top gelaterias in Rome, and a scoop or two of their artisanal gelato makes the perfect nightcap to an afternoon and evening spent on one of the most satisfying streets in Rome. If you love Via del Governo Vecchio so much you want to wake up there in the morning, boutique, all-suites hotel G-Rough can oblige with art-filled rooms and public spaces, all furnished with exquisite mid-century Italian pieces.
Source: Read Full Article