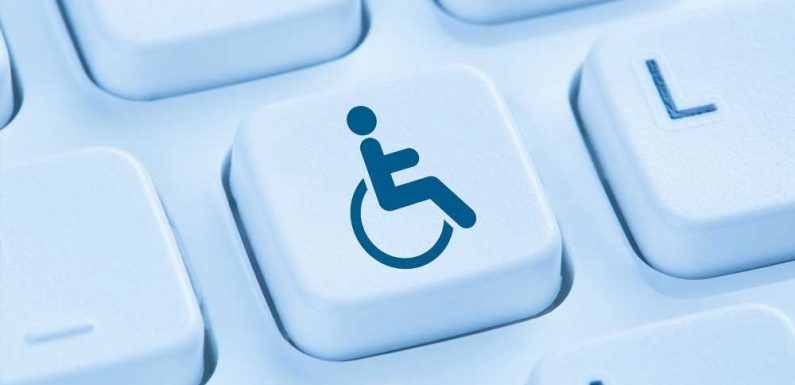 Imagine, during the height of the Covid-19 pandemic when stay-at-home orders were de rigueur, only being able to access 2% of the internet.
"That's a scary world," said Josh Basile, community relations manager of AccessiBe. "Persons with disabilities are living in that world, and we have to do something to change that."
Basile, himself a quadriplegic, is a lawyer and disability-rights activist. AccessiBe is a company dedicated to fostering a more accessible internet. It offers free website testing and products to help websites gain compliance with the Americans with Disabilities Act (ADA) and Web Content Accessibility Guidelines (WCAG).
"Too often, whenever we have access and inclusion issues, it's because persons with disabilities are always an afterthought," Basile said. "It's like, let's make this right for persons without disabilities, and you know what, later on we'll fix it for everybody else. And the internet is a perfect example of that."
According to Basile, only 2% of the internet is truly accessible to the full disabled community. Websites can fail disabled people in a number of ways, because disabilities vary so much from person to person.
For instance, if a person is visually impaired, proper image descriptions are necessary for them to fully navigate a website. Or, a person who cannot use their hands to operate a computer might instead use an assistive device manipulated with their lips or chin; for them, clickability becomes a major factor.
According to AccessiBe's free aCe tool, which tests sites for ADA and WCAG compliance, Booking.com and Tripadvisor.com are "semicompliant." Expedia.com is "noncompliant." It's certainly an issue outside of the travel industry, too, but Basile would like travel to step up and provide more inclusive online offerings.
"The whole reason why we have all these travel websites is to make it easier for people," Basile said. "Why don't we make it easier for persons with disabilities, too? We need their help. We want to utilize their service, and we have money."
The number of U.S. adults with disabilities is sizable. According to the CDC, 61 million adults, or 26% of the adult population, have some kind of disability.
It's also a community that is particularly brand loyal, Basile said. A good online experience for one person with a disability is almost certain to garner referrals, both within their community with disabilities as well as with other friends and family.
"Their bottom line is going to go up," Basile said. "It's going to be good business for them, but it's also the right thing to do."
Booking.com leads the pack
While most websites have a ways to go, some are more accessible than others. Within the travel industry, Basile said he particularly likes Booking.com because it offers a number of filters to help people with disabilities find accommodations that fit their individual needs.
For instance, Basile is a wheelchair user. On Booking.com, among a number of other filters, results can be filtered by a number of "property accessibility" and "room accessibility" features, including Braille visual aids, auditory guidance, roll-in showers and more.
Filtered results are only as good as the end users programing them, Basile said, which usually means a call to the hotel to double-check online search results. But even having the filters in place is a step in the right direction.
Accessibility is on the minds of large travel websites.
A Booking.com spokesperson pointed specifically to the website's filters that Basile referenced.
"There is still work to be done, and we will continue innovating as we strive to create a truly inclusive travel platform and experience built for everyone, by everyone," the spokesperson said.
An Expedia spokesperson said the company is evolving its online presence "with accessibility in mind," ranging from attaching text to pictures, providing captions for videos and coding to help those using assistive technology effectively navigate its sites. Expedia called optimizing its online presence a priority.
Similarly, a Tripadvisor spokesperson said the company has an in-house team to help make its mobile and desktop experiences more accessible. It has focused on the mobile channel first because more than half of its traffic comes through its app, but it will be working to further democratize its desktop experience, as well.
"This is an area where the entire industry can do better, and we're dedicated to making these improvements on an ongoing basis," the spokesperson said.
In the past, Basile believes, different disability groups with particular focuses have made attempts at online accessibility, but the key today is considering all disabilities.
"All of us coming together to shine light on all the different areas is going to create those experiences that are going to be transformative for those future customers," he said. 
Source: Read Full Article