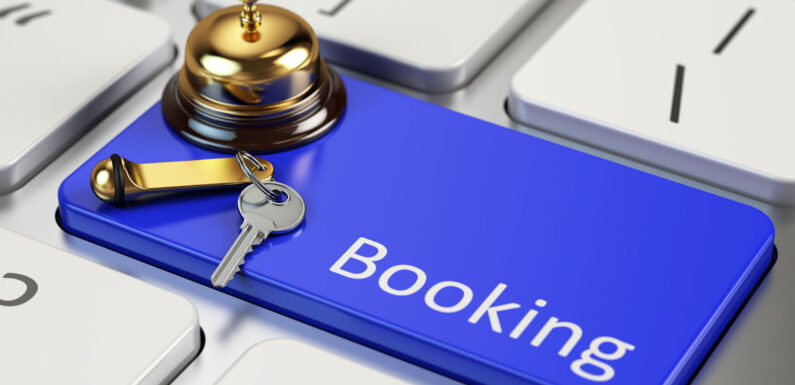 Booking Holdings CEO Glenn Fogel was in a celebratory mood last week. The third quarter of 2023 was the third quarter in a row that set records for the company across multiple measures.
"We are pleased to report record quarterly room nights, gross bookings, revenue and net income driven by a strong summer travel season," Fogel said. "We are encouraged by the resilience of leisure travel demand, and we remain focused on executing against our key strategic priorities, which helps position our business well for the long term."
The company, which is parent to subsidiaries including Booking.com, Agoda, Kayak, Priceline, OpenTable, Cheapflights, Rocketmiles, Rentalcars.com and Momondo, posted gross travel bookings of $39.8 billion for the quarter. That figure is a 24% rise from the third quarter of last year, marking an all-time high for the company.
Booking Holdings' total revenue came in at $7.3 billion, showing a 21% increase over the same quarter last year. And adjusted EBITDA clocked at $3.3 billion — a 24% increase from the same quarter of 2022.
The positive results don't come as a total surprise. During the Q2 earnings call, Fogel predicted the company would see "a record summer travel season."
The new highs come on the heels of last quarter's own record in gross travel bookings. In the company's Q2 earnings call, Booking Holdings shared a leisure-travel fueled record $39.7 billion in gross travel bookings for the period, which was an increase of 15% year over year and also topped Q1's $39.4 billion — which was the previous high for the company.
Looking ahead, Fogel said Booking Holdings is focused on advancing certain initiatives, including further integrating artificial intelligence into its offerings — which he said has already been beneficial in some ways.
"(With) all new technologies, the hype is always great at the very beginning. Everyone thinks this is going to be the greatest thing since sliced bread, but then it takes longer than it takes to toast the slice, to actually have and eat it," Fogel said. "That's the thing about what we're seeing is — that it's really exciting — I absolutely believe it's going to be transformative, but it's going to take a long time."
It's very early, he said, adding "some of the stuff that we are seeing we have done enough so we see some data to see there going to be some good benefits." 
He gave a specific example: A customer service agent is now able to use what he called a "co-pilot," an AI agent, that should be able to help enable the customer service agent answer a question or take an action much more quickly than they were previously able. 
Fogel also emphasized Booking Holdings' commitment to expanding its flight offerings.
While discussing the flight initiatives, he addressed a related elephant in the room: In September, Booking Holdings said it would appeal a decision made by the European Commission to block its acquisition of flight technology company Etraveli.
"While we strongly disagree with EC's decision to block the deal, our commitment to building the flight vertical at Booking.com has not changed," Fogel said. "In fact, we have extended our partnership with Etraveli through at least the end of 2028, which means we anticipate continuing to work with them by improving Booking.com's flight offerings over the coming years."
In terms of the appeal, Fogel said he couldn't put a timeline on things but said it won't happen overnight. "I can't tell you exactly how long it will take, but it's not going to happen anytime soon."
Source: PhocusWire
Source: Read Full Article