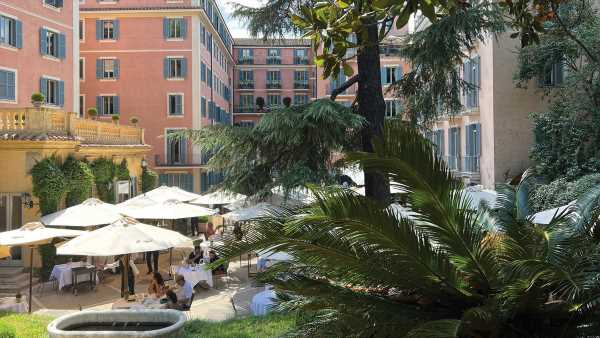 It's hard to talk about the Hotel de la Ville without mentioning Rocco Forte's other Rome properties. First is the Hotel de Russie, which is its standard bearer, the "hotel people would choose," as Phillip Haller, the vice president of brand marketing, put it.
With the gardens rising in the back, it's a private oasis right in the middle of Rome. The garden is synonymous with Italian romance, with terraces, palm trees, orange trees, flowers, lush greenery everywhere and a turtle pond to explore and exclaim over.
This hotel, which has been under Rocco Forte's purview since 2000, has a bustling, arty vibe to it. Behind arched hallways and the living room-style lobby is the alfresco Stravinskij Bar, and behind that is the incredible Secret Garden and the Jardin de Russie restaurant, which is not to be missed, whether you're seated indoors or out.
The Popolo Suite, which I toured, was light and bright, with green and gray accents that reflected the gardens and a long balcony that is so close to the Basilica di Santa Maria in Montesanto that you can practically touch it.
Another option is the Rocco Forte House, which is more of a private residence, with five apartments that can be booked for longer stays.
It's tough to say which type of client might prefer the de Russie or the de la Ville. Both were designed by Tommaso Ziffer, who also has worked with the fashion designer Valentino (so if you know, you know) and are in excellent locations. The de Russie is known as a celebrity and jet-setter paradise; the de la Ville appeals to a young, hip crowd. 
Maybe the de Russie is a bit more formal, but on the other hand, Haller said, "Sir Rocco, he doesn't like formal in general. He likes hotels that are a bit easier."
So in sum: "I think there's a lot of our clients that cross over," Haller said. 
Source: Read Full Article