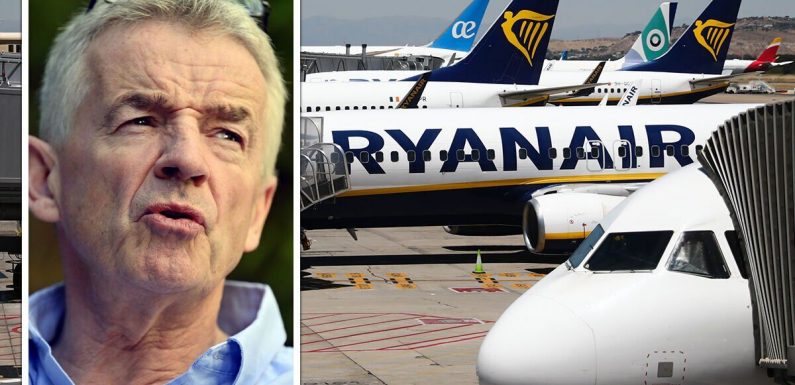 Travel chaos: Ryanair's O'Leary calls for more European workers
We use your sign-up to provide content in ways you've consented to and to improve our understanding of you. This may include adverts from us and 3rd parties based on our understanding. You can unsubscribe at any time. More info
Ryanair cabin crew in Spain are demanding changes to working conditions. Strikes caused delays in June.
Ryanair staff will strike from 12 to 15 July, 18 to 21 July and 25 to 28 July across Spanish airports.
The airline has bases at Barcelona, Palma de Mallorca and Malaga which are likely to be affected by action.
The USO union has asked the Spanish Government to mediate in the situation and called on all Spanish Ryanair workers to support the strike.
Strikes in June caused more than 1,000 delays in Spain and some action coincided with easyJet strikes.
Ryanair had 10 cancellations in Spain on Saturday and 123 delays affecting routes from London and Glasgow.
easyJet has also been impacted by strike action with some London flights affected by cancellations.
easyJet staff are due to take part in strikes in Spain on July 15, 16, 17, 29, 30 and 31.
The coming strikes could upset British holidaymakers' plans as they are set to coincide with UK school holidays.
British Airways Heathrow staff have also voted to strike with dates likely to be announced soon.
Staff are taking action over an ongoing pay dispute and it is thought strikes will coincide with school holidays.
Impacted employees had their pay docked by 10 percent during Covid and would like it reinstated.
The airline has offered the staff a one off 10 percent bonus this year but this offer has been rejected.
The action could be called off if the two parties are able to reach an agreement before the strikes.
There has been widespread disruption at UK airports in the last few months as staff shortages cause chaos.
Many employees were made redundant during the pandemic and have since found other work.
Some industry bosses have claimed that Brexit has made it difficult to plug gaps with EU workers.
The Government has asked airlines to cut schedules ahead of the peak summer period to avoid last minute cancellations.
Passengers whose flight is cancelled are entitled to another flight on their intended day of travel if one is available.
They could be entitled to cash compensation if their flight is cancelled with less than two weeks notice.
Cash payouts will depend on the length of the flight and whether the airline is responsible.
Source: Read Full Article