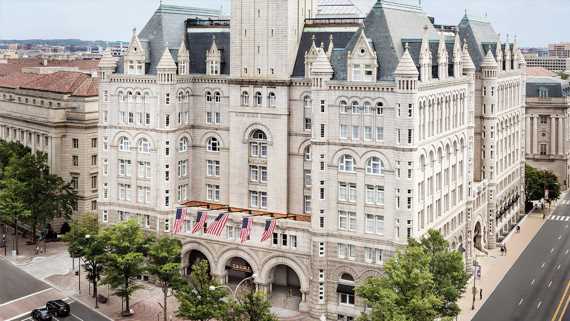 The Trump Organization's plans to sell the lease of the Trump International Hotel Washington, D.C. to a Miami-based investment fund has received government approval.
The 263-room hotel, which is housed within the Old Post Office Building, has been in operation since late 2016. 
The U.S. General Services Administration (GSA), which oversees the Old Post Office Building, said last week that it had greenlit CGI Merchant Group's CGI Hospitality Opportunity Fund as a "qualified transferee" for the lease.
The GSA also confirmed that CGI plans to partner with Hilton Worldwide Holdings to convert the property into a Waldorf Astoria hotel.
The GSA said in a statement that its decision was largely based "on the strength of the partnership between CGI and Hilton and the parties' commitment to ensuring the success of the future hotel."
A recent Associated Press report has pegged the deal between the Trump Organization and CGI at $375 million, with retired New York Yankees player Alex Rodriguez said to be among CGI's lead investors. 
The Trump Organization signed a 60-year ground lease for the Trump International Hotel Washington D.C. with the GSA in August 2013. The agreement came under scrutiny due to ethical and legal concerns that arose following Donald Trump's presidential victory. 
Source: Read Full Article