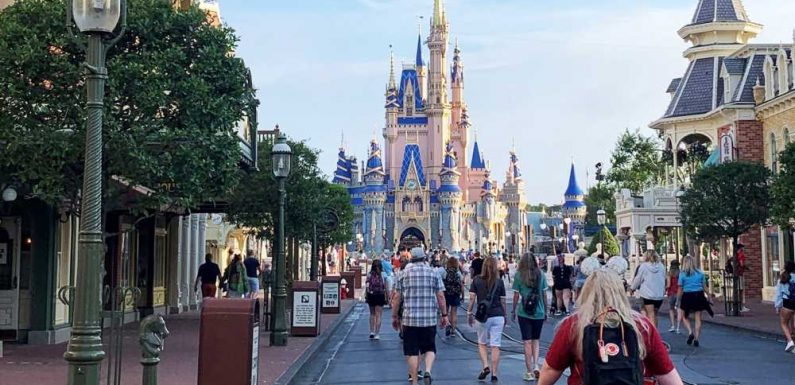 Disney CEO Bob Chapek told analysts during the company's Q3 earnings call that he's been "encouraged" by recovery of the company's Parks, Experiences and Products division, with Walt Disney World's third-quarter attendance numbers reaching at or near capacity.
For the quarter, the division posted net income of $356 million, compared to a net loss of $1.89 billion for the same period in 2020.
Despite an increase in Covid-19 cases, Chapek envisions the parks will continue to do well.
"In terms of impact of the delta variant, we see strong demand for our parks continuing," asserted Chapek on Thursday. "The primary noise that we're seeing right now is really around group or convention cancelations — in other words, large groups that are coming in the relatively short term. We're still bullish about our park business going forward."
Like Walt Disney World in Orlando, Disneyland in Anaheim also benefited from increased attendance and capacity levels following its April reopening, as well as the lifting of California's travel restrictions on June 15.
According to Disney CFO Christine McCarthy, guest spending at Disney's parks has been "exceptionally strong," with spending per guest up significantly from the third quarter of 2019. McCarthy credited the upswing in part to pent-up demand, along with strong demand for products related to newer themed lands like Star Wars: Galaxy's Edge and Avengers Campus.
Meanwhile, Chapek teased details on the upcoming launch of the company's app-based Disney Genie platform, which he said would be like Disney's MyMagic+ planning program "on steroids" and help reduce line wait times. Disney first unveiled plans to develop Disney Genie back in 2019. 
"MyMagic+ was us basically sticking our toe in the pond of this type of transformational work," said Chapek. "The goal of Disney Genie, which will appear in a user-friendly app, is to create a better, more personalized and customized experience for guests, putting them in control and providing even greater flexibility and choice."
On the cruise front, Chapek reported that Disney Cruise Line's future bookings remain strong, with third-quarter bookings in particular benefiting from the recent announcement of the company's fall 2022 itineraries and marketing buzz around Disney's fifth ship, the Disney Wish, which will enter service in summer 2022.
Disney's Parks, Experiences and Products unit reported revenue of $4.34 billion in the third quarter, up more than 307% on $1.07 billion in revenue for the same quarter last year. 
Source: Read Full Article