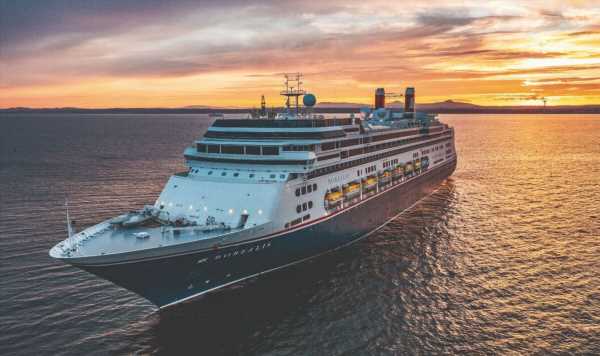 Simon Egerton is an entertainment manager for Fred Olsen and he spoke to Express.co.uk from onboard the line's Borealis ship. Simon shared his "biggest tip" for new cruise guests and his favourite place to unwind onboard.
Book a cruise direct with Fred Olsen
View Deal
With unique and unusual itineraries all around the globe, search and plan your dream cruise holiday with Fred Olsen.
A former vocalist, Simon has worked in the entertainment and travel industry for years and joined Fred Olsen after spending 20 years at sea on cruise ships.
As entertainment manager, Simon is in charge of managing a huge range of activities onboard.
He told Express.co.uk: "When I get up, I'll walk around the ship and make sure all our background music is on and things like that.
"I'll speak to my deputy and make sure everyone is scheduled on activities and then we kick off from 8am in the morning."
Fred Olsen has a packed schedule of activities, ranging from yoga and pilates to ballroom dancing and quizzes.
Simon added: "We also have a big lecture and enrichment program. When our guests get to Hawaii, we will bring a fabulous dance school onboard for hula dancing.
"We'll also have specific talks on Hawaii, on geology or history, and if you've enjoyed that lecture, you can actually go for breakfast with the speaker afterwards."
Simon is also involved in arranging 'behind the scenes' tours where guests get to meet the ship's entertainers and he hosts cocktail nights and game shows in the evening.
If you're new to cruising, it can be hard to know what to pack for the trip. Simon said there's one thing a lot of guests forget.
He told Express.co.uk: "As crew members, obviously we've got smaller rooms and you do have to think about where you're going to put stuff because you've only got so much room.
"My biggest tip, and I hear this from guests a lot, is to check the temperature and bring a selection of clothes.
"Often guests will say 'I didn't realise it was going to be so cold or I didn't realise it was going to be so warm'.The weather can change so quickly, and it could be really cold and windy at one of the ports. But it could be lovely at the beach."
For Simon, the best part of his role is working with his "family" at sea and meeting the guests.
He said: "One of our guests is a lovely lady from Northern Ireland and she loves the team and our cruises.
"She's just the perfect guest to have on board. She feels she's part of the family and she's back time and time again."
Simon also shared one of his favourite places to unwind on a Fred Olsen cruise ship, telling Express.co.uk: "We have an oriental tea room which is really pretty but doesn't get used as much as it could. You can get a nice piece of freshly made cake!"
When he's not at sea, Simon lives in the Philippines but has visited destinations all over the globe during his career.
He said: "I love the tropics. I love island life. I lived in Hawaii for two years as a vocalist and the people are just genuinely so welcoming to tourists.
"They've got time for you. Nothing is rushed. It's all very laid back and the tours are very well put together.
"I also love San Diego in the US because you're right downtown and you've got the Midway Museum right next door.
"I do love the Baltics too because it's fast and furious and every day you're in another port. They're all very different."
Source: Read Full Article