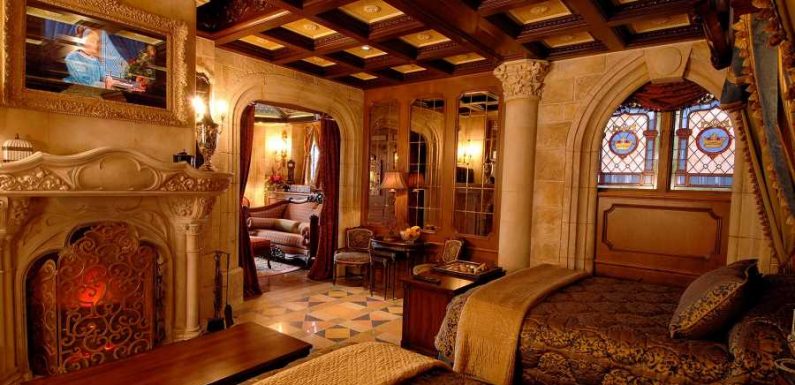 Disney just gave fans a peek into the most exclusive suite at Walt Disney World — and it's absolutely magical. The Cinderella Castle Suite, located inside the iconic castle at Magic Kingdom Park, looks like it belongs in the beloved fairy tale. Few lucky guests have spent the night in this suite, but thanks to the Disney Parks TikTok account, we all caught a glimpse inside the suite fit for royalty.
The Cinderella Castle Suite first welcomed guests during "The Year of a Million Dreams" celebration in 2007. The space, which was originally going to be in-park accommodations for the Disney family, was transformed into a suite perched four stories above Magic Kingdom. In the latest video shared on the Disney Parks TikTok and Instagram accounts, you can see some of the suite's intricate, princess-inspired details.
As you enter the foyer, you'll spot a pumpkin carriage mosaic on the floor before you step into the lavishly decorated bedroom. Two queen-sized beds with canopies are marked with a golden "C," which stands for charming, as in Prince Charming, and not Cinderella as you might have thought, according to the TikTok. Above the fireplace, you'll see a framed portrait of the princess, but look closer, and you'll notice that it transforms into a flat-screen TV. Beautiful stained-glass windows depicting Cinderella's story line the walls, and in the bathroom, you'll find a bathtub surrounded by sparkling mosaics and a twinkling night sky overhead.
The regal furnishings are beautiful, but the suite comes with some noteworthy bragging rights, too. Not many people can say that they've spent the night in Cinderella's Castle, just steps from Fantasyland in the "Most Magical Place on Earth."
The experience is truly priceless — you can't book the suite, so you'll need a little faith, trust, and pixie dust if you hope to stay in the castle one day.
Elizabeth Rhodes is an associate digital editor at Travel + Leisure who loves all things theme parks. Follow her adventures on Instagram @elizabetheverywhere.
Source: Read Full Article