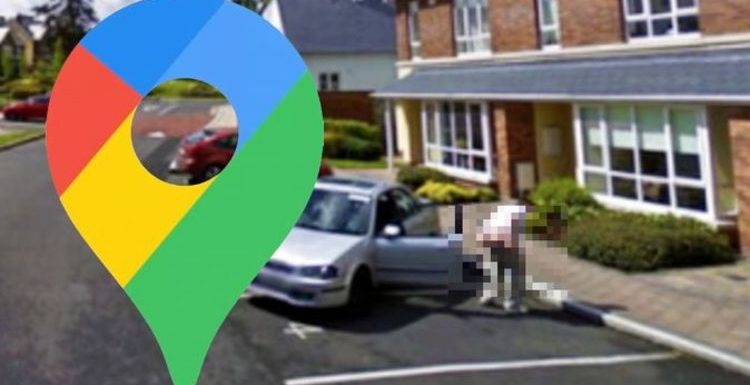 Google Maps introduce their new 'Live View' feature
Google Maps Street View was initially developed as a way for online users to virtually explore the world at street level. Over the years, though, it has gained something of a cult following for its ability to discover bizarre and unexpected moments around the world.
Sometimes these occurrences are snapped completely by chance, other times they are set up by citizens to prank Google's cameras.
As a result, entire forums on Reddit have been set up dedicated to spotting these unusual moments.
One incident which caught Google Maps' users attention saw a man making a rather revealing statement on camera.
The scene unfolds on a sunny day in what appears to be a normal residential area.
We will use your email address only for sending you newsletters. Please see our Privacy Notice for details of your data protection rights.
At first glance, there is nothing out-of-the-ordinary happening in the suburban surroundings.
A road can be seen, with houses lining either side of the tarmac.
To the left, there is a large grassy expanse, scattered with tree sand shrubbery.
However, to the right of the image, there is somewhat of a shocking sight.
DON'T MISS
Ex BA cabin crew shares why fliers must keep shoes on during flights [INSIDER]
Google Maps Street View: Couple caught in bizarre position on boat [VIRAL]
The Mallorca Files: Mallorca travel guide as season two starts [TRAVEL GUIDE]
A silver car has been reversed diagonally into one of the marked parking bays which sit outside of a large redbrick building.
The driver of the car appears to have spotted the Google camera driving by, and jumped at the opportunity to make a statement.
It seems as though he has dashed out of the driver's seat leaving the car door wide open behind him.
He has then proceeded to turn his back to the camera and lower his trousers.
Bent over, the man displays his bare bottom directly into the camera lens.
Though he may have made something of a scene, the man remains anonymous.
Not only is his face hidden due to the way he is standing, but Google Maps Street view also utilises special blurring technology to instantly conceal the identity of people captured by its cameras.
In its Maps privacy policy, the tech giant explains: "Google takes a number of steps to protect the privacy of individuals when Street View imagery is published to Google Maps.
"We have developed cutting-edge face and license plate blurring technology that is designed to blur identifiable faces and license plates within Google-contributed imagery in Street View."
However, it is not just people's faces which Google has had to blur out in recent years.
The mapping software also had to blur out a boisterous couple after they made the decision to flash Google's cameras.
On a beach in Mexico, the duo were spotted removing their swimwear directly in view of the camera.
They then proceeded to pose completely nude, forcing Google to blur out their entire bodies.
Source: Read Full Article