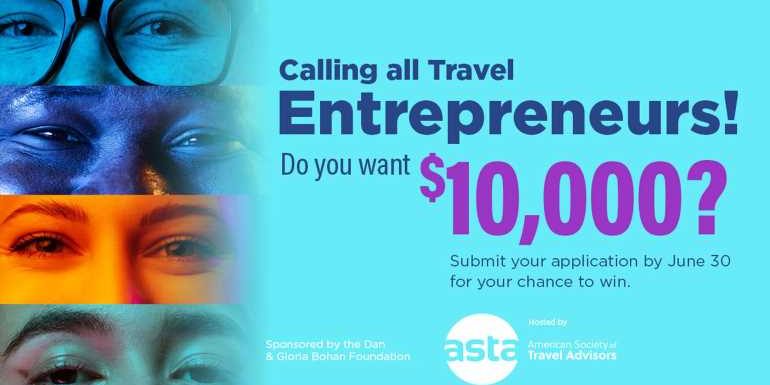 ASTA is seeking entrants for its Entrepreneur of the Year Award, which carries a $10,000 cash prize for the winner. Applications are due by the end of June.
The competition is open to travel agents, agency managers, suppliers and others in the industry.
Related: Company that helps seniors find travel buddies wins ASTA Entrepreneur Year Award
Applications for the award must be received by June 30. Applicants must provide a narrative statement no longer than 500 words, a video describing their product or service of no more than 5 minutes and certification that they can participate in the remaining portions of the competition.
From there, ASTA will evaluate applicants and choose five semifinalists. ASTA will use eight benchmarks to evaluate entrants: sustainability, evolution, experiential travel, proven impact, curation, marketing, growth and technology. More information about each is available online.
On July 27, the semifinalists will participate in a Facebook Live session, and viewers will choose the top three.
Those three finalists will go on stage live during the ASTA Global Convention in San Francisco, scheduled for Aug. 24-26. They will have three minutes to make a pitch, and the audience will choose the winner. 
The award, sponsored by the Dan and Gloria Bohan Foundation, was established in 2015. It was on hold for two years and returns in 2022.
Source: Read Full Article