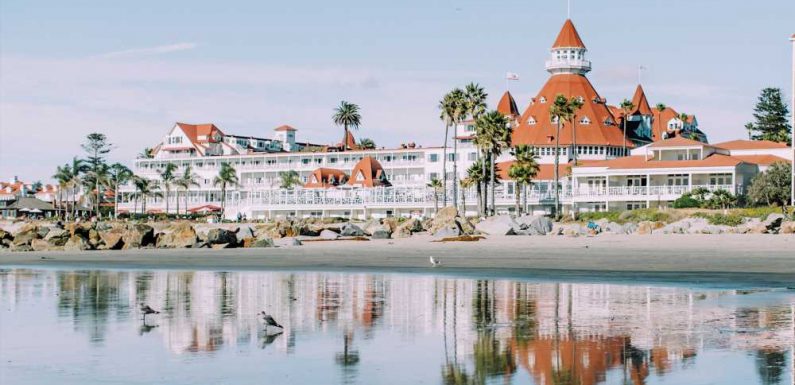 The Hotel del Coronado is updating a 133-year-old icon for a modern audience.
Renovations wrapping up this month will reshape arrivals at the San Diego-area property, a National Historic Landmark topped with red-roofed turrets overlooking the Pacific Ocean. The resort, known simply as "the Del" to many, opened in 1888, when room rates started at $2.50 per day and single women entered through a separate stairway. 
That rebuilt staircase and front porch are the latest components of a $400 million, propertywide overhaul underway since 2018. This summer, teams also restored intricate wooden railings, beams and floors in the late-1800s lobby. Century-old stained glass was rehabilitated and returned to its original location. A new crystal chandelier replicates a similar piece that sparkled above the hotel's first guests. Mechanical upgrades modernized the property's vintage birdcage elevator, as well.
"Our overall approach is to ensure that guests have the opportunity to enjoy this legendary resort for another 130 years, just as generations past, while preserving the resort's incredibly rich history," said Hotel del Coronado general manager Harold Rapoza.
That history includes links to "Wizard of Oz" author L. Frank Baum, who was a part-time resident there in the early 1900s and designed chandeliers for the property's Crown Room. Marilyn Monroe, Tony Curtis and Jack Lemmon filmed "Some Like It Hot" at the hotel in 1958.
Stories like these take center stage at a new gallery housed in the Del's former ice-making facility. Hotel history tours depart from the Ice House Museum, and the venue is available for private events.
"The Ice House Museum is one of our most prized possessions. It was built in 1889 and showcases the hotel's evolving past, holding treasured artifacts that range from newspaper clippings and traditional glassware to vintage photos and apparel," Rapoza said.
What's new?
This summer also saw the opening of a new palm-framed outdoor event space on the Windsor Lawn plus meetings and co-working spaces in the reimagined Power Plant. The brick structure predates the resort by a year, and it once contained equipment that provided electricity to the then island of Coronado.
Also new are the Views, updated accommodations in the Del's former Ocean Towers complex. Rooms here feature floor-to-ceiling windows, coastal colors and driftwood-inspired accents. Nearby at the Cabanas, 97 renovated rooms fronting the beach and the property's new main pool opened in August 2020.
Accommodations in both zones feature walk-in showers, minirefrigerators, Keurig coffee machines and WiFi access. Select rooms offer outdoor terraces and private fire pit seating, while others feature wheelchair-accessible design and amenities for hearing-impaired guests. 
The Del debuted refreshed spa and fitness facilities in recent months, along with three revamped dining venues. Crews restored the original 50-foot mahogany bar that now anchors Babcock & Story Bar, a cocktail lounge with seafood and steaks. 
Next door, ENO Market & Pizzeria offers pizza and pasta combos along with to-go coffee, pastries and snacks. The Sun Deck, set on a rooftop space overlooking the resort pool and the Pacific, serves salads and sandwiches plus specials for children age 10 and younger. 
Those restaurants followed the 2019 introduction of Serea, a dinner and weekend brunch spot focused on sustainable seafood and regional ingredients. Serea capitalizes on the hotel's oceanfront setting with retractable French doors and an open-air patio.
Sheerwater, a new restaurant serving French and American food, will open at the Del in 2022. The Southpointe Event Center, a new gathering space with a 15,000-square-foot ballroom and an outdoor lawn, also comes online next year. Guestroom renovations in the property's original Victorian building are slated for completion in 2023.
Rates start at $409 per night. To book, visit www.hoteldel.com. 
Source: Read Full Article